Last month around 4/20, while strolling around Müller (a drugstore in Germany), I spotted the brand new range of makeup and skincare at Essence Cosmetics, called High Beauty. I know a lot of brands have started using CBD and hemp in their products like it's the new cool thing to do but I was still quite intrigued by the cute and colourful packaging of High Beauty.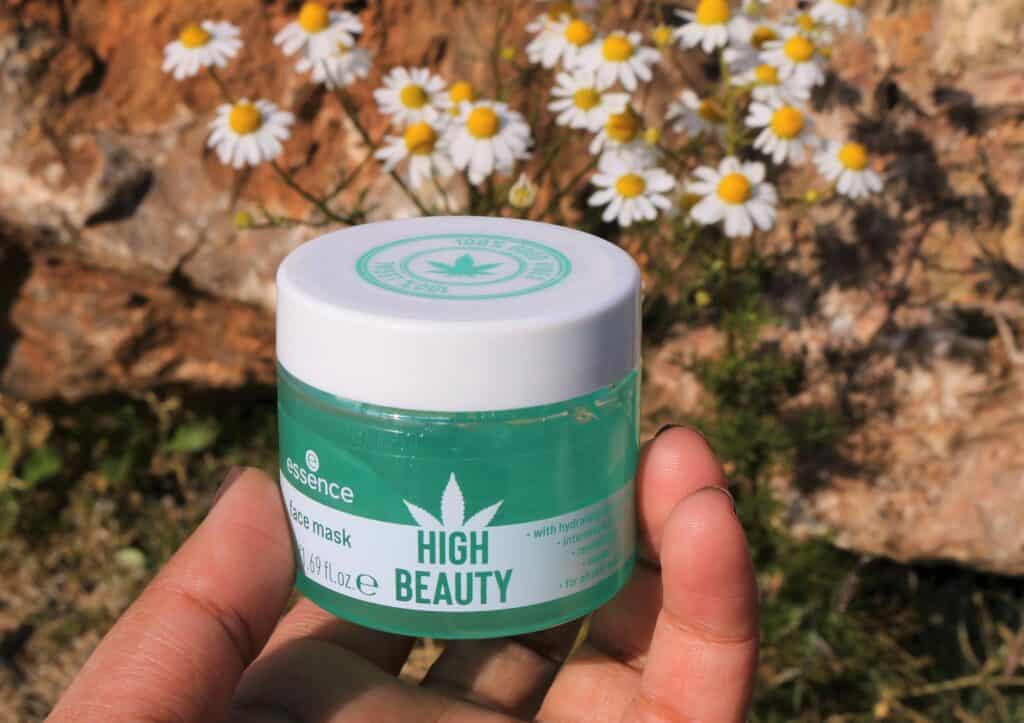 Essence High Beauty Range
The new High Beauty range of Essence has 7 skincare and makeup products including a face mask, lip balm, hydrating primer, concealer, mascara, compact powder and a setting spray. It seems like this line is targeted towards teenagers since everything featured is quite basic and could be used for a quick every day look.
I am in my mid-20s so there was not much that got my fancy. I would have loved to try the mint green translucent setting powder but I was afraid that the tone would not work for my complexion. So I ended up only picking the High Beauty face mask.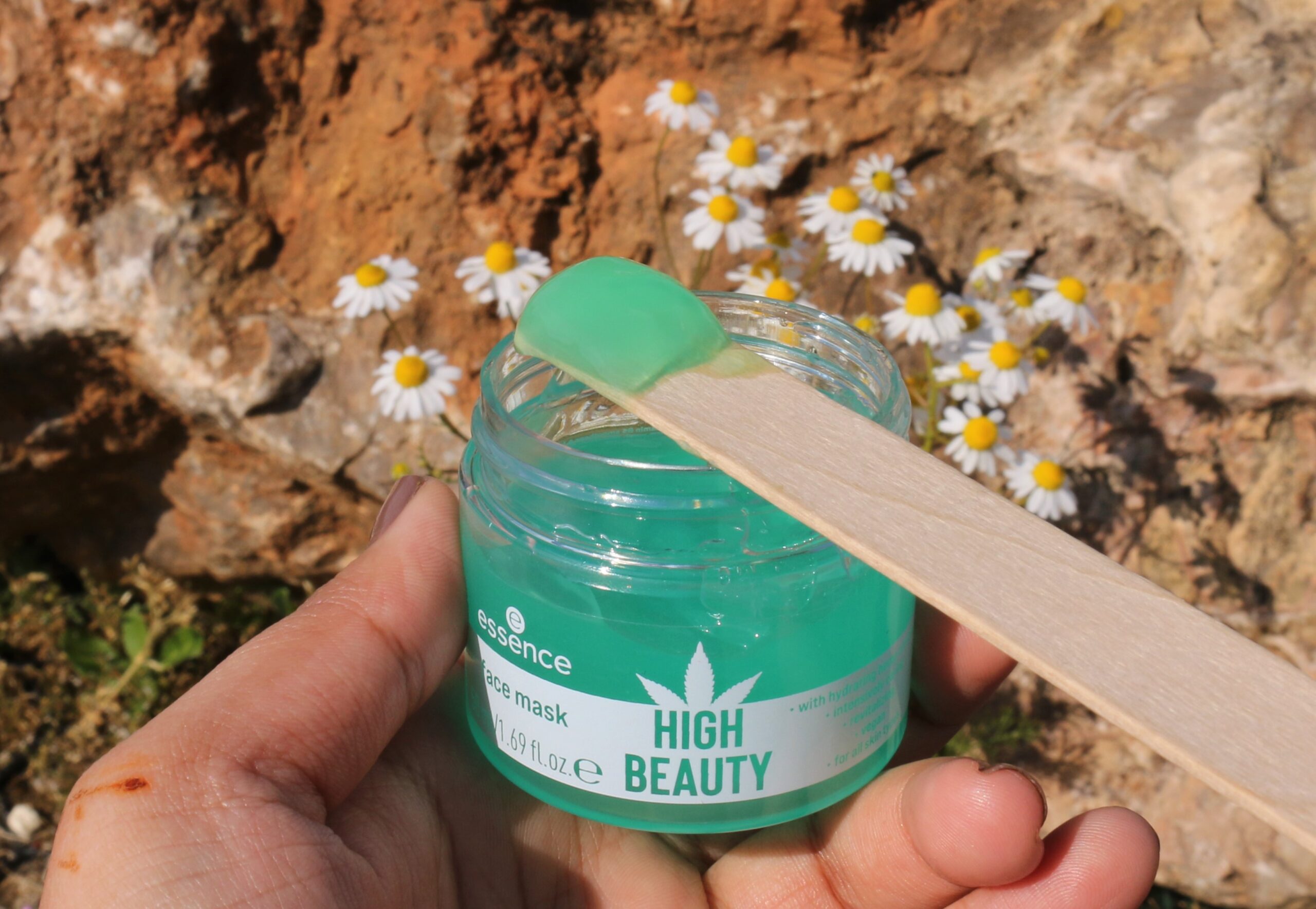 What is the High Beauty Face Mask For?
I am a skincare enthusiast and I love face masks in particular so obviously I was pretty ecstatic to give this bright green gel mask a go. The High Beauty face mask is just a fun hydrating mask with hemp complex and since I have combination/dry skin, I can never get enough. The mask also claims to be revitalizing, is vegan and the whole range is being marketed as "clean beauty products".
High Beauty Face Mask Main Ingredients
Since this is a hydrating mask the first two ingredients on the list are water and glycerin. The hemp derivative, cannabis Sativa seed extract, is fifth on the list so it is not so concentrated. I am not sure how effective this on this rank in the list but hemp is known for to be antioxidant and anti-inflammatory. The High Beauty Face Mask also contains Allantoin, provitamin B, perfume and blue and yellow dyes. A detailed ingredients list is present on the Essence Cosmetics website.
My Experience After Using High Beauty Face Mask
As soon as I opened the lid of this mask, I was taken aback by the strong floral scent. I am not a fan of fragrance in my skincare as perfumes are known to be irritants and I have had a history of eczema.
Anyways, I still decided to give this mask a go and as soon as I applied it on my face, I experienced a tingling sensation. Honestly, I got a bit concerned but since this mask is meant to be only kept on for 2 to 3 minutes, I pulled through. After rinsing my face, I was pleasantly surprised that my skin felt baby soft and looked plump and brighter.
I was still not convinced but after using this mask for nearly a month (once or twice a week), I have nothing bad to report. I was apprehensive at first but I did not suffer any adverse reaction.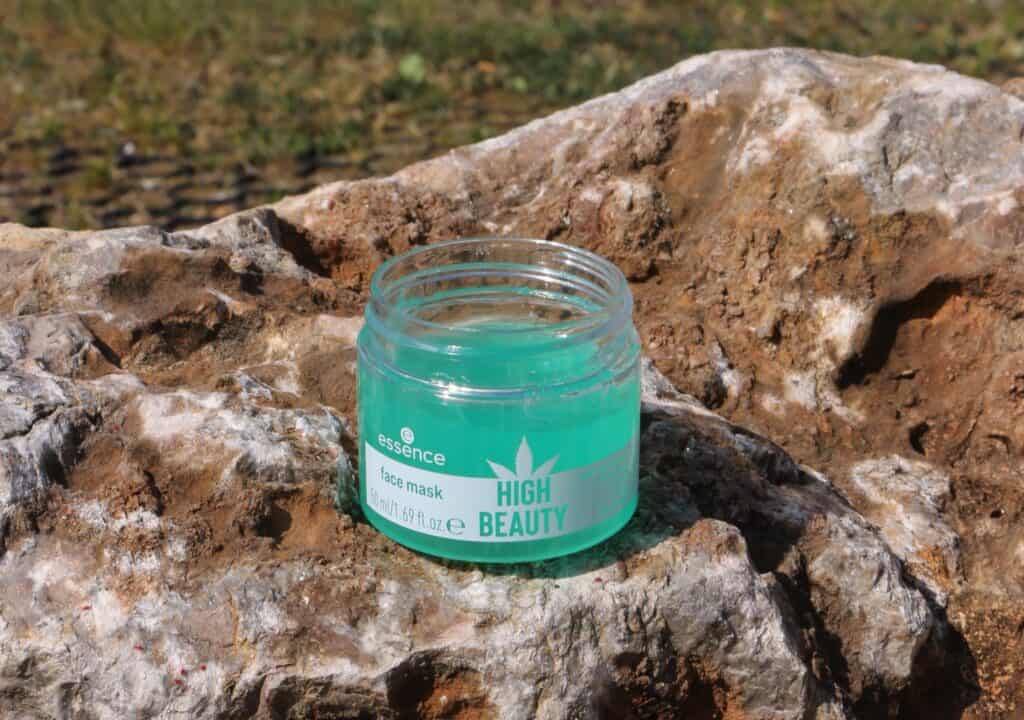 High Beauty Face Mask Packaging, Price and Availability
The Essence High Beauty Face Mask comes in a small 50 ml plastic tub which is fine for the price. It has a sturdy lid and I love the design on it. This mask retails for only € 3.99 and I am sure you would be able to find an Essence Cosmetics kiosk in your local drugstore. Alternatively, you can also shop directly from the brand's website.
Is High Beauty Face Mask Worth A Try?
Essence Cosmetics is one of the few international brands readily available in stores in Germany and it is also quite affordable so I have started gravitating towards it a lot in the past year.
I was quite excited to get my hands on the Essence High Beauty Face Mask at first but after taking a whiff, I had my doubts and thought that this product would fall flat. However, I was pleasantly surprised that it works like a charm and gives my skin a youthful glow.
I do not think that this mask would work for all skin types contrary to its claims but I would recommend it if you do not have sensitive skin or are not allergic to fragrant products. I am looking forward to some more fun additions to the Essence Cosmetics High Beauty range.