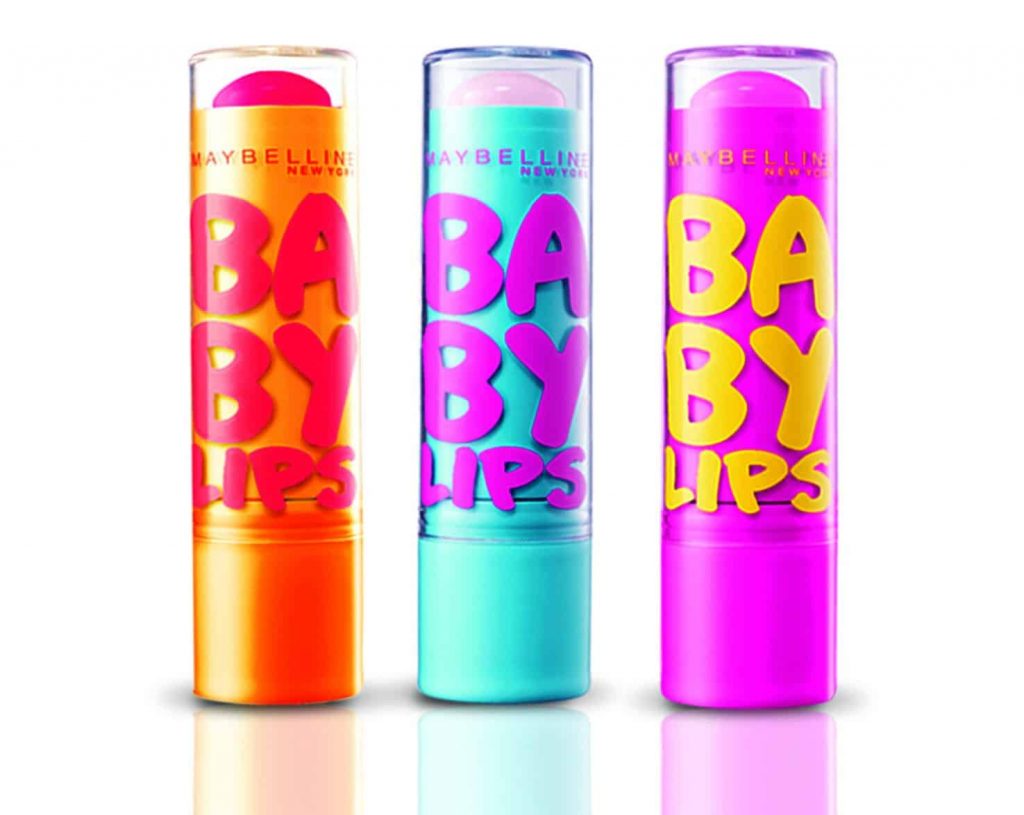 On Monday, 27th January 2014, Maybelline New York Pakistan organised a Winter Blogger Meetup in order to officially launch the Baby Lips lip balm in Pakistan. The event took place at a swanky cafe in Karachi named Pink Cadillac where a number of well established Pakistani bloggers were invited. Luckily, I got an invite too, about which I'm very grateful to the Maybelline Pakistan Team.


Maybelline New York Winter Blogger Meetup Invitation
The event was to start at 5:00pm and I actually reached a bit late as I get off from university by 4:30pm, but I'm really glad that I could make it to the event altogether amidst my busy schedule. The first half of the event was spent in socializing and chit-chatting with the other lovely bloggers present there. A very sweet member of the Maybelline team was individually welcoming everybody who showed up and escorted us for photos to a Baby Lips canvas backdrop, which was followed by offering of Pink Lemonade as cocktail.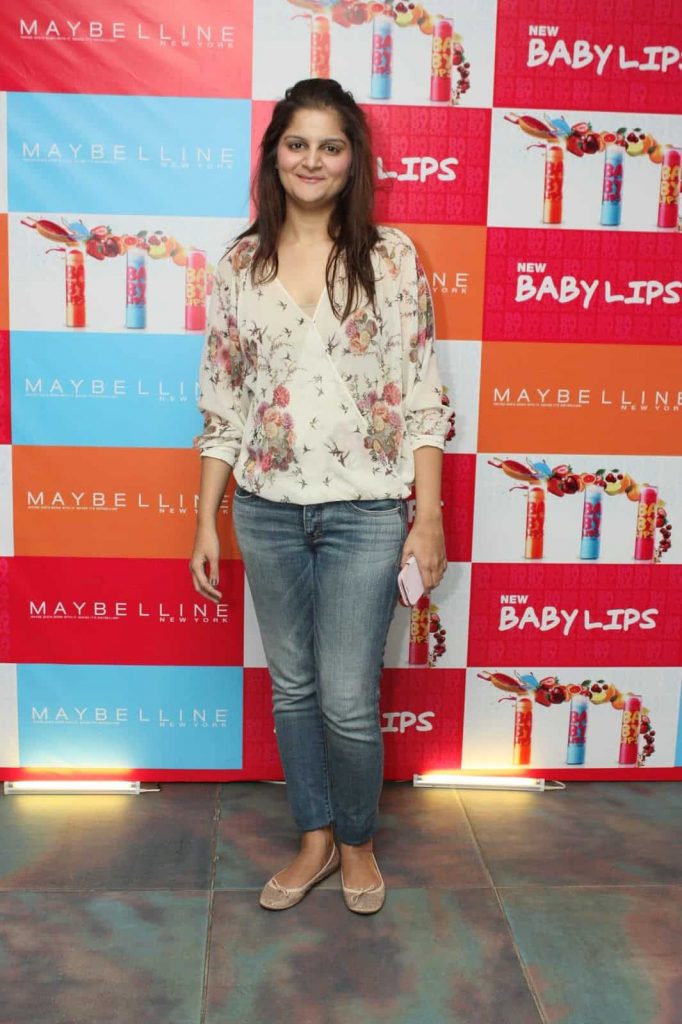 Zainab Pasha (Marketing Director of L'Oréal Pakistan)
In the next half of the event Wafa Kalia, Maybelline's brand manager and Zainab Pasha, Marketing Director of L'Oréal Pakistan greeted the audience with a welcome note and gave an overview of the new product. According to Maybelline's press release, the global trend setting cosmetics brand, Maybelline New York, is set to revolutionize the basic lip balm market with the introduction of its all new Baby Lips lip balm. This ground breaking new range of Maybelline's Baby Lips channels an exclusive lip renew the formula, incorporating a botanical extract made from Centella Asiatica, a medicinal herb that has been used for centuries, which helps lips look renewed with visibly less noticeable lines. The product's advanced formula also contains vitamin E, vitamin C and B5 along with shea butter, which helps in hydrating lips, leaving them soft, moisturized and comfortable. Baby Lips balm is further enriched with SPF 20, protecting lips from the damaging effects of the Sun's UV Rays.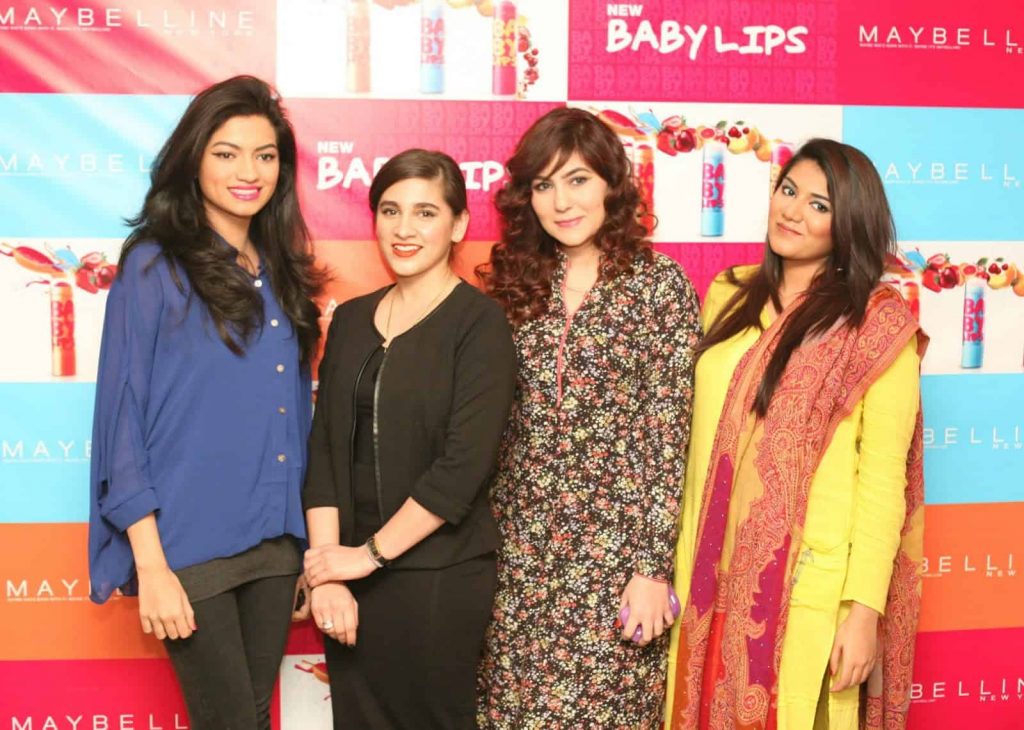 Naimal, Raana Khan, Hina, Sara
This was followed by, Raana Khan, the official make-up artist of Maybelline New York Pakistan, showcasing how to achieve three different looks using products from the Maybelline make-up line. The looks that were created are as follows: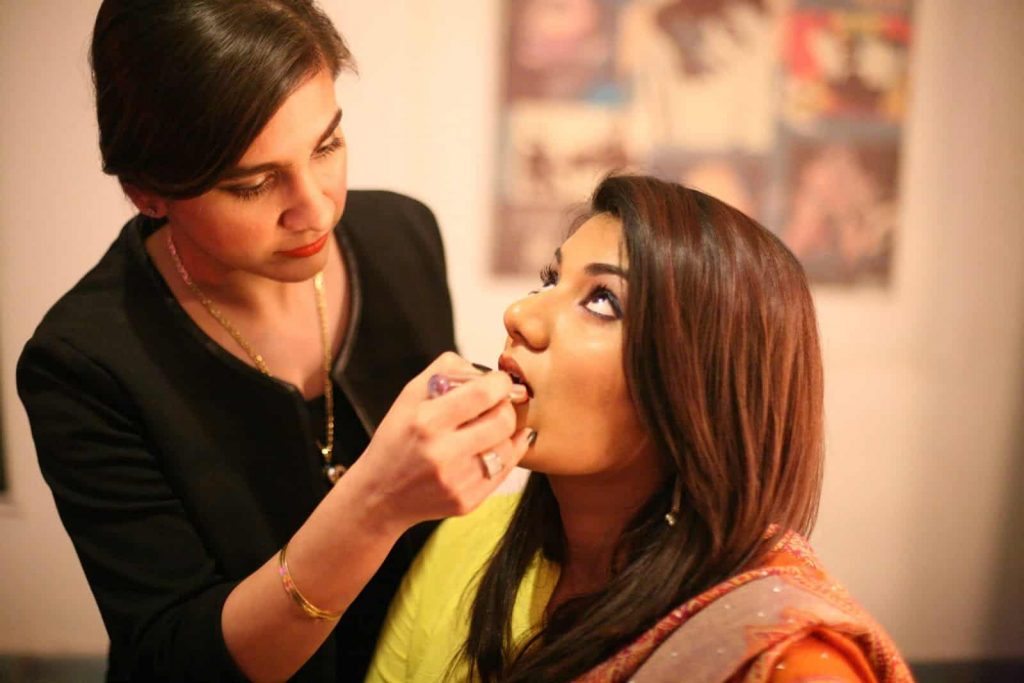 1) Smoky Eye Evening Look, which as the name suggests, consisted of classic smoky eyes, Baby Lips lip balm in addition to a nude lipstick for a healthy glossy look and straight hair,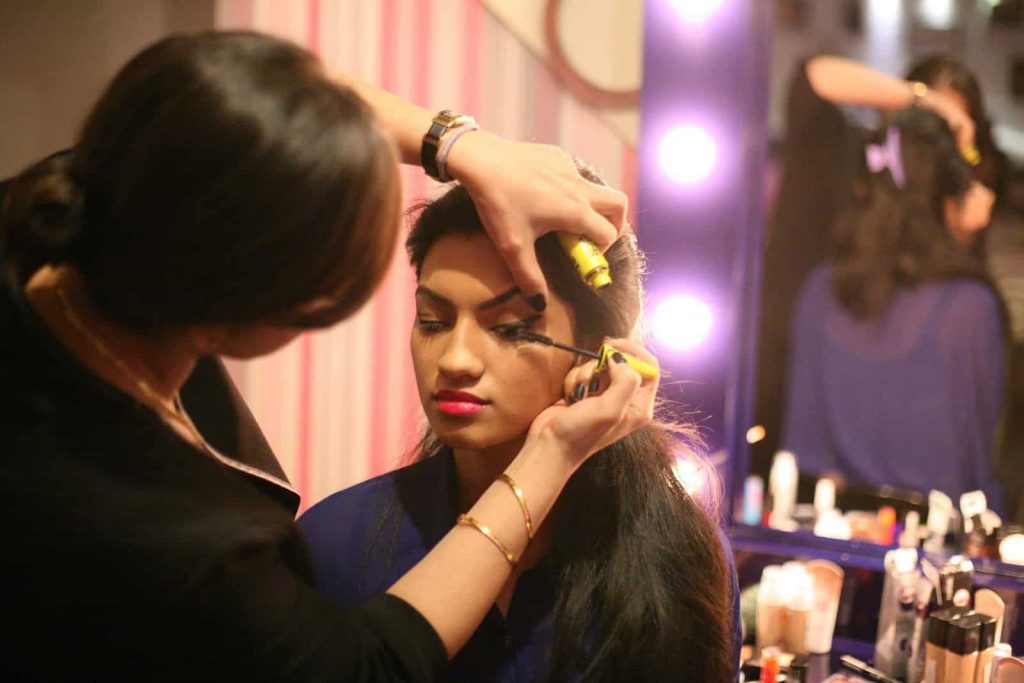 2) Spring Fiesta, which comprised of a simple eye look with well defined eye liner, bold red lips and blow-dried hair and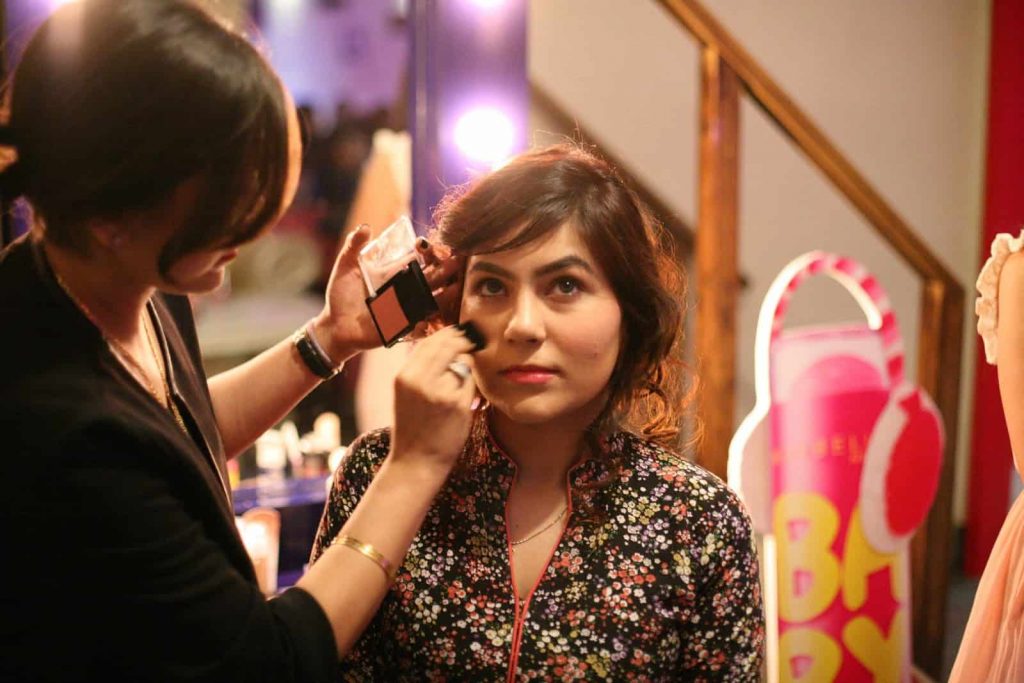 3) Modern 60s, which was a retro look, kept quite classic with a winged eyeliner, tinted red lips using Baby Lips in Cherry Me and the hair was glamorously curled.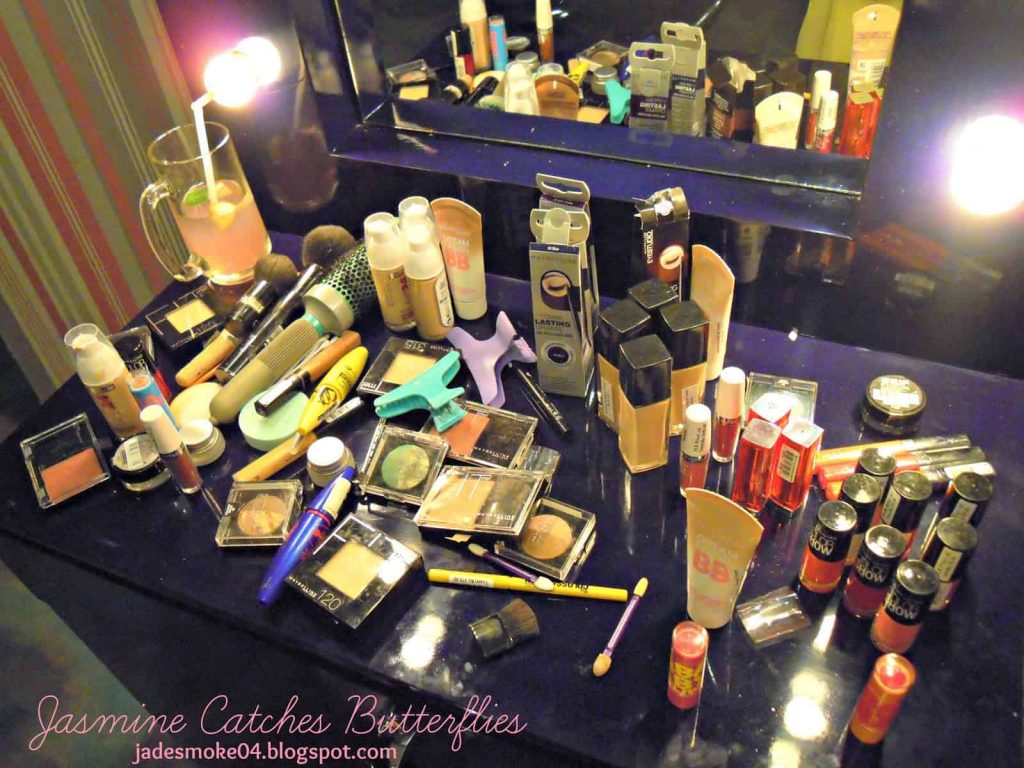 Maybelline's Vanity
On the launch of Maybelline Baby Lips, Musharaf Hai, Managing Director of L'Oréal Pakistan (parent company of Maybelline) stated; "Maybelline New York is our most edgy brand. With scientifically-advanced formulas, revolutionary textures and up-to-the-minute, trendsetting shades it is indeed effortless, affordable and most beautiful offering. In the same spirit, with Baby Lips, the brand introduces a secret lip renew formula, changing the look and feel of lip balms with a new generation of lip balm – very enticing!"
Maybelline New York's Brand Manager Wafa Kalia stated; "We are excited to introduce Baby Lips to Pakistan; It is a complete beauty kit for the lips where each application of the lip balm, gives you a fix of moisture and a hit of antioxidants and vitamins leaving the lips moisturized for a full 8 hours with your lips visibly renewed and reborn."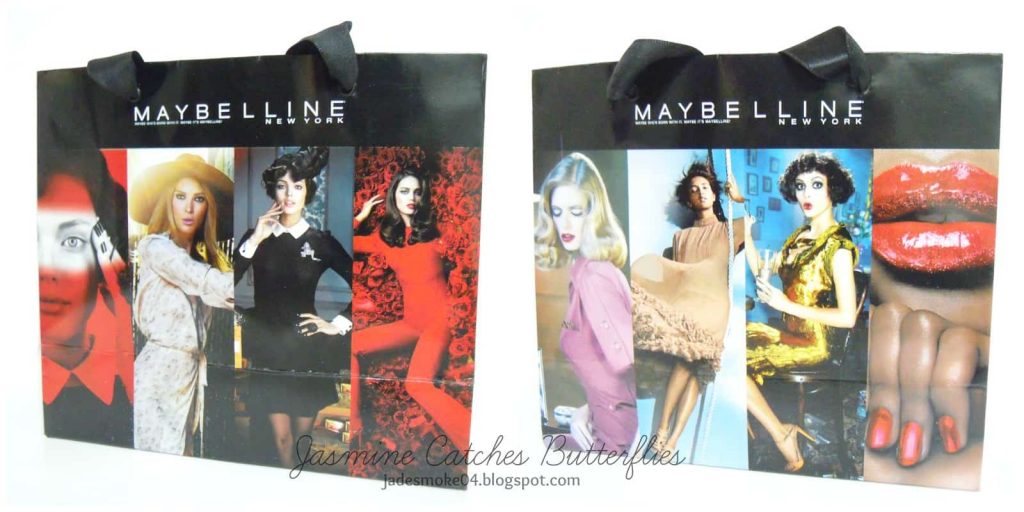 Maybelline New York Winter Blogger Meetup Goodie Bag
The event came to an end with a round of refreshments that included crunchy chicken, chicken nuggets, beef samosa, vegetable roll and mouth-watering quesadillas along with dip sauces of different types and tea. Everybody got a goodie bag from Maybelline New York Pakistan to take along with themselves. Take a peak at my goodie bag contents below.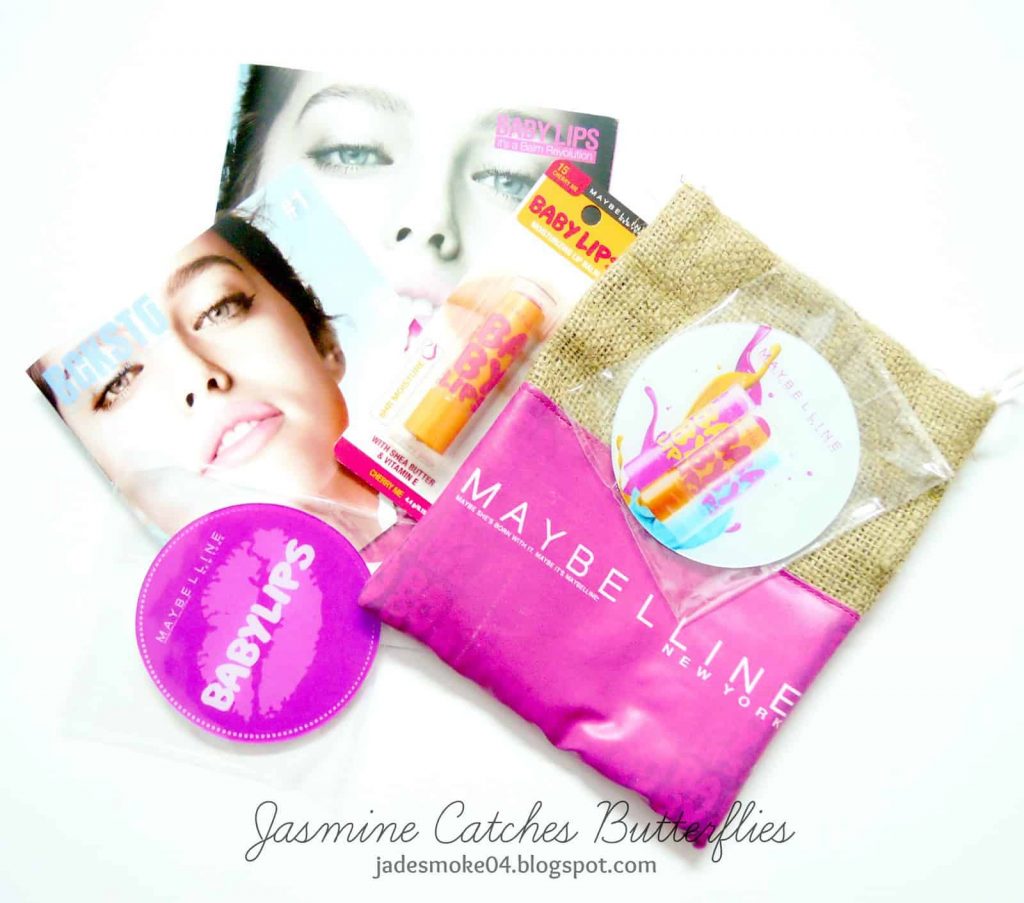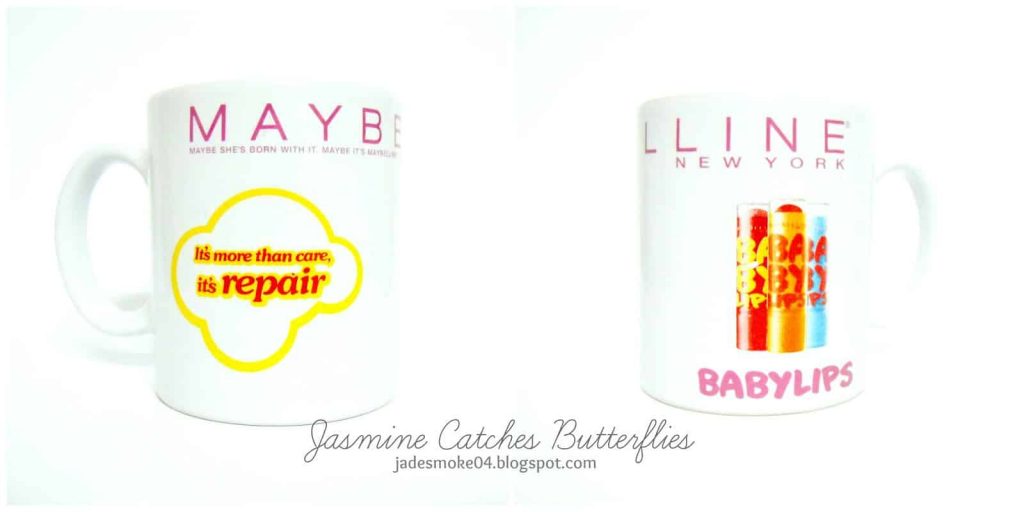 Maybelline New York has introduced Baby Lips in 3 colorful tints each with its own playful scent: Quenched (transparent), Cherry Me (red) and Pink Punch (pink). Maybelline claims that each delicious flavour moisturizes the lips through aloe and honey, while exuding anti-oxidants and vitamins that leave lips looking fresh and baby soft for up to 8 hours. Available at all leading beauty/cosmetic retailers nationwide for PKR 350 only. For further information on Baby Lips and other products by Maybelline New York, please log on to: www.facebook.com/MaybellineNewYork.Pakistan
All in all, it was a great experience for me as this was my first launch event as a blogger, and everybody on the MNY Pakistan team was so welcoming, sweet and cooperative. Even Raana Khan, herself is such a down to earth person, and she interacted with everybody so frankly. Once again, a HUGE thanks to the whole Maybelline Team for holding this fun meetup and Lotus PR for managing the Public Relations, and making me a part of this wonderful event.
Photo Courtesy: Maybelline New York Pakistan, unless stated otherwise.
I might update the post when I receive more photos.
Way to go Maybelline! 🙂 x