Looking for the crispiest fried chicken recipe? I promise you this is the best one ever! For the past few weeks, I had been craving KFC crispy fried chicken like crazy but the lockdown of 2020 pushed me to come up with my version of the finger-licking goodness.
I was not planning on writing this blog post, but after the flood of messages on my Instagram and Snapchat last night, I was compelled to share my secrets with you. Honestly, I am not the one to follow recipes down to the T because 1) I am impatient and love eyeballing the measurements, 2) Thanks to my mom, I have an idea of what ingredients work together, 3) I love making tweaks according to my palate. Therefore, you do not have to follow this recipe as it is. You can use this super simple recipe for the tastiest crispy fried chicken ever just as a rough outline. Add or subtract the ingredients and quantity based on your preference.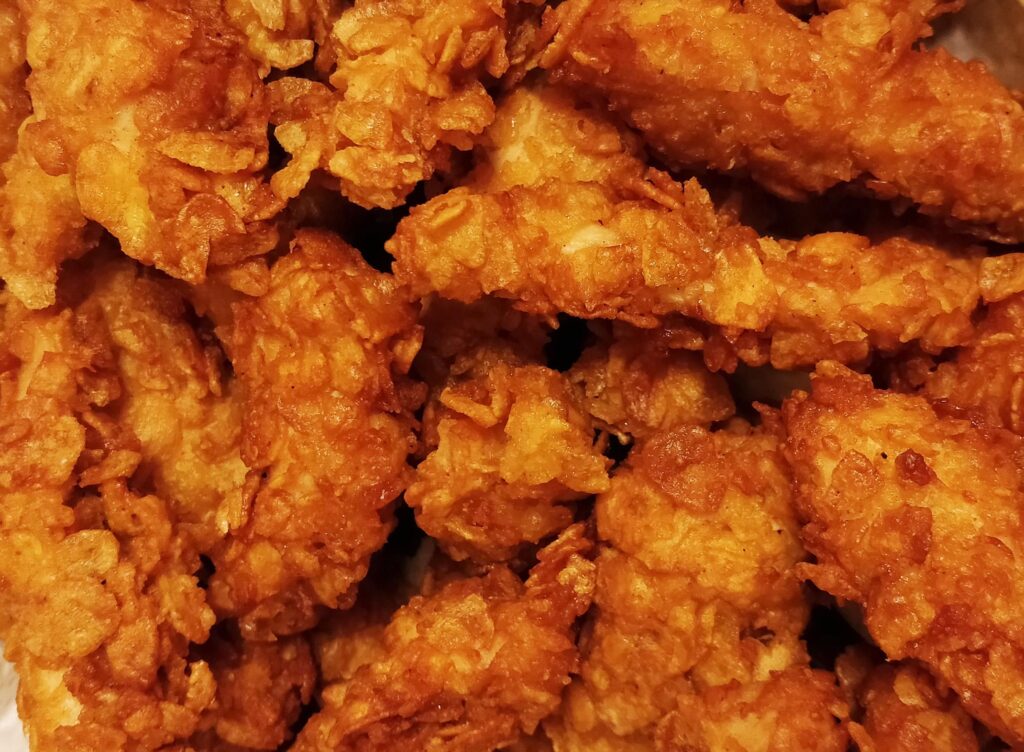 I won't bore you anymore as most food blogs do, so here is the ingredients list and the recipe. Do read through my tips and tricks for the fool-proof crispy fried chicken coating as that is the most important thing!
Crispy Fried Chicken Ingredients and Instructions
Crispy Fried Chicken Recipe
Ingredients
800

g

Chicken

400

g

Sweet Corn Flakes

You can also use normal cornflakes.

2

Big

Lemons

6

tbsp

All Purpose Flour

I used boneless chicken strips. Take more for bigger pieces.

1

tbsp

Garlic Paste

2

tsp

Salt

2

tsp

Black Pepper

1

tsp

Red Chilli Powder

0.5

L

Oil for Deep Frying

2

Medium

Eggs
Instructions
Marinate the chicken in lemon juice, garlic paste, black pepper, salt and red chili powder. for 10-15 minutes.

Add the all-purpose flour in a way that the chicken pieces are only lightly. You don't want it to stick to the chicken like a paste. Or you can coat your chicken pieces separately.

Crush the cornflakes with your hands but make sure that they do not break down into very small pieces.

Lightly beat the eggs with a fork and dip the chicken pieces into it one by one, followed by coating them with the crushed corn flakes.

Set aside for 5-10 minutes and then proceed with deep-frying.
Notes
I used a deep frier on Medium-High setting and only cooked the boneless strips of chicken for 2-3 minutes. Be more careful if you are using bigger chicken pieces like drumsticks as you do not want the coating to burn.
In case you are wondering, why I used sweet corn flakes over normal ones, I really do not have much to explain. It just makes the crispy chicken more scrumptious for me. However, don't worry, it won't make your chicken taste like candy and you can totally swap it out with normal corn flakes. The corn flakes coating is important though as it adds a nice texture and gives you more crunch.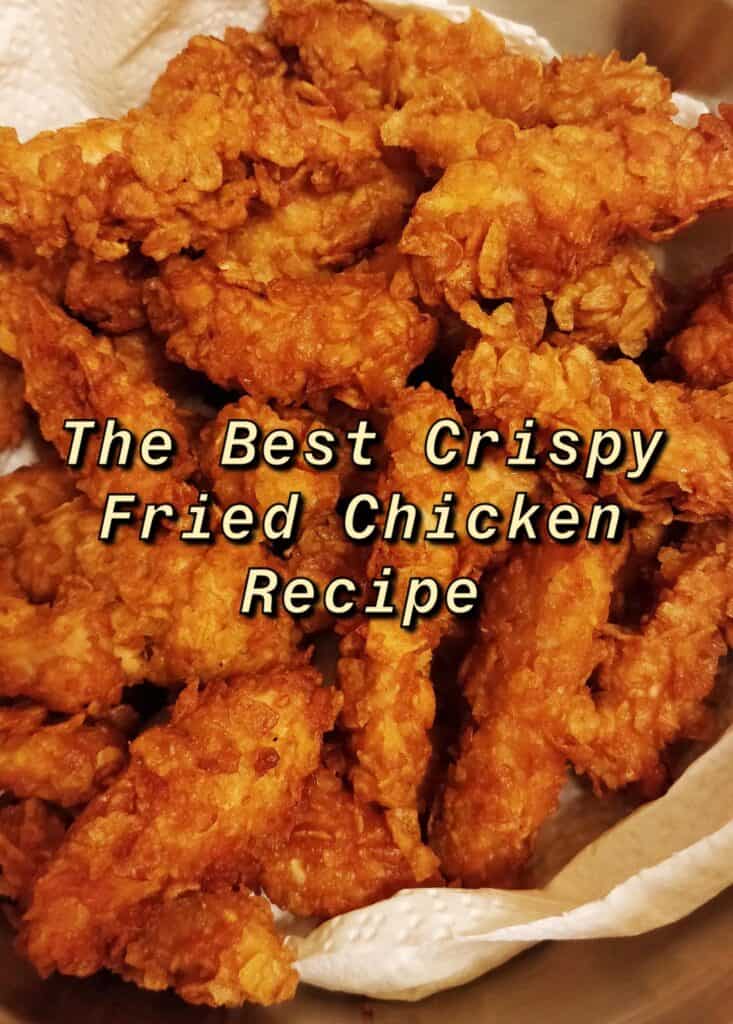 This Crispy Fried Chicken recipe is so quick and easy, yet packed with so much flavour that it absolutely blows my mind. Give it a try and perhaps it would become your dish to flaunt at parties once the lockdown ends!