Your girl was never a contouring queen, but to be fair it was never one of my major concerns either. When I started wearing makeup, all I cared about was covering up my hyper-pigmentation and how to make my base makeup look flawless over the dry patches of skin.
As I began polishing my makeup skills, I learnt the importance of contouring for a full beat makeup look and after experimenting with a couple of drugstore brands, I decided to invest in something worthwhile. I have had this Anastasia Beverly Hill (ABH) Powder Contour Kit for a couple of years now and it has become a staple in my makeup kit. However, back in the day, it was a difficult choice to make between this and the Kat Von D Shade and Light palette.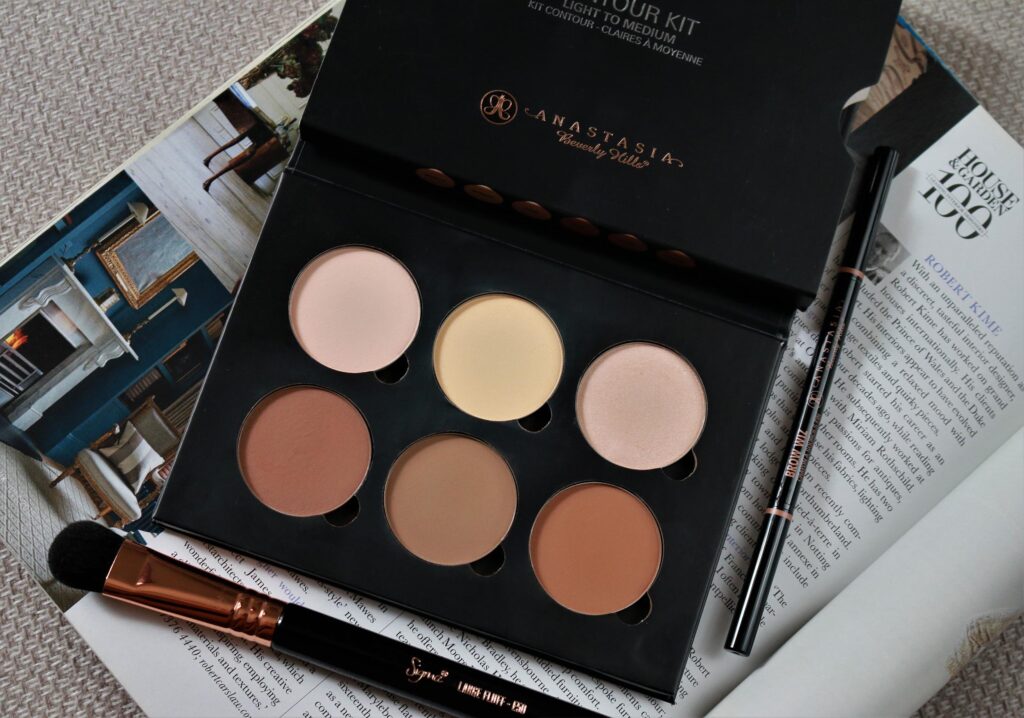 Both the contour palettes had garnered a lot of hype and in fact, KVD Beauty was getting more praises than ABH Cosmetics at the time. I also nearly bought the Kat Von D one at the Sephora in the Dubai Mall on a holiday trip, but upon swatching the palette I was just not convinced.
ABH Contour Kit Shade Range
So after much thought and comparing online swatches I decided to go for the Anastasia Beverly Hills Powder Contour Kit. As far as I know, the ABH contour kits used to come in three different shades, which were Light to Medium, Medium to Tan and Tan to Deep. I would have selected Medium to Tan, which by the way, I think has been discontinued, but instead ended up opting for Light to Medium because I was looking for that grey-brown tone that everyone stresses about when it comes to contouring, and I felt that the shade Fawn in this particular kit was the one.
Every palette contains 6 pans, 3 of which are for highlighting and the other 3 are for contouring. This palette has a nice balance of cool and warm shades so it works just fine for my own medium complexion.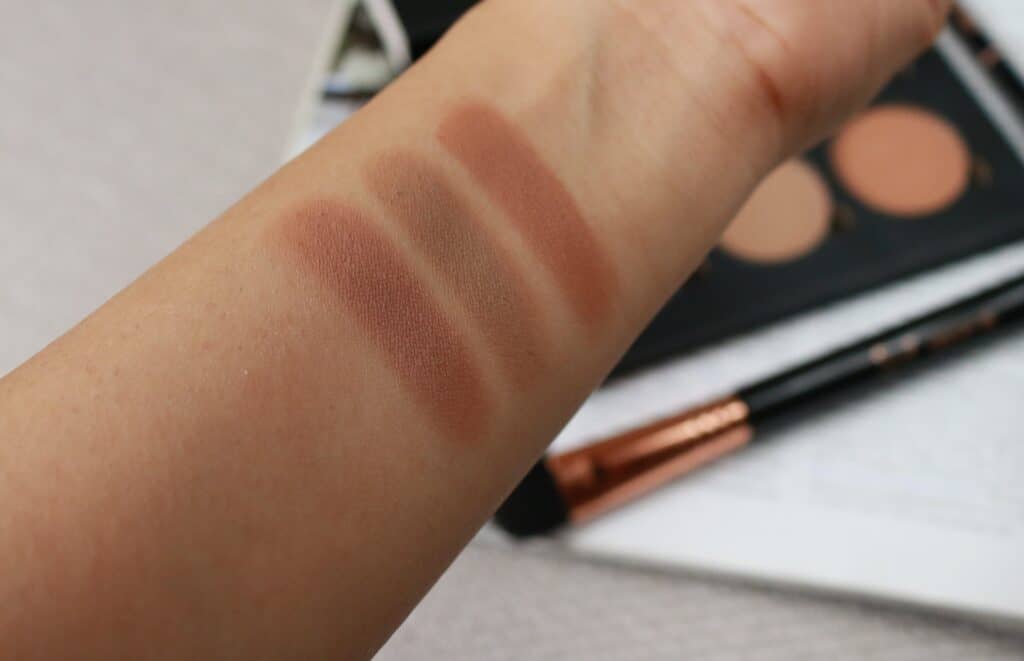 ABH Light To Medium Contour Shades
The three contour shades in the palette are Java, Fawn and Havana. I love mixing them all for adding a nice depth to my cheeks, forehead and jaw. It goes without saying, that all of these contour shades are matte.
Java is a warm mocha shade, while Fawn is more of a cool-toned brown and the reason why I had to lock this palette for purchase. Whereas, Havana is more of a warm-toned brown, with a slightly red undertone.
ABH Light To Medium Highlight Shades
The three highlight shades in the palette are Vanilla, Banana and Sand. Honestly, I do not really reach for these shades because they are a touch too light for me. The most I would ever use is Banana but I usually prefer using a loose powder instead.
Vanilla is a pale cream shade with a hint of peach in it, something that I would only use for setting my eyeshadow base. Banana, on the other hand, is a light yellow shade. It is nice for setting the under eye concealer and to make that area look brighter. However, as I said, I am not too keen on the formula. Both of these shades are also matte.
Contrary to that, Sand is a shimmery highlight shade. It looks quite similar to Vanilla in tone. Again, it is too light for me but would have otherwise made a nice shade for highlighting the cheekbones and also the brow bone.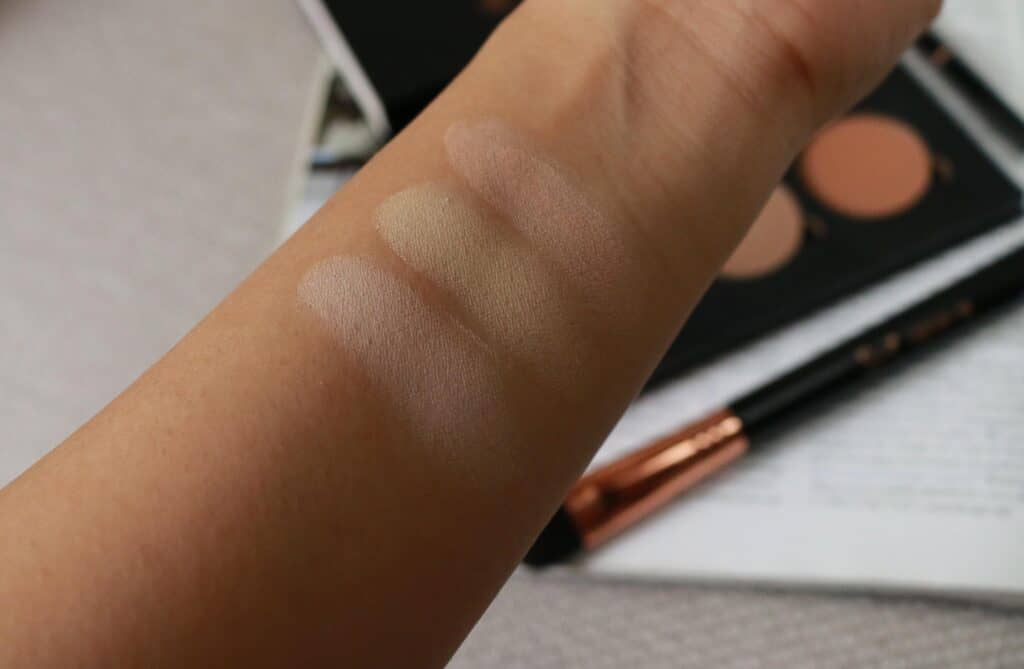 ABH Contour Kit Pigmentation and Texture
The contour and highlight shades in the ABH contour kit are finely milled and soft to touch. There is hardly any kickback in the palette and yet the product is easy to pick on a brush. The pigmentation is pretty good but it is not over the top, which is a great thing because you want to build your contour gradually rather than applying too much in a go. These powders apply seamlessly and are not patchy at all.
However, I feel that the highlight shades need a little more effort and going back and forth. Therefore, I prefer a loose powder formula over these. The shimmery shade, Sand, is quite buttery and easier to work with than the other two.
ABH Powder Contour Kit Packaging
Let's talk about some boring but may be helpful stuff. The ABH Powder Contour Kit comes in a palette made out of cardboard for the most part. It is environment friendly as opposed to plastic, but it can get tattered over time. The palette is otherwise sturdy and not too heavy. It is also slim and easy to store. The palette is magnetic and the pans are interchangeable so you can easily customise or replace them as per your own need.
ABH Powder Contour Kit Price and Availability
This palette retails for a whopping price of €47 / $40. You can purchase it directly from the ABH website or check it out on Sephora, Ulta, Beauty Bay etc. The brand is available in several cosmetic stores.
ABH Powder Contour Kit Alternatives
First of all, I think I should mention that you can get a cream version of the ABH contour kits too if that is what you are more into or prefer layering. Two good and budget-friendly alternatives of the ABH Powder Contour Kit are Makeup Revolution HD Pro Powder Contour Kit and NYX Contour and Highlight Pro Palette.
Is the ABH Contour Kit worth the money?
Anastasia Beverly Hills, as a brand, has built a loyal fan club over the years due to their involvement with the makeup artists around the globe. What they are doing is great, but to be honest, I was not really blown away by this contour palette. It is good, gets the job done, but I do not see myself ever repurchasing it again when there are much cheaper alternatives available.
See this contour palette in action below!