It's 2013 and my 1st week's blog schedule seems jammed! Whoa! Except for I missed out yesterday! -_-
To make up for missing out 2013's first Wednesday, I'm writing two posts for you peeps today (including this one)! Yay!
Check out my 2012 Skin Favourites that I posted today only! 😉
To check out this week's schedule, please refer to my "Upcoming" page.


Hair Care Favourites: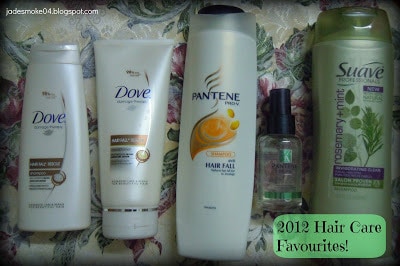 1. Dove Hair Fall Rescue Shampoo
2. Dove Hair Fall Rescue Conditioner
3. Pantene Pro-V Anti Hair Fall Shampoo
4. Pantene Pro-V Smooth & Shine Anti-Frizz Serum
5. Suave Professionals Invigorating Clean Shampoo (Rosemary + Mint)
Before any of you wails at me after seeing these protein shampoos, let me make it clear to you that I know excessive protein is not good for hair and I have been alternating with mild baby shampoos to keep my tresses at their best.
To review these briefly, I'd say I did not see any noticeable decrease in my hair fall after using Dove Hair Fall Rescue but it certainly helped in keeping my hair straight, (I already have fine straight locks and after using this shampoo I don't even feel the need of straightening my wave-prone hair ends), as I don't like to use heat on my hair at all. Though this shampoo does weigh my fine hair down somewhat but I preferably use this a day before any special event and I rub my fingers through my hair to volumize it.
Moving on, Pantene Pro-V does give desirable results when it comes to putting an end to miserable hair fall and it's anti-frizz serum is good for styling and keeping hair detangled.
Coming to Suave, I had used their Strawberry shampoo once which I personally didn't fancy much but I really like their kids shampoos. Yes, I do use baby shampoos because they are mild and not loaded with chemicals!! Anyways, at first I didn't like this invigorating shampoo much as I felt it even stripped my natural oils leaving my scalp dry. However, I now believe that it acts as a good clarifying shampoo. I don't belong to the everyday styling lot so I initially thought that I didn't really need it but I use it once in 2 weeks to wash away any residues of my protein shampoos. I always oil my hair before using any of my shampoos and normally rinse twice but with Suave, I only need to rinse once! That's how good it is and rinsing once doesn't leave my scalp dry.
For my 2012 Hair Care Routine click here.
Disclaimer:
I by no means am a professional. The results of the products stated above may vary for different hair types. It's always best to check with your dermatologist or beautician before trying out any new product.
Like my FACEBOOK PAGE for updates.
Check my sidebar to Follow Me Around & Grab My Button! x
Don't forget to comment, follow, subscribe! 🙂