It's great to see the rise of beauty subscription boxes in Pakistan as these give us a chance to try out some high-end and new makeup brands without causing a dent in our pockets.
Glowy Box
, in particular, stands out to me for the quality and I love the fact how it just keeps on improving with every passing month.I was super excited to get my first ever Glowy Box last month and it turned out to be a great value for money. In case you are curious to know, what I got in
June Glowy Box
, you can always watch my unboxing video
here
.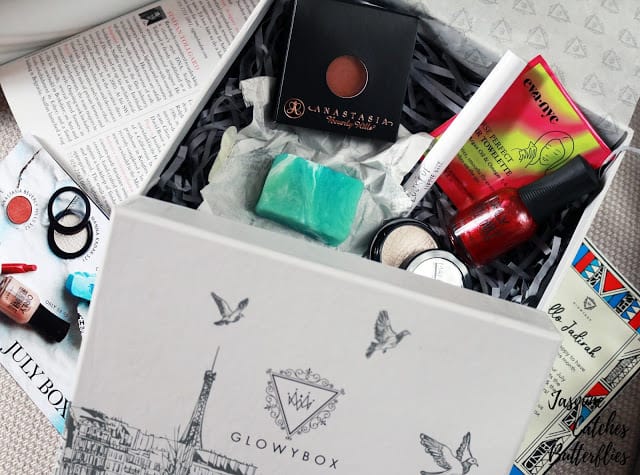 July Glowy Box Review
PR Sample*
Anyways, Glowy Box always reveals the brands and products for each month on their Instagram which is a good thing since you get to see and decide if you like a particular month's box or not rather than spending blindly. The only surprise element is the shades of the products that you would get but since Glowy Box allows you to customize a profile based on your skin tone and preferences, you are likely to get what you like all together.

The July Glowy Box seemed even better than June's to me since it features some of my favourite brands and products that I have been wanting to try! So let's take a look.
1. LUSH Outback Mate Soap – If you read my blog, you know how much I love LUSH products and this soap smells so refreshing. It contains peppermint and lemongrass, which reminds me of the scent of Strepsils lemon, to be honest, but I love it! I reckon this would be refreshing for the summer days.
Price: $4.78
2. Anastasia Beverly Hills China Rose Single Eye Shadow – I have tried ABH Nicole Glow Kit and ABH Contour Kit, but I have been eager to get my hands on some of their eyeshadows. This seems like a perfect start. China Rose is a gorgeous coppery rose shade, which initially looked pinkish red in the pan. It was part of the infamous Tamanna palette and has a really nice tone and colour payoff. I also did not notice any fall outs with it.
Price: $12.00
3. ORLY Stronger Than Ever Breathable Nail Polish – God, this is my hundredth red nail polish and yet I am not even mad. I love wearing red nail polishes and this one is a bit different since it contains fine gold glitter particles. This Orly nail polish is quite expensive though, as I usually opt for 100 to 200 PKR lacquers. However, it is breathable, hydrates and strengthens nails, claims to have better adhesion, lesser chips and is certified Halal.
Price: $8.99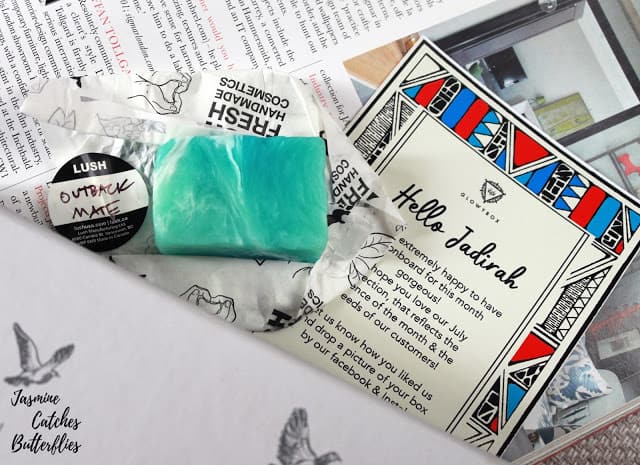 LUSH Outback Mate Soap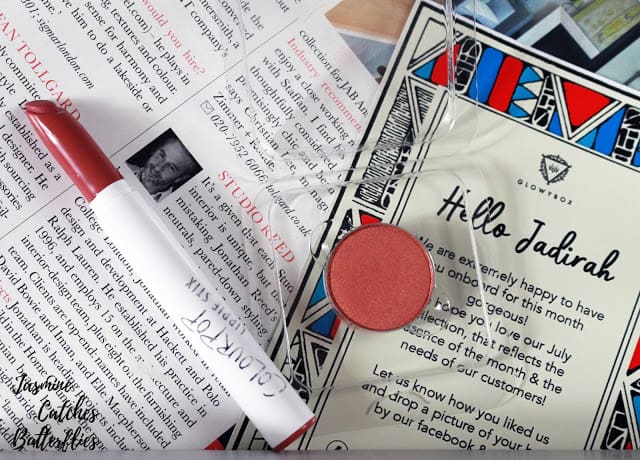 Colorpop Cami Lippie Stix and Anastasia Beverly Hills China Rose Single Eye Shadow
4. Colorpop Cami Matte Lippie Stix – You wouldn't believe it but this is my first ever Colorpop product! I have been wanting to try out the brand for so long but I keep splurging on high-end products. :/ Anyways, this shade is right up my alley as it reminds me of MAC Twig and it is going to be an everyday staple for sure. The pigmentation of this actually blew me away and now I need to check out some more shades since it's so inexpensive.
Price: $5.00
5. Manna Kadar HD Perfecting Translucent Powder – This is the most expensive product in the box and surprisingly I had never even heard of the brand. Anyhow, it is a translucent powder which is supposed to work for all complexions. Though, I think it would still give a gray cast on deeper skin tones like most translucent powders do. It claims to prevent creases and even flashbacks in photos. That sounds promising. I would have preferred a loose version but I am still looking forward to trying it.
Price: $21.00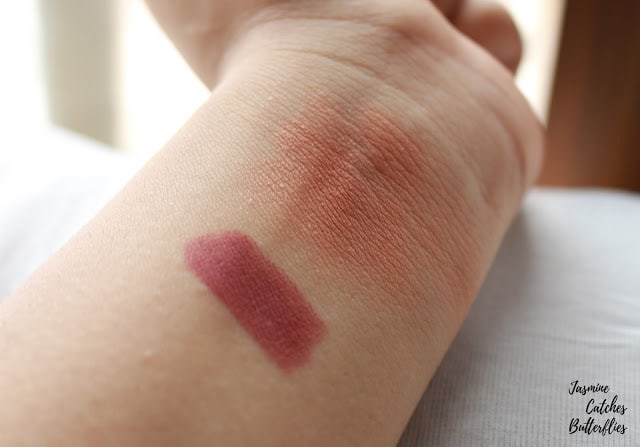 Colorpop Cami Lippie Stix and Anastasia Beverly Hills China Rose Single Eye Shadow Swatches
The July Glowy Box also contains one extra product which is a sample from Eva NYC. It is basically a sheet of wet tissue for hair to tame frizz and keep the hair shiny. I am glad that Glowy Box always does give five full sized products rather than just squeezing in samples in place of them like most subscription boxes.
Glowy Box costs 3000 PKR per month and the actual worth of July Glowy Box is approximately 5400 PKR. So you definitely get a bang for your buck. June's was even more but I am super happy with my July Glowy Box. You can still order yourself this month's box through Glowy Box website.
Watch my July Glowy Box Unboxing video on YouTube.