Tree House is a new skin care brand which has released three types of makeup wipes. There is one for makeup removal which comes in a black pack, one for babies which comes in a baby blue pack, and another for repelling mosquitoes which comes in a green pack.I was sent a cute little hamper along with a
Tree House Cleansing Makeup Wipes
 a little while ago. From the looks of it and the sleek black packaging, I was quite impressed and since these wipes claim to even remove waterproof mascara, I had even higher hopes.
When it comes to makeup removal, I have an extensive ritual and I like to do the full shebang with wipes, micellar water, and cleansers. The wipes also claim that they leave no residue behind, but anyone who has a good understanding of makeup would know that while makeup wipes are great for breaking down the bulk of makeup, you do always need to deep cleanse to make sure there is no residue left behind.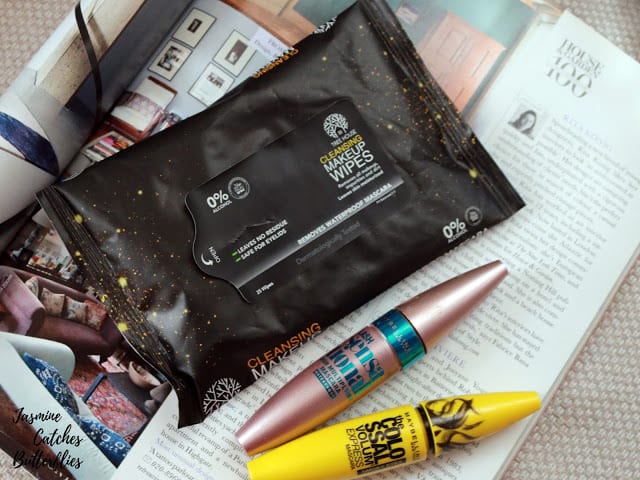 So, I did know that a couple of wipes would not be sufficient to remove everything. Yes, you might not see any more product coming off after a few wipes, but that is all that the wipes are capable of removing. If you follow with makeup removers and cleansers, you would see there is always so much more left behind. That is especially true for base products and therefore I rely on wipes for removing mainly powder products and the top layers. The Tree House wipes are no different and of course, there is still residue left behind. However, since it was expected, I do not even mind that.

The real test though was to see if it removes waterproof mascara since that is a big claim. Tree House was kind enough to include some candies and a Maybelline Colossal Volume Express Mascara. I already had this exact same mascara in my collection and it is not the waterproof variant. The mascara itself is not really a favourite since it is quite wet and does not do much for the lashes. It is washable so it comes off fairly easily even with these wipes, I must say.
Anyways, so I had to put these to test using my Maybelline Lash Sensational Waterproof Mascara instead. Now Lash Sensational is possibly my all time favourite mascara that I have tried till date and this waterproof one does not budge. It is quite thick and strongly clings to the lashes. The wipes sadly could not live up to the claim and they failed to remove it.
The wipes are alcohol-free which for beauty products mainly means they do not contain Ethyl Alcohol which can dry skin out but they do still contain other alcohols. These do have a pH of 5.5 which is the same pH as our skin so that is a plus. I did not feel that these dried my skin out even though it is prone to dryness with products of the sort. However, it did not necessarily moisturize the skin afterward either. I also felt that these stung my eyes a tad bit and that could be due to the added fragrance.
Now, these wipes are not the best quality that I have ever tried since they feel a bit scratchy. I still prefer my Nivea makeup removing wipes as they contain almond oil and are actually moisturizing. Though, these are half priced since they cost only 300 PKR for 25 wipes as opposed to Nivea which is priced around 600 PKR for the same number. So, I grab these if I have to fix makeup mistakes or clean up eyeshadow from the outer corners, but these are not the best for full face makeup removal in my opinion.