Finding the perfect scent is harder than you think when it comes to deodorants! Everyone always talks about the boujee perfumes they love to douse themselves in but people seldom mention the body spray of their choice. As somebody, who has spent a lot of time sniffing deodorants in drugstore aisles, I am confident that you will like my Dove Go Fresh and Nourishing Secrets deodorant picks!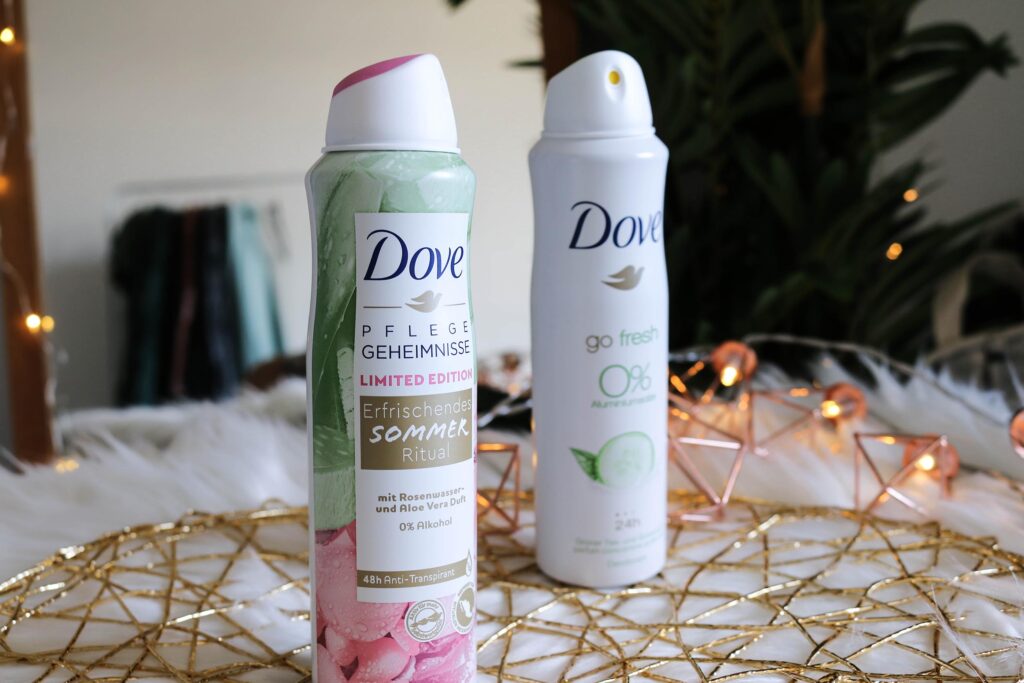 Deodorant vs. Antiperspirant
I am sure a lot of you guys already know the difference between a deodorant and an antiperspirant, but I still feel it's important to preface my review by mentioning the distinction between the two.
Deodorant – Controls body odour (contains no aluminium salts).
Antiperspirant – Controls sweating and prevents body odour (contains aluminium salts).
To put it simply, a deodorant makes you smell pleasant and feel fresh even if you are sweating. Whereas, an antiperspirant lessens the production of sweat and keeps you smelling nice.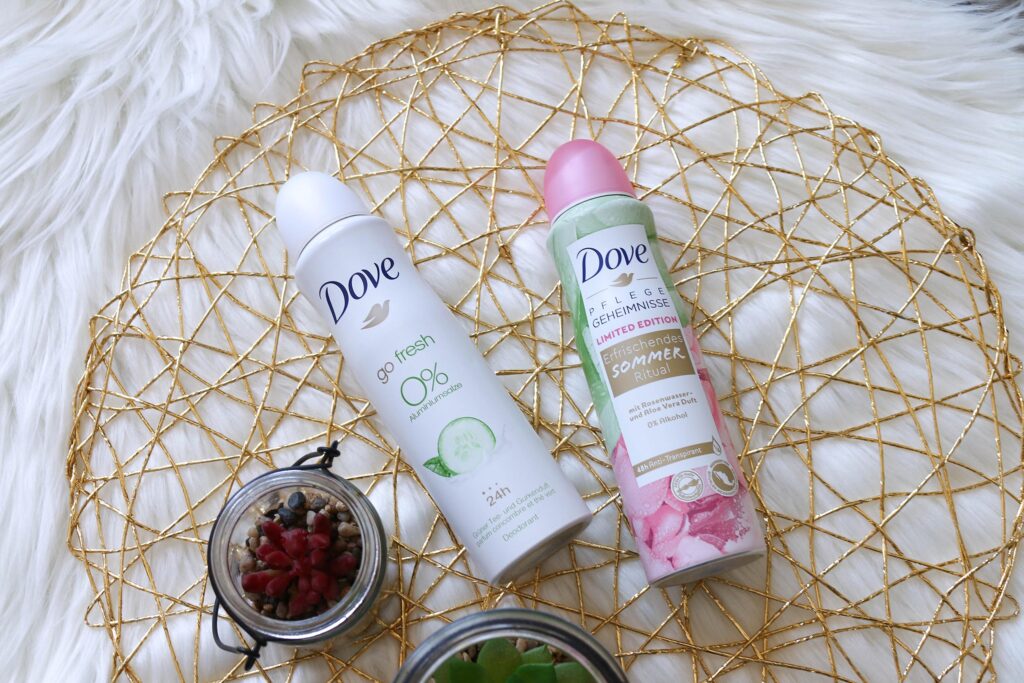 Dove Go Fresh Cucumber and Green Tea Deodorant Spray
I personally prefer fresh and light scents for everyday wear as anything else gives me a headache when I'm just trying to hustle my bustle. So this Dove Go Fresh Green Tea and Cucumber Deodorant was my first pick after sniffing pretty much everything in the drugstore soon after my arrival in Germany.
While I would admit that it wasn't love at first sniff either but it was definitely better than everything else on the racks, keeping in mind that I was on a student budget. Nevertheless, with time the scent has grown on me and I have received a bunch of nice compliments from my peers too.
This Dove Go Fresh Green Tea and Cucumber body spray also has subtle hints of apple and grapefruit which are my go-to notes when it comes to fruity fragrances.
Every time I wear this body spray, it takes me back to my early days in Germany and that's why it will always be a special scent for me.
Since this is a deodorant, it contains no aluminium salts so it is perfect for anyone who wants to avoid it for being a potentially harmful ingredient. Some studies have suggested that aluminium salts can accumulate in breast tissue over time, but there is no solid proof of it having a direct correlation to causing breast cancer as of yet.
I only spray it over my clothes rather than on exposed skin/armpits, so it is not a huge concern for me.
Let's talk about the lasting power of this Dove Go Fresh deodorant since it has tall claims of keeping you fresh for 24 hours. I always find such claims dodgy because let's be real, it really depends on your daily activities. Ideally, nobody would wear deodorant for that long in their day to day lives, so I would just say, I feel it lasts a good amount of time on me and I am able to get away with only a couple of spritz a day during a busy work week.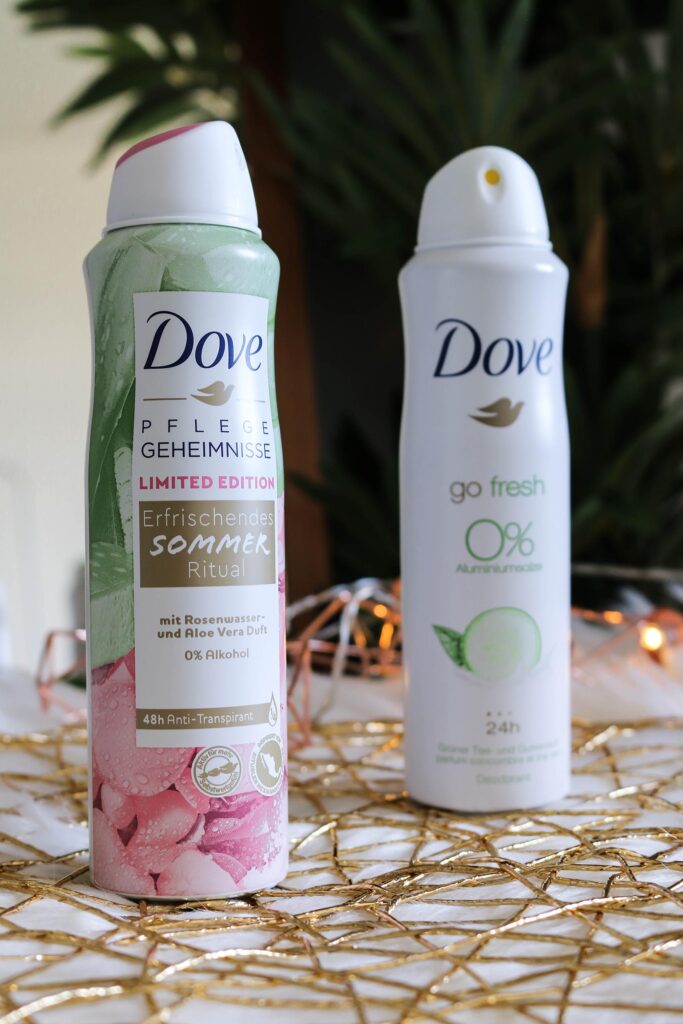 Dove Nourishing Secrets Refreshing Summer Ritual Antiperspirant Spray
First all, I am really sorry that it has taken me so long to review a product that belonged to another season altogether and has gone out of stock in most places as it was Limited Edition. :/ Nevertheless, I felt I should include this Dove Nourishing Secrets Refreshing Summer Ritual body spray in today's blog post as well, in case it makes a comeback next year and then this review might be helpful for someone.
I am a sucker for anything and everything that smells of roses so I had to snatch this body spray from the racks when I first gave it a sniff. Aptly named, Refreshing Summer Ritual, this Dove antiperspirant smells of Rosewater and Aloe Vera.
Though, to be honest I am not sure how the latter could be incorporated as Aloe Vera does not really have a strong or pleasant scent. However, it is safe to say that this product smells really nice and florally. You definitely would not feel like a granny by dousing yourself in this rose-scented body spray.
Now since this particular body spray from Dove's Nourishing Secrets range is an antiperspirant, it contains aluminium salts. As mentioned earlier, these salts are not particularly bad but they can accumulate in the body. Also, antiperspirants work in such a way that your sweat glands are blocked so they can aid bacterial growth.
So if you are someone who needs an antiperspirant to prevent excessive sweating, this might be a good option for you but just be sure to wash it off at the end of the day. And by no means rely on it for 48 hours of freshness.
On the other hand, this deodorant is alcohol-free so it will not dry out your skin over time and contains 1/4 nourishing cream so it will keep your skin feeling smooth and supple.
Both types of these Dove body sprays share the same price, quantity and availability.
Price: €1.75
Quantity: 150 ml
Availability: Most leading drugstores and supermarkets worldwide. If you are in Germany you can get your hands on these from dm, Rossmann or Müller.