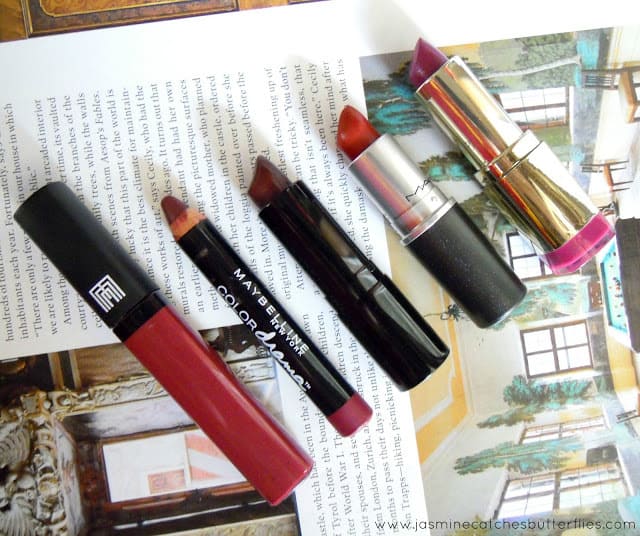 L-R: Masarrat Misbah Dahlia, MNY Berry Much, Shades by GAL Boysenberry, MAC Chili, Milani Uptown Mauve
Neons, in the face pinks and all such shades are pretty, pretty for summer time, pretty for pretty girls, but I love me some muted, dusky, deep shades. Honestly, I would be more comfortable in wearing a black lipstick in comparison to a bubblegum pink, given any time of the year. That is just how I feel lipsticks work for me at the moment so I am constantly gravitating towards mauvy pinks and deep reds. Now, I feel almost all nude lip shades I own can pass for fall time and therefore I have included none in this post. I mean I wear them all year round, rather than specifically in autumn/winter, so when it is really fall, I like to wear darker shades. I really really really hate winters but these lipsticks keep me going and maybe even liking it a little bit. So, here are my top five fall lip shades!

Massarat Misbah Lip Gloss – Dahlia*
I am not a lip gloss person, you all know that, but even during fall there are days when you just can't walk out looking like a vamp and for those days Dahlia is perfect. Now this is a high pigment gloss which adds a beautiful tint of berry. It is a purple toned maroon and what I love about it is that you can wear it as a sheer shade as well as a deep one.
Maybelline Color Drama Intense Velvet Lip Pencil – Berry Much
Berry much again is a purple toned maroon but it is darker than Dahlia and has a matte finish. The color payoff is mind blowing and it goes on the lips so easily without drying them out. Also, it lasts for hours and you can carry it around for touching up on the go.
Shades By GAL Luxury Lipstick – Boysenberry*
Now we are talking, this is as dark as it gets in my collection. I received this in my mail ages ago and I have been waiting all this while just to wear it in this season! Boysenberry is certainly not for the weak hearted, especially if you wear it to its full opacity. It is a very deep dark berry shade that looks breathtaking on all complexions and with this all you need is a perfect base. They call it a luxury lipstick and I see why, the packaging weighs expensive. I find it to be quite creamy and with a shade this dark you do have to be careful as it can easily go up all the way to your nostrils.
Not the best photo, but you can see me wearing it here.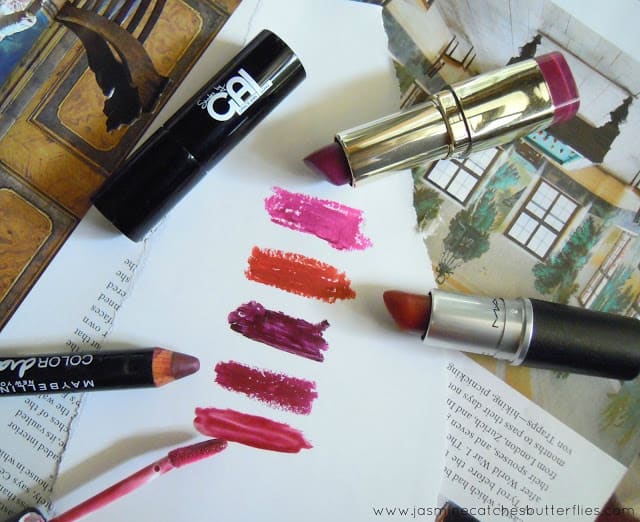 L-R: Masarrat Misbah Dahlia, MNY Berry Much, Shades by GAL Boysenberry, MAC Chili, Milani Uptown Mauve
MAC Matte Lipstick – Chili
If you are looking for something more red, but not quite bright red, you might like Chili by MAC. This is a burnt brick red shade and it is one of my all time favourites. I can wear this all year round and I believe this is one of the safest red shades for me.
You can see me wearing it in my Rocking Short Hair blog post.
Milani Color Statement Lipstick – Uptown Mauve*
Like I mentioned in my review, I wanted to go more purple this year and Milani Uptown Mauve has been a good start so far. It certainly has a lot of fuchsia in it but it is still something different for fall if you want to avoid berries.
So these are my top lippies for the season and I would love to know yours!
Tis the season of embracing dark lips!


(adsbygoogle = window.adsbygoogle || []).push({});