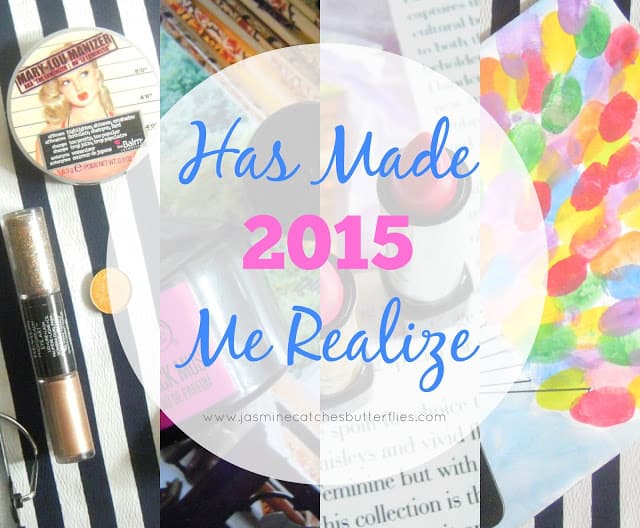 It is always good to reflect and realize to learn better for the future rather than just brainlessly making new year resolutions with each passing year, right? Whether you stick to '18 till I die' or 'Age is just a number', we all go through transformations, little by little, over those very years we would like to hide. 2015, on the whole, was a good year for me, especially because I discovered more of myself and came out of it glorious. Here's how and why.
2015 has made me realize that…
I am a creature of habit.
Now, I don't really take pride in it but this is something that the past year made me realize. I gravitate a lot towards the same things repeatedly to the point where I am annoyed and reluctant to try something different. Also, I feel I am quite orthodox in my beliefs and I would like to change that now. I am not heavily opinionated but just like most people, I find it difficult to accept changes. You might think that how come is that a big deal, but the way I have been raised, it actually is, more so on a personal level.

It's okay to focus on just ONE thing.
And live in the moment. I would put it on my zodiac, because I am one of those people who are always thinking ahead of time and about other tasks before finishing the one at hand. This causes me to stress out in a snap and as a result, I am unable to do my hundred percent on anything. Until, December, when I just went on vacations without worrying about anything back home and even my blog, I was in a really long time able to enjoy myself, enjoy what I was there for, rather than sitting with my head in my hand in a perplexed state as usual.
Let go of the drama.
Even if anybody cares, they can't really do beyond a certain limit that they either naturally hit or choose to draw. If I feel something isn't happening right, I raise my voice. It turns out that a lot of other people probably face similar issues but they choose to stay quiet just to divert drama but I have always been dumb enough to attract it. At the end of the day, nothing really counts. I go back being on the same level zero with everybody else. Even though I wish things weren't that way, I wish they made more difference and were actually heard but you know it would take heaps of effort to make that difference. Most people around are more or less selfish in a way. Which is okay, why to get into somebody else's rut but if people realized that they could actually contribute to betterment, that would have been something to be proud of. Anyways, I plan on being more tight lipped myself. That does not mean I would not stand up for what is right, however, I am working on changing my ways.
Retail therapy is a thing.
I always thought people said it for the sake of it until I had a silly tiff that really affected my mood and hours later, buying a makeup palette online turned everything around. That's quite shallow actually if you come to think of it but it works. Bad exam? Go, shop. Nobody listens? Go, shop. PMS? Go, shop.
I am not an eyeshadow person.
That's right. All my eyeshadow palettes are collecting dust. The sad part is, even the brand new ones. At most, I would like to use a single eyeshadow all over my lids but other than that, nah! I am more of winged liner gal, all day, every day. In fact, unless I have a liner on, the eyeshadows don't even sing to me. There is just no Jaclyn Hill in me, I'm more of a Nicole Guerriero.
I am more accepting.
Maybe it was only because I was younger and immature, but I feel I am more accepting when it comes to new people now. Which I am glad to announce is a positive change. I even trust other people's potential and abilities more now.
I love food.
It wasn't the case even five years from now, but I have had just so much more food (and pounds) through 2015, that I can really, truly, say that I love food. I am a foodie, more than just getting told that I eat too much pizza. I love a variety and even though I am not a home cook, I know it won't be a problem when I have to full-time cook for myself. Food is easy.
My best friend is a crucial constant.
Knowing my temperament, it is just difficult for me to stick around for long. Sure, you can always hit me up, confide in me, but I wouldn't necessarily be doing the same, it would never be a two-way thing. The fact that I have had a best friend for seven long years just shows how much my best friend deserves a pat on the back. No matter how many people come and go, there is only one person I will ever go to to ward off all my worries.
I am over chick lits.
While the genre was an easy read growing up, falling into some more mature company over the years, I instantly became shy to share what I had read so far. As a result, I had switched over to more serious authors and literary legends around the time I started university. Towards the end of 2015, I picked up a long awaiting Meg Cabot trio from my shelf to relive old times and I am amazed to have zero interest in it now since I remember enjoying my last Meg Cabot trio years ago, a lot.
Photography could be my thing.
I still have the same digital camera and no newly bought lighting, just like 2012, the year I started blogging, but anybody can tell that I have come a long way since. I certainly am in a need of making some big investments in this area but more than ever, 2015 was the year I played with props, backgrounds, and natural lighting the most. I am still very shy to be okay with self-portraits or even selfies, hence you see only one every now and again but I enjoy product photography and outdoor ones. It certainly is turning into a hobby, a new camera has been on my wishlist forever but there are always other things to take care of so I don't see myself getting one anytime soon.
My blog is liked, if not loved.
This is something that swells my heart. It started out on a whim and now when people tell me they enjoy reading my blog, miss my posts when I am away or that they are waiting for an upcoming post, it just feels so surreal. Thanks, if you are a regular reader or like my work, positive feedback always makes me strive harder.
I had started planning the post with only a couple things on my mind, but as always once I begin typing, I go on and on. I would like to know what 2015 made you realize so feel free to share in the comment section or write your own blog post about it and then send me a link.
Oh, and Happy New Year! 😉


(adsbygoogle = window.adsbygoogle || []).push({});