When Suva Beauty posted a video of their owner, Shaina, toying with the idea of creating a half and half duo of their existing Hydra Liners; Grease (Black) and Space Panda (White), the fans got excited but the comments section was flooded with, 'it would be great if there's a divider'.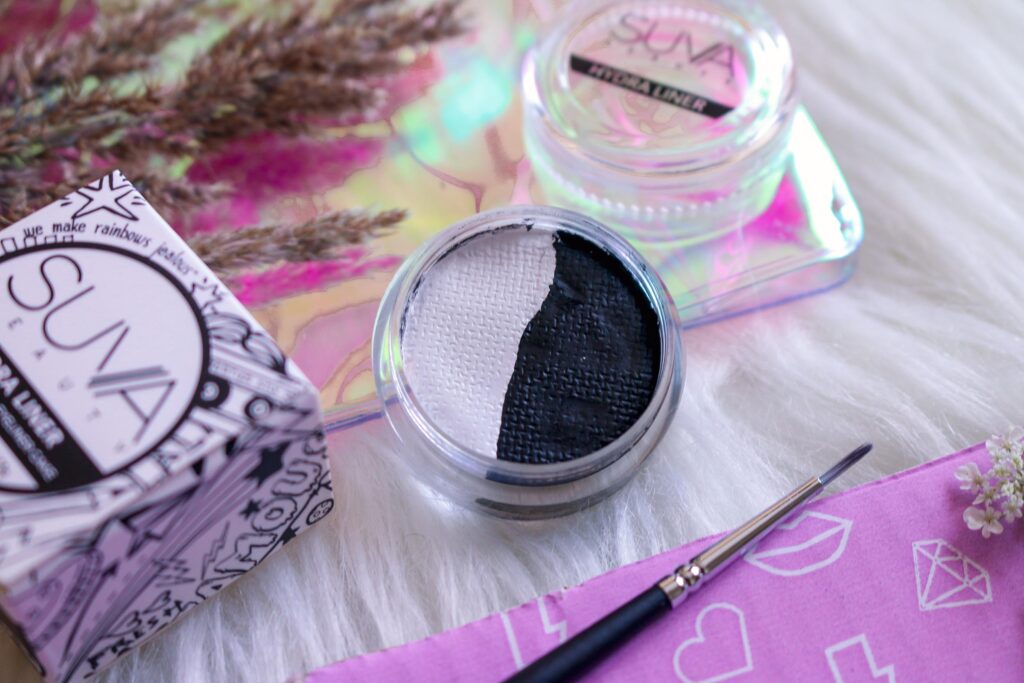 Soon after the one of a kind Suva Beauty Doodle Mix Cake Hydra Liner was launched, however, people were disappointed to see that a divider was not included and that raised some hue and cry. Most makeup enthusiasts believed that the cake mix would just end being messy and the white side of the hydra liner duo would turn grey in no time.
The brand begged to differ and their reasoning for not including a divider was that it was done to achieve a nice gradient liner look (as shown in my swatch photo). Also, of course, they assured us that things won't get messy and how to properly use and clean each side on its own, yaddi yaddi yadda. But how true are the claims? Let's dive into this Suva Beauty Doodle Cake Mix Hydra Liner review to find out!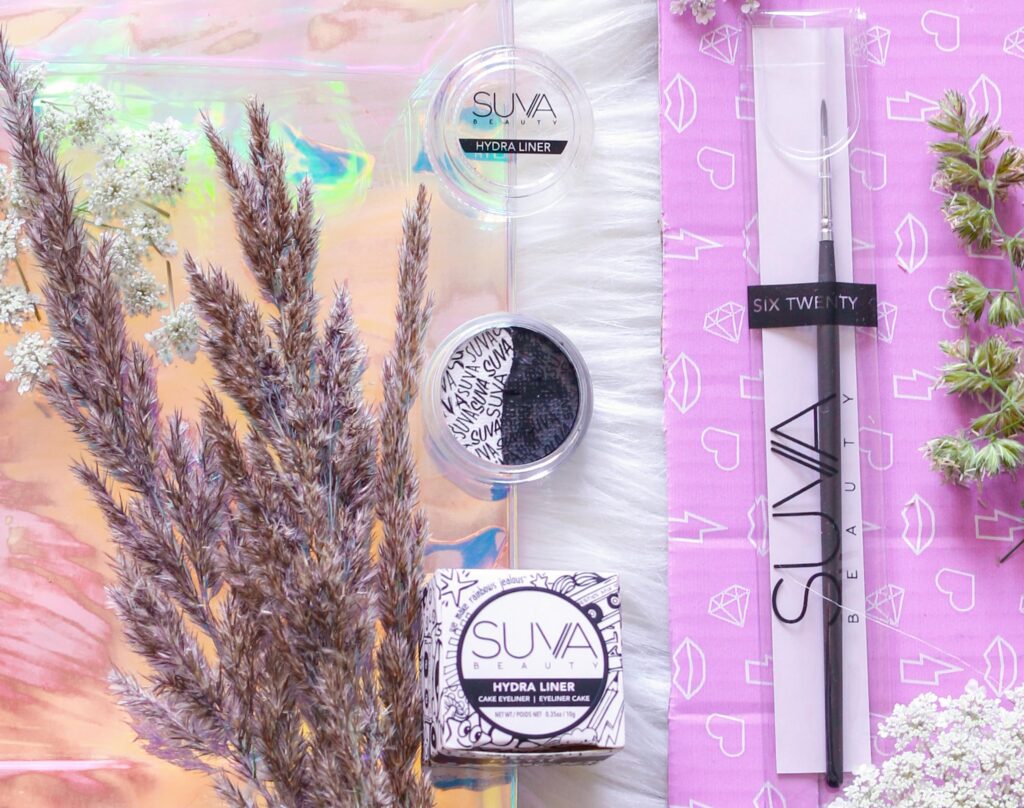 Packaging of the Suva Beauty Doodle Hydra Liner
Suva Beauty Hydra Liners come in a small cardboard box and the actual container is just made out of plastic. That is pretty basic but hey, it works! I particularly find the unicarton of the Doodle cake mix to be quite cute and the name is apt too.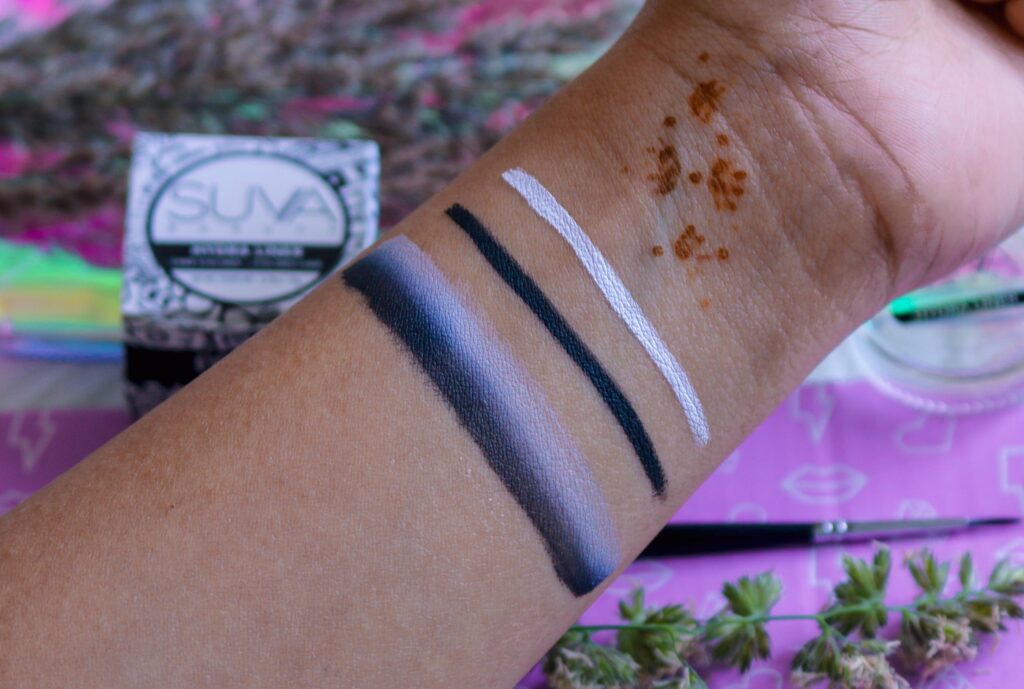 Formula and Performance of Suva Beauty Hydra Liner
Suva Beauty Hydra Liners are obviously water activated and therefore, they are also not waterproof. I had been desperately looking for a good white eyeliner for my creative makeup looks but everything I had tried so far was not really easy to work with so going for a water-activated formula just made sense. These Suva Hydra Liners have a matte finish but they do have shimmery ones in their range too.
Pros of Suva Beauty Hydra Liners
Suva Beauty products are available for purchase online on Beauty Bay, Morphe and Suva Beauty's own website.
These eyeliners are really easy to use as they are just like water paints.
They are safe to use on face and I have not experienced any adverse reactions.
The hydra liners are easy to remove as well.
Pigmentation and opacity are buildable. I personally love the white one and feel that it performs slightly better than the black in these aspects.
These Suva Beauty Hydra Liners are not prone to cracking normally (see the cons for more details).
The hydra liners are budge and smudge-proof once they have dried and do not fade or transfer.
Cons of Suva Beauty Hydra Liners
The black liner lacks opacity and I would choose a gel liner over it.
The black liner also tends to feather and bleed due to its formula (see the photo of the swatches). So try mixing it with a lesser amount of water.
The pigmentation and opacity are buildable but you cannot particularly layer too much of the white Suva Beauty hydra liner as it starts cracking and does not perform well in the crease of the eye.
Also, if you want to use the white hydra liner over eyeshadows or foundation/base products, be mindful that it loses its intensity upon mixing with other makeup products and would require layering.
Apparently the Suva Beauty Doodle cake mix hydra liner is a limited edition product and I wish this was not the case.
Price, Quantity and Availability of Suva Beauty Hydra Liner
Suva Beauty Doodle Hydra Liner retails for €14.50 and you get a total of 10g of product. The individual Suva Beauty hydra liners cost the same and that is on the pricier side so I do find this to be a good deal.
Suva Beauty products are available for purchase online on Beauty Bay, Morphe and Suva Beauty's own website.
Final Verdict on Suva Beauty Hydra Liners
I am quite happy with my purchase as I finally got the white liner that is easy to work with. Suva Beauty also has a wide variety of colourful and neon hydra liners but I find them to be a bit pricey for my budget at the moment so I really hope they come out with more hydra liner duos like Doodle.
As for the main concern that everyone had about Doodle, I am happy to report that a divider is not required in this duo cake mix. There is ample space for you to individually pick these liners on your brush and even if you are going for that grey gradient look, the partition region is easy to clean with a cotton bud. Check out Suva Beauty's Instagram for more tips and tricks on the use and application of Doodle hydra liner.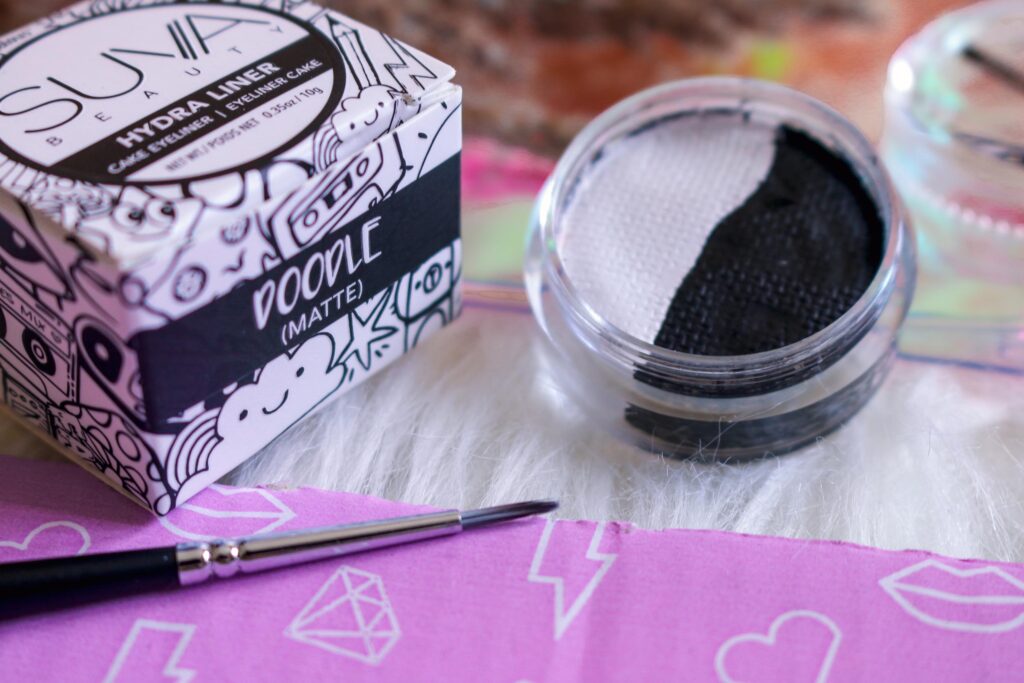 Suva Beauty Six Twenty Brush Review
Here's a bonus review on the Suva Beauty Six Twenty Brush since we are talking about the brand and this liner brush was part of my Suva Beauty haul from Beauty Bay!
While Suva Beauty has other makeup products as well, the brand is popular for their hydra liners so it only makes sense for them to offer liner brushes too. Suva Beauty currently has four liner brushes which slightly vary in thickness. I ended up picking the Six Twenty which is the second thinnest brush after Six Ten.
Keeping this review short, I would say that the brush is my absolute favourite for its precision and quality. It retails for €12.25 and is so worth it!