I have been blogging for FIVE years now?! It seems like I just started yesterday but I am so happy to see how far I have come in this journey that I started without expecting much. Once again, this year as well, I forgot that it is my blog's anniversary today but luckily I realized that it is at one in the noon rather than any later. So I had enough time to reschedule my other posts and plan and write this post where I am sharing the 5 things that I have learned in 5 years of blogging.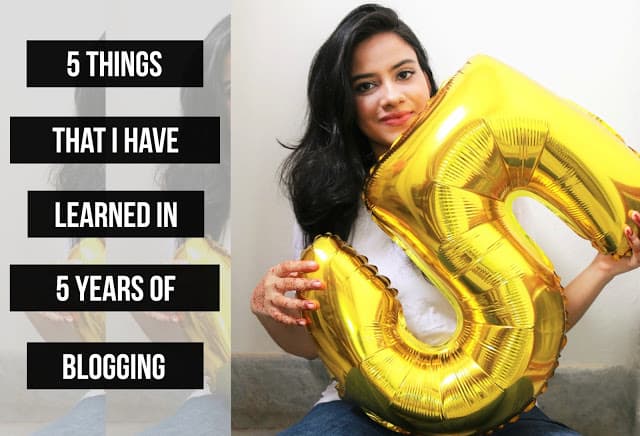 Now the reason why I picked this topic for today is that 5 years is a pretty long time for keeping up with a hobby like blogging and I do have some advice that I am sure new bloggers would find helpful. Besides, I do get blogging related questions quite often and while that is not really a niche that I cover often on here, I certainly do want to help anyone who wants to know what has worked for me as a blogger.
So if you are someone who feels overwhelmed or maybe even lost in this wide world of blogging, grab a cuppa and learn from my experience.
1. Consistency Gives You Recognition
This is the most important thing that I have learned in my 5 years of blogging. If you are not constantly producing content and you take too many breaks in between, you are likely to be forgotten. Staying consistent does not mean that you have to blog every day, but give yourself a schedule and stick to it. Post at least once or twice a week if you cannot do it more often and this will get your blog the right kind of attention. However, if you disappear quite often, you would struggle to gain a loyal readership.

Also, when it comes to things like blogging where there is someone new and more promising every day, you really have to push yourself to put your name out there. It is not a competition, but if you want people to recognize you, you have to put in some effort from your end as well.
2. You Have To Be On All Leading Social Media Platforms
The best way to promote the content you create is to effectively utilize social media. I have said this before as well that when I started out, I was reluctant to make a Facebook page and later on even Snapchat because I thought it was all too much to handle. However, your audience is everywhere and it is important for you to target them because what is a blog without readers, and the more, the merrier, right?
Social media is a great tool for increasing page views even on older posts and this is something that I do quite often. I have seen remarkable results ever since I have started practicing this on my Twitter and Facebook page. All of the content that you create is worthy of a read even months and years later. You gain a new set of followers every day, every week, every month, every year and these are the people who might have never seen some of your old but gold content. So, resharing posts from the past is a great way to get more eyes on what you once wrote.
I love Snapchat and Instagram Stories to engage with my audience on a more personal level and this gives my followers a peek into my life which is something that majority finds interesting. Other than these, I find Twitter to be extremely handy when it comes to socializing with other bloggers, especially international ones. Twitter chats are the best way to put yourself out there and make more friends. Having a sense of community is so important because it keeps you motivated and the support that everyone shows is so heart-warming. You get to learn a lot through people from all around the world and it has certainly opened up my eyes and mind to different ideas and perspectives.
Facebook is great for driving the local audience to your blog as a lot of people within Pakistan prefer the platform more than Twitter. They are both completely different but Facebook groups and pages have a very different desi community vibe and while honestly, I am not much of a Facebook user, I still get a lot of traffic from the platform by just sharing my content.
Instagram and Pinterest are great for sharing photo inspirations for the people who do not really enjoy reading but would still click your links once in a while if they find something that they would like to know more about. So you see every platform has your potential audience and you just have to lure them with your creativity.
3. You Find Time And More When You Find Passion
I often see a lot of new bloggers being disheartened when they do not get immediate recognition or long for PR samples without putting in much effort. I know a lot of people are students or work full-time and they find it difficult to cope with everything at once. That is absolutely normal but this does not mean that you have to quit one or the other. I started blogging oblivious of the perks of blogging and you would know this if you have read any of my other blog anniversary posts. I must admit that I struggled a little bit initially when it came to managing both, studies and blogging. However, since I was truly passionate about creating content even if it was fairly silly back then, I was soon able to figure out a routine which allowed me to continue blogging and studies side by side.
This is something that comes with your desire to stay consistent mainly based on the fact that you really want to blog for the fact that you enjoy it, rather than just hoping for benefits. Not that there is anything wrong with having those benefits. A lot of people do take up blogging as a full-time job and that is fabulous but even then there is so much effort that they put in to successfully monetize what they create. You have to really work hard to climb up the ladder initially and people will only take you seriously when you show them that you are serious about what you do.
4. Blogging Boosts Your Confidence
I have always been pretty shy in general and at the time when I started blogging, I had extremely severe dermatitis and sun damaged skin so I was not confident about posting just about any photo of myself online. Now, even though I have always had a pretty thick skin when it comes to mean comments related to my appearance, being ridiculed online by a bunch of strangers behind a computer screen is different. You feel you do not have as much control but there is also no point in feeding the trolls. You just become more confident about yourself when there are people who are still willing to read what your write regardless of how you look. You also realize that a lot of the things that you see as imperfections are not even noticeable to other people.
Anyways, soon after I started blogging, I also started watching YouTube and I was really fascinated by how people coming from ordinary backgrounds are able to connect with other people like themselves through the platform. I wanted to start my own YouTube channel immediately, but back then I was not at all confident to do so. I remember trying to film a DIY origami penguin video but I hated the outcome so much that I did not film myself for another five years.
Over time getting to know people from different backgrounds and experiencing things that I would not have been able to otherwise, boosted my confidence to start my own channel this year. It was not easy, I faced technical issues but just like blogging, I am trying to stay consistent with YouTube as well and so far I am pretty happy.
5. Engaging With Your Audience Is Important
To me, everybody who reads my blog and interacts with me is no less than a friend and it is super important to build a healthy relationship with your readers by engaging with them whenever possible. If somebody emails me a query or even sends in Instagram or Facebook messages, I try to respond as soon as possible. You want to come across as someone who is accessible and friendly so that your readers feel comfortable talking to you and they would take more interest in whatever you share. This also builds trust and when you are there for people, they are there for you too. You also get to know what your audience likes and you should try to base your content around their interests so that it is helpful.
That is all the wisdom I have for you guys today. I wish you all the best for your own blogging journey as well. Thank you so much to everyone who has always shown me immense support as it has really kept me going all this while. I am so grateful for you guys who regularly read my blog and give me feedback. I truly appreciate your love and presence and I hope we can build a stronger community together in the years to come.