The brand J. Junaid Jamshed was quick to gain popularity when it was first launched in Pakistan. While the celebrity himself had a huge following, there were some that still found him controversial. Regardless, his clothing line has proved to be a success and after releasing an alluring range of fragrances, the brand was smart enough to acquire and introduce a makeup line under their name as well.
It is known as J. NOTE Cosmetics but many people are not aware that NOTE itself is an independent brand that is manufactured in Turkey and is now being sold worldwide. So, just to make it clear, NOTE is not manufactured by J. Junaid Jamshed brand but is rather just being sold at their store. Just like Inglot is sold at Nishat Linen in Pakistan (though Inglot has its independent outlets within the country too).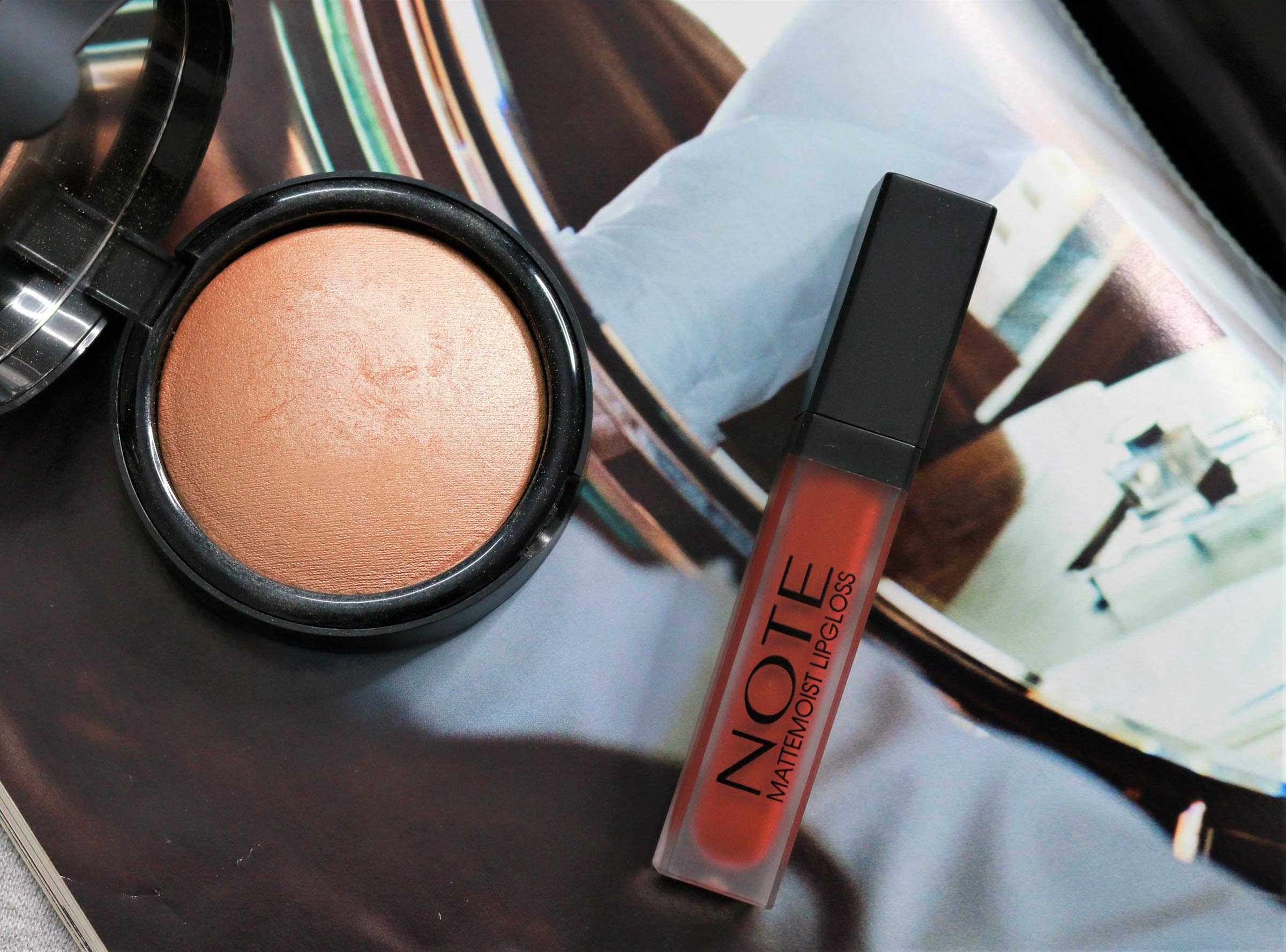 Giving in to the hype and also some requests to review NOTE makeup, I ended up buying two of their most popular products: NOTE Matte Moist Lipgloss (in the shade Femme Fatale) and Terracotta Illuminating Powder (in the shade Star Dust).
J. NOTE Matte Moist Lipgloss Review and Swatch – Femme Fatale
The NOTE Matte Moist Lipgloss has a distinctive look as comes in a matte cuboid-shaped glass tube. Packaging wise it is a bit bulky but it still looks classy.
The lipgloss applicator is also quite unique as it is flat on both the sides, with a rounded edge on the top. Since it is thin, I find it easy to use and even line my lips with. It picks just the right amount of product.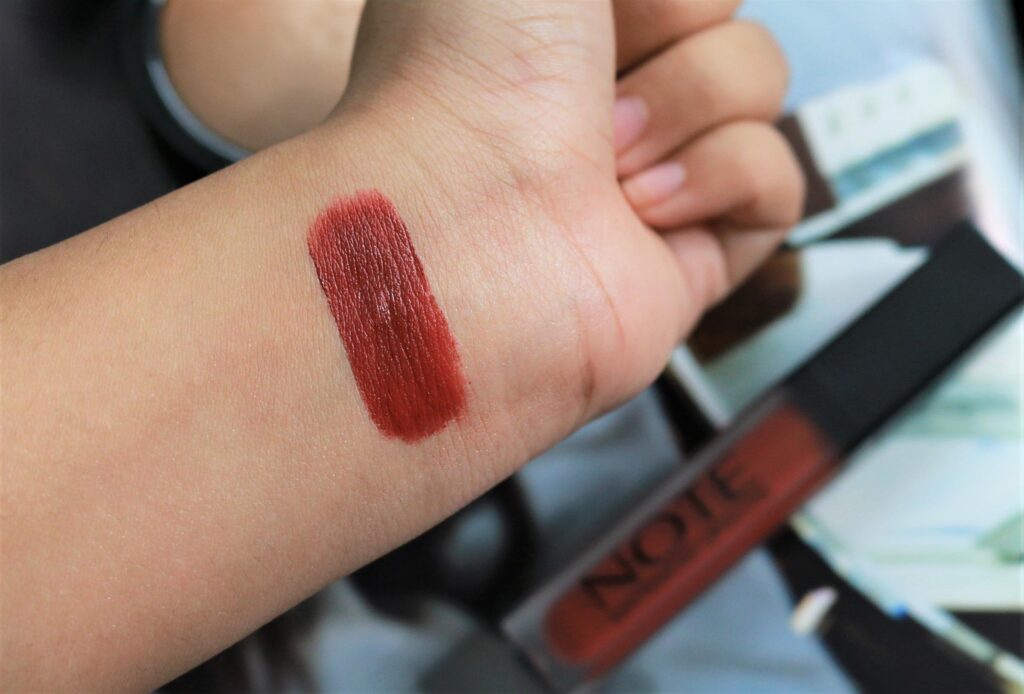 The NOTE Matte Moist Lipgloss has a paraben-free formula, infused with Macadamia Oil and Vitamin E. I believe these ingredients make this matte lipgloss a forgiving one on the lips. It does not feel drying and crusty on the lips, unlike most liquid lipsticks.
As the name suggests, the finish is more of a satin-matte and while it is unique, it also reminds me of NYX Liquid Suede Lipsticks and the NYX Soft Matte Lip Creams. However, I find the J. Note Matte Moist Lipgloss to be more long-lasting. Do note that since the formula is on the creamier side, the lipgloss is not transfer proof.
This NOTE Matte Moist Lipgloss comes in 16 shades but I chose a deep and powerful shade of red called Femme Fatale. It looks classy and goes quite well with my medium olive complexion. Though I am sure this shade would work for just about anyone!
Price, Quantity & Availability: Approx. 1300 PKR / £ 6.95 (6 ml)
Oddly, I am not able to find this particular product on Junaid Jamshed's website anymore. It can be purchased from NOTE's own website though.
J. NOTE Terracotta Illuminating Powder Review and Swatch – Star Dust
The NOTE cosmetics Terracota Illuminating Powder comes in a round matte black compact. The packaging is standard but it is a little bit bulky. Nonetheless, I love the fact that a mirror has been included and the clasp is sturdy.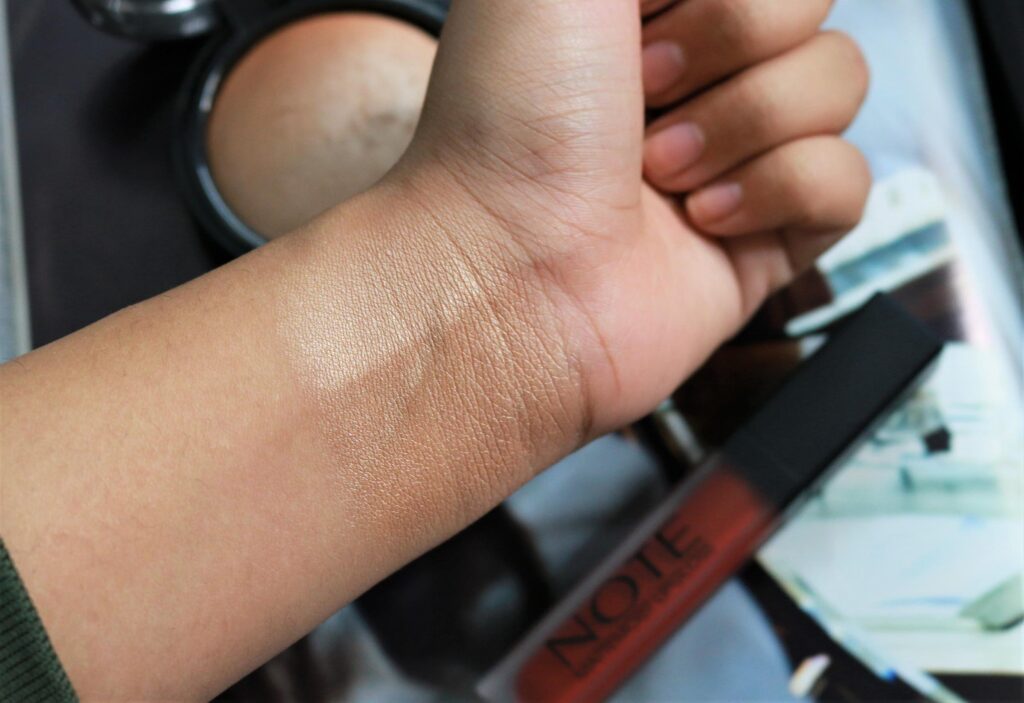 Just like the matte moist lipgloss, the NOTE Terracota Powder is also formulated with Macadamia Oil which has an anti-ageing property. This highlighter gained a lot of hype when it was first launched in Pakistan for its soft satin finish. While I do agree that the finish of this terracotta highlighter is beautiful and the shimmer is not chunky, I do not find myself reaching for it at all.
The reason being, this highlighter requires some breaking in as the top of it is hard and therefore, the colour payoff is not ideal. Moreover, I got the shade Star Dust which is light gold and I prefer slightly deeper shades of gold when it comes to highlighters.
The NOTE Terracotta Illuminating Powder definitely has the potential of translating as a beautiful soft glow on the cheeks, however, it requires a lot of effort to make it work and even after using it multiple times, I still find it a bit hard to break into. Scraping the top of highlight with a spoolie might help, but it is a waste of the product.
Price, Quantity & Availability: Approx. 1085 PKR / £ 7.85 (10 g)
You can get the NOTE Terracotta Illuminating Powder on Junaid Jamshed's website and outlet. It can also be purchased from NOTE's own website.
Final Verdict on NOTE Makeup Products
I believe that NOTE cosmetics has a decent makeup range for affordable prices. Based on my personal experience, I would say that the NOTE Matte Moist Lipgloss is a hit while the NOTE Terracotta Illuminating Powder is a miss!