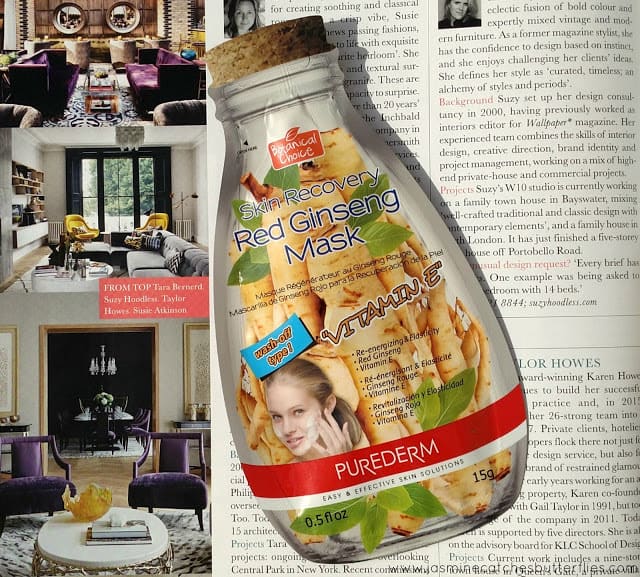 Makeup is fun but skincare is essential. I have been wanting to try out more of Eastern beauty masks and thanks to my friend, Maha from Maha's Corner, she got me drooling over her Purederm, which is a Korean skincare brand, haul weeks ago on Snapchat!
She had already told me where to get it but I still spotted the brand unintentionally at Naheed when I popped in for a quick purchase. Since I was in a hurry I picked up two Purederm masks; Mango Dead Sea Mud Mask and Vitamin E Red Ginseng Mask, but only realised that neither were sheet masks once I got to the cash counter. I decided to keep both anyway because I liked the sound of those key ingredients.
Of course, you can only see one mask here because I don't even know why but I didn't think I would put these up on my blog so used up the other mask completely and threw away the packaging. I'll talk about both nonetheless.

Vitamin E Red Ginseng Mask
Ginseng is a herb known for its healing power and this mask smells quite strongly of it. It looks like a white cream and has minute red particles dispersed sparsely through it. I applied it like a cream and you can build up the layers. It then absorbs into the skin and you can wash it off after 10-15 minutes. With this mask, I noticed that my skin looked healthy and I would say after a couple uses I did see that the Vitamin E actually boosted liveliness. However, nothing drastic and I cannot comment about its elasticity claims since that is not an issue for me right now.
The mask did not break me out or cause any adverse effects, but might tingle a little bit at first, The instructions on the back read that you must not use it on blemishes or sunburnt skin.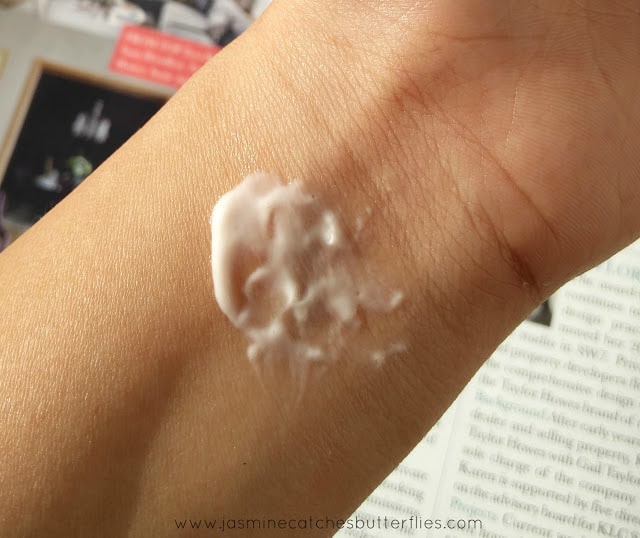 Mango Dead Sea Mud Mask
This one came in an identical packaging and I do like the shape of it because of the Purederm botanical theme. As the name suggests, it is a mud mask and is yellow in colour but has a synthetic scent of mangoes. The mask was partially wet and dry within the packaging so I had to mix in water to apply it all over my face and neck. You can keep it on for 10-15 minutes or basically until it dries completely.
This mask claims to purify your skin and that's what it did for me by leaving it squeaky clean. However, since I am dry/combination, I would say that it did make my skin feel tight. So if you are somebody with oily skin, you might like it.
Skincare can be tricky to test but fortunately, Purederm masks didn't turn out to be troublesome for me. From each of the packs, I was able to get 3-4 uses, though I would still say these are expensive in comparison to Freeman masks if you look at the quantity. Anyhow, because of the packaging these masks are travel-friendly so can provide a holiday fix.
Price: 150 PKR
Quantity: 15 g / 0.5 fl. oz
Availability: I picked these at Naheed Supermarket but later spotted them at Imtiaz Store too.

Follow
(function(d, s, id) {var js, fjs = d.getElementsByTagName(s)[0];if (d.getElementById(id)) return;js = d.createElement(s);js.id = id;js.src = "https://widget.bloglovin.com/assets/widget/loader.js";fjs.parentNode.insertBefore(js, fjs);}(document, "script", "bloglovin-sdk"))