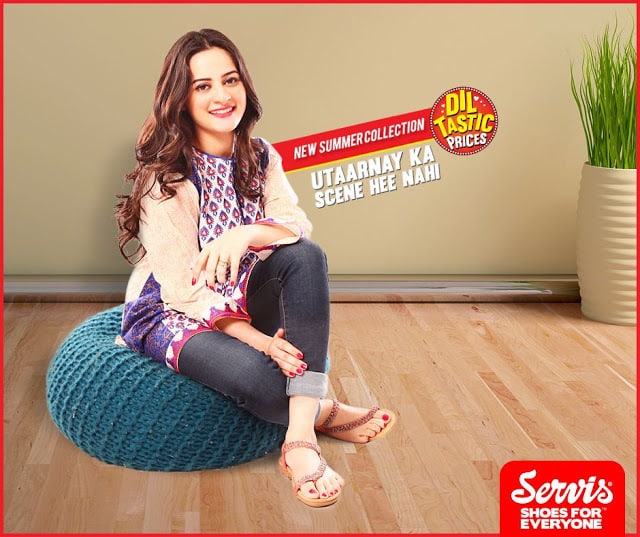 Servis Summer Collection New In Stores!
Sponsored Post*
Servis is a brand that has stuck with me since my childhood and over the years I have been happy to see the brand grow. In the recent years, I am sure you would all agree that Servis has come up with such creative and catchy television commercials (TVC) and jingles that before you even know, you are humming it.
I personally like the wide variety of shoes Servis has to offer as there is something for all ages. So, currently, you must be seeing a new TVC from Servis for the summer collection. This includes new releases for the existing and infamous signature lines from Servis; ToZ, Liza and Ndure. The catchphrase this year is 'Utaarnay Ka Scene Hee Nahi', and the idea behind this is that the shoes are so good that you don't want to take them off. I don't know about you, but I do find it relatable! I love buying shoes and you know when you get something new you just want to keep it on and admire. My favourite bit of the ad was where the girl sleeps in her shoes. It's so daily soap appropriate but something a shoeaholic would certainly do at some point! Haha.

As always, there are some lovely additions and the shoes actually seem so comfortable especially for daily wear with affordable price tags. Pop into one of the 450 retail outlets Servis has all over Pakistan or check the new range on www.servis.com.
Photo Credit: facebook.com/ServisPakistan

Follow
(function(d, s, id) {var js, fjs = d.getElementsByTagName(s)[0];if (d.getElementById(id)) return;js = d.createElement(s);js.id = id;js.src = "https://widget.bloglovin.com/assets/widget/loader.js";fjs.parentNode.insertBefore(js, fjs);}(document, "script", "bloglovin-sdk"))