L'Oreal Mega Volume Miss Manga Mascara*
We all love the doe-eyed, long fluttering lashes and L'Oreal has recently come out with a fantastic addition for this lady-obsession in their mascara collection. Mega Volume Miss Manga Mascara has been inspired by 'Manga', as the name suggests, which are Japanese comics with characters having big hair, big eyes and big eyelashes as some of their prominent features. The idea in itself is very cute and spot-on for making a mascara based on such a valid theme.
L'Oreal Mega Volume Miss Manga Mascara comes in a chunky black tube with a metallic pink cap-applicator. Talking about the applicator, the mascara has a twisty-brush that can rotate a full 360 degrees and this enables you to not only reach every nook and cranny around your lashes effortlessly but also gives them some extra lift. Also, it does not bend crazily on its own, and I find it is easy to control. The idea is very thoughtful and I love it.  In addition to that, the bristles are made up of synthetic fibres and the brush head is cone-shaped, tapered with a good gradient to it. This helps in applying the mascara successfully, not only on the upper lashes but also on the lower lashes as it thins out at the tip.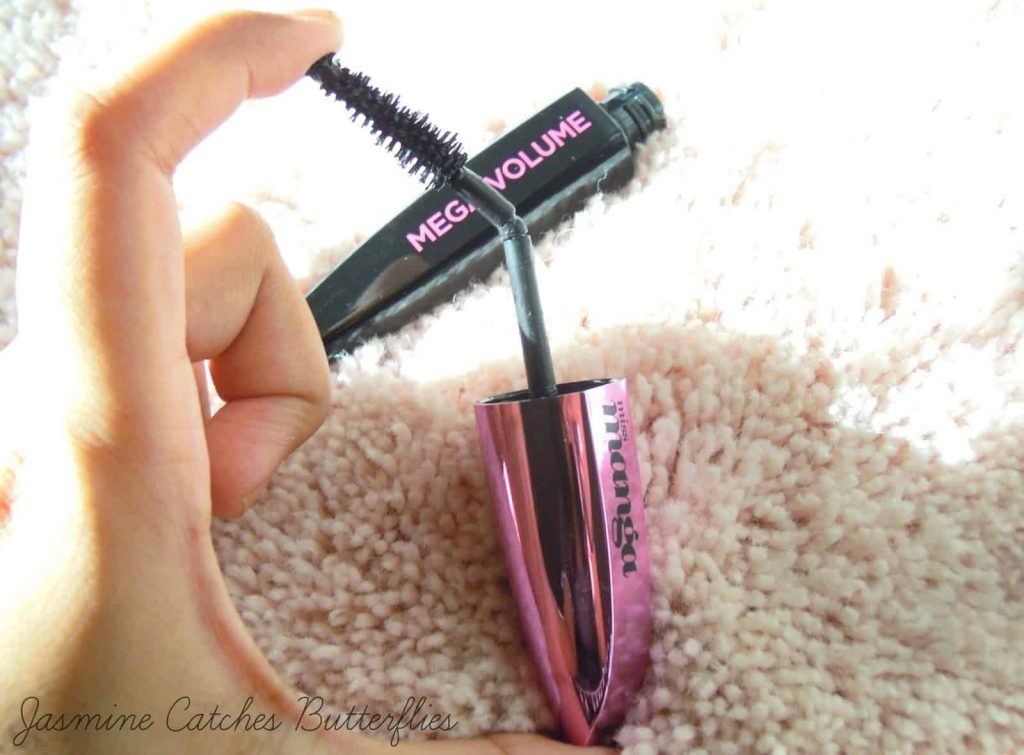 The formula of this mascara is neither too wet, nor too dry, but I feel it has gotten slightly less wet over the weeks, though it's working perfectly fine at the moment. It contains enlarging collagen spheres which help in lengthening and volumizing the lashes. The difference can be instantly seen with just a single coat, but for a full-on amped-up manga look, two coats are desirable. I can actually feel it opening up my eyes whenever I apply this mascara. Furthermore, the formula comprises a trilogy of polymers that help in holding the lashes in place. I must say, whatever this mascara claims, it does deliver. I have gone for as long as 9 to 10 hours with this on and honestly, my lashes did not get droopy at all even after those many hours. Apart from all that goodness, it's also easy to remove.

No coat, Single coat, Double coat
The only downsides to this mascara are that it tends to get crusty due to which it sometimes flakes, and clumpy due to which it somewhat fails to evenly volumize lashes. However, this is what helps in achieving the actual manga-eyed effect rather than the usual falsies look. The pictures above are very close-up shots to demonstrate how the lashes exactly look and you can notice the clumps, but do note my lashes are naturally pretty intertwined and it looks quite dramatic and sassy if you look at the whole face.
Price: 1500 PKR
Availability: This mascara comes in 3 shades; black, violet and turquoise. At the moment only black is available in Pakistan on L'Oreal counters nationwide. I was sent mine by Beauty Arena and you can also order it online from there. (Please note, I won't earn any commission if you do so!)
Absolutely loving Miss Manga for dramatic lashes! 🙂 x