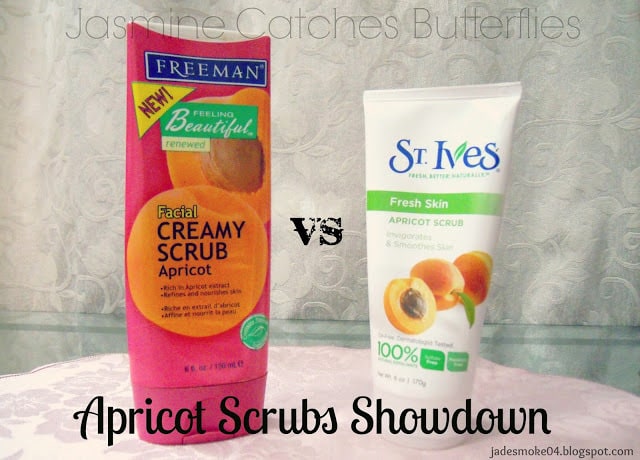 Freeman: A satisfying scrub that won't scratch your skin! Finely ground Walnut Shell Powder gently works over rough spots, smoothing and resurfacing the skin while Apricot and vitamins C and E promote healthy cell renewal. Perfect for all skin types.

St.Ives: From America's #1 Scrub brand, this award-winning Apricot Scrub deep cleans, instantly leaving skin smooth and glowing. Oil-free • Non-irritating • dermatologist-tested • 100% natural exfoliants • 100% natural extracts • Formulated without parabens and phthalates • Made without animal ingredients.
The comparison will be straight forward. I'll be listing nine categories and would award a point to the apricot scrub which performs better under a category. So, here we go!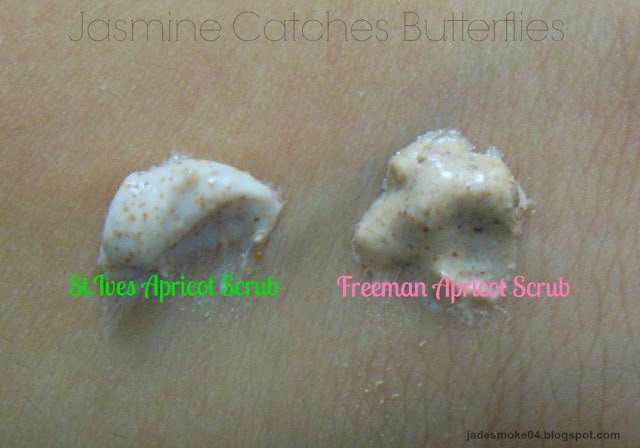 1) Weight:
They both weigh more or less the same and the amount is pretty good for an affordable price.
Freeman: 6 fl. oz, 150 mL e         St.Ives: 6 oz, 170g
Score Awarded: 1 to each
2) Ingredients:
After squinting at the list of ingredients for several minutes on the back of the tubes, I figured that both the scrubs have similar key ingredients, i.e, apricot extract, walnut shell and corn meal. The only extra key ingredients in Freeman's scrub are vitamin C and E. However, Freeman has revised the ingredients so there is no corn meal in the newer version, but considering rest of the ingredients, I believe Freeman is a better choice in this category.
Score Awarded: 1 to Freeman

3) Consistency:
The Freeman scrub has fine gritty grains which aren't very visible while the St.Ives scrub has chunkier grains which make the scrub less dense than the Freeman one. Both the scrubs are creamy but can prove to be harsh for some people if they don't keep in mind that scrubs are to be used gently. I don't see why someone would prefer something more sparse in grains if they want to exfoliate well unless they have really sensitive skin. The St.Ives scrub says that it can be used 3 to 4 times a week while I won't suggest the same for the Freeman scrub. Once or twice a week with that would be enough. I personally like really gritty scrubs as I have dry skin so I prefer Freeman over St.Ives consistency wise.
Score Awarded: 1 to Freeman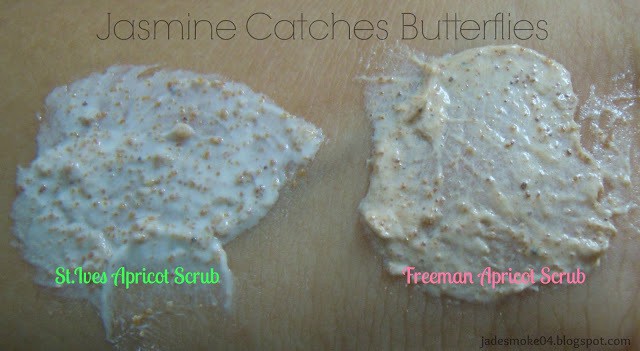 4) Scent:
Both the scrubs have a similar fruity scent though the St.Ives one is milder. Neither of them is over-powering, and it is a tough choice to pick either.
Score Awarded: 1 to each.
5) Results:
Both the scrubs leave skin feeling clean and smooth, but nothing out of the ordinary. They just get the job done and are a good pick for routine use as they are affordable. Though speaking from personal experience the Freeman scrub gives slightly better results.
Score Awarded: 1 to Freeman
6) Packaging:
Looking at the two tubes, obviously St.Ives is easier to dispense product out from as it is made of soft plastic while my Freeman scrub is in an old packaging which was made of hard plastic and was really difficult to squeeze, probably noting that Freeman has revised the packaging now so it comes in a big plastic tube similar to their masks. The colour of the tube and the  print is your personal preference, it doesn't matter to me so the choice is yours.
Score Awarded: None.
7) Eco-friendliness:
Freeman clearly states that they do not test their products on animals while all I could find on St.Ives website was that they do not use animal ingredients though nothing about animal testing. However, St.Ives has a whole Natural Commitment page on their website, and their packaging is recyclable, so I'm guessing they probably don't test on animals either.
Score Awarded: 1 to St.Ives
8) Price:
I don't remember the price of either of them, but I can assure you that both are affordable and lie more or less in the same price range. The Freeman Website shows that the scrub retails for $3.99 while no price is mentioned on St.Ives Website. According to Amazon Freeman is slightly more pricey but it's apparently over priced on Amazon. So again the choice is yours.
Score Awarded: None.
9) Availability:
I bought both the scrubs from Imtiaz SuperMarket and both are available easily in most places nationwide. However, St.Ives scrub is more readily available in most countries.

Score Awarded: 1 to St.Ives
Score Summary
Freeman VS St.Ives
1. Weight: 1-1
2. Ingredients: 2-1
3. Consistency: 3-1
4. Scent: 4-2
5. Results: 5-2
6. Packaging: –
7. Eco-friendliness: 5-3
8. Price: –
9. Availability: 5-4 (TOTAL)
So the winner according to my scores is Freeman Apricot Scrub! However, some aspects may matter to you differently, and the two unmarked categories are where you might make a distinct decision.
Just like including my Nails Tips & Tricks in any of my nail related posts I have also decided to add Beauty Tips & Tricks at the end of my posts where relevant. It might be helpful to beginners and may prove to be handy to any of us. I have already made a pin board on my pinterest to post these and would also be making an album on my facebook page, so if you fancy, follow and like each respectively, and you can share them there on. I'd love it and would more than welcome if any of you would like to share any of your beauty tips and tricks and I will be featuring them along with your credits in my future tips & tricks posts. 🙂 I already updated my All About Sunscreen and Garnier Ambre Solaire Face Protection Cream SPF50+ Review with Beauty Tips & Tricks #01.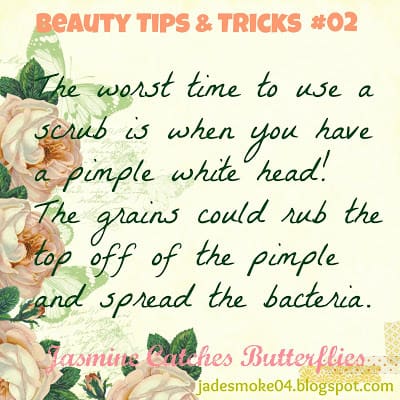 Do let me know if you have tried either of these and what do you think? x