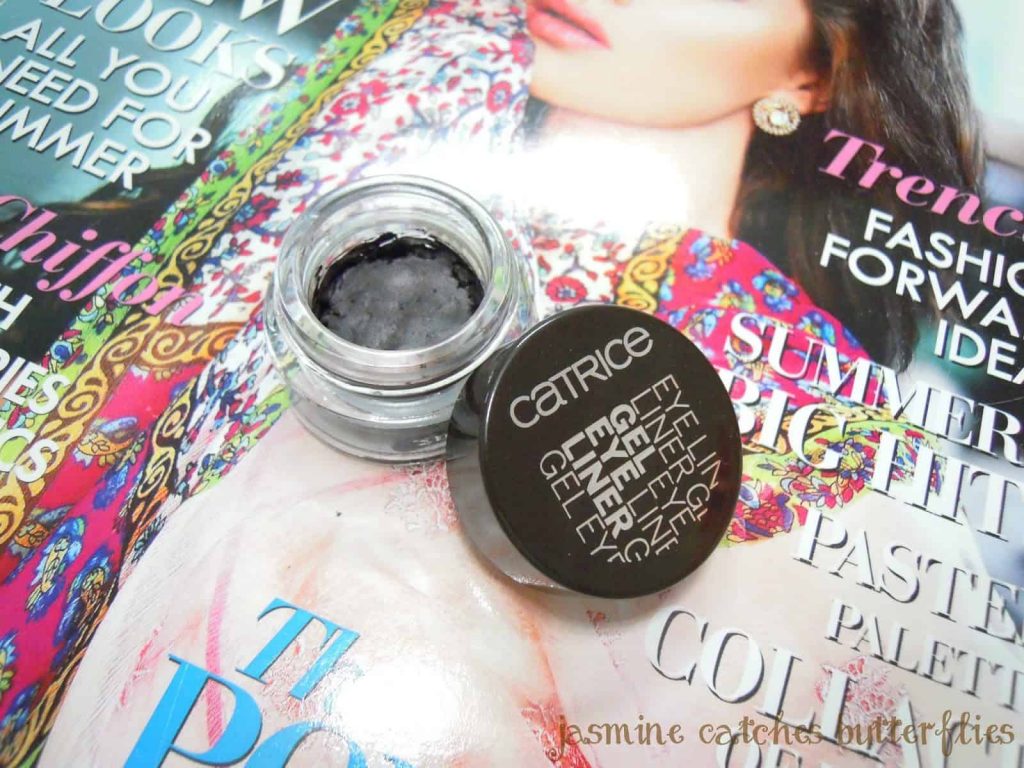 Catrice Gel Eye Liners have this reputation of being super creamy and lasting in the pot without drying for ages unlike most gel liners that too under an affordable price tag. I have been trying out this product for about a year now and there's a reason why it took me so long to review (read on to find out), but now that I finally sat down to write down my final thoughts, I got to know that Catrice discontinued it last year just around the time I had bought it! There were 5 shades available, named '010 Black Jack', '020 It's Mambo Nr.2', '030 In Love With A Robot' and '040 Sherlock Khaki Holmes' and '050 Black Jack With Goldie Hawn'. However, from what I have gathered, Catrice have brought back their black gel liner under the label of 'waterproof', though I believe the previous formula was waterproof too as I was told so by the salesperson (don't trust them though!), in a similar packaging as the previous one, but renaming it '010 Black Jack with Jack Black'. Apparently, this is the only shade out at the moment but lets hope they eventually bring out more.
Black is a classic liner shade, but I love brown more and since 'gel formula' is considered the 'Queen' of the eye liner lot, and I had the chance of picking one from Catrice, which itself is considered the 'King' of the industry when it comes to gel liners, matching or in fact even beating multiple high end brands like Bobbi Brown as claimed by many, I HAD to get one in brown. Even when that brown in person wasn't exactly the shade I wanted and the terrible salesgirls ruthlessly dragged her useless brush dipped in a dried out pot on the back of my hand. -sigh- This is what happens when you set your heart out for something.. no matter what, you expect it to work out somehow. I sound like a hopeless romantic at this point, but I had actually swatched 010 Black Jack previously in store and had fallen in love with the formula and consistency, because it was a dream, exactly how everyone else had described it. So, yeah, we all usually have a bitter experience when the nasty salesperson is around and assuming that testers never get thrown away from local shelves, I had high hopes for my brand new gel liner pot.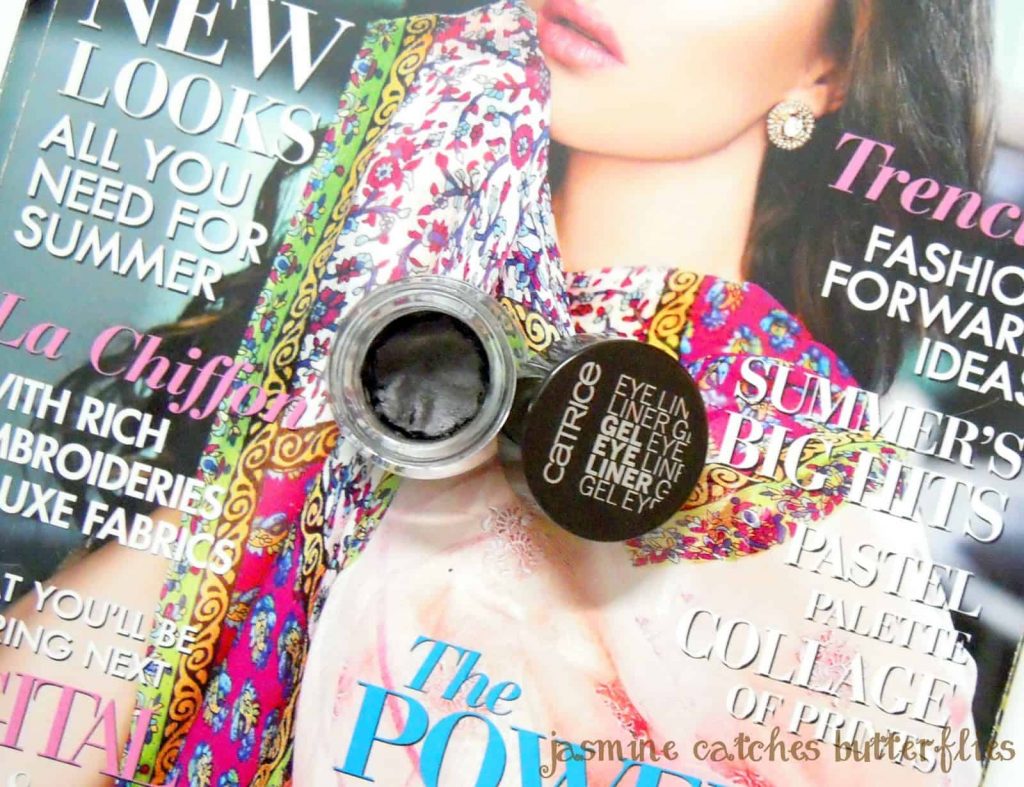 Catrice Gel Eye Liner comes in sturdy glass pot with a chunky twist around plastic lid which has a cool print on top. Unfortunately, my dream was shattered as I opened my pot. You can clearly see in my haul post how it looked when it was still new, the sides had left the walls of the pot which indicated it was dry. Disappointed, I did a swatch and it was nowhere as creamy as the Black Jack I had tried in store. The reason why I took so long to talk about it here is because I thought maybe only Black Jack was meant to be creamy as it was shimmer free too, so probably had a different formula. To this date, I haven't met anyone who has tried It's Mambo Nr.2 here, but looking up all the reviews online I have concluded that I got a defected pot as seemingly, all the 5 formula were supposed to be the same in consistency.
However, I have been using it all this while as it isn't dry to the point where it is impossible to work with, it's just not very smooth, surprisingly enough though the formula hasn't gone any drier than how it was a year ago which is another reason why I was uncertain about its formulation. As mentioned, the shade isn't exactly how I wanted it to be either because it is darker than the brown I wanted and looks almost black. Additionally, it has very fine pinkish-coppery shimmer particles in it which I didn't want, but they aren't really noticeable when applied. It takes some effort to apply and build because of the solidified consistency. Like the salesgirl told me back then that all Catrice gel liners are waterproof, even though there is nothing such mentioned on the product itself, according to my owfirst-handnd experience, the gel liner is indeed waterproof and smudge proof, once it sets and dries on the lids, it just won't budge even on deliberate rubbing. It comes off easily with Bioderma but is tougher to wipe off with Nivea Cleansing Milk.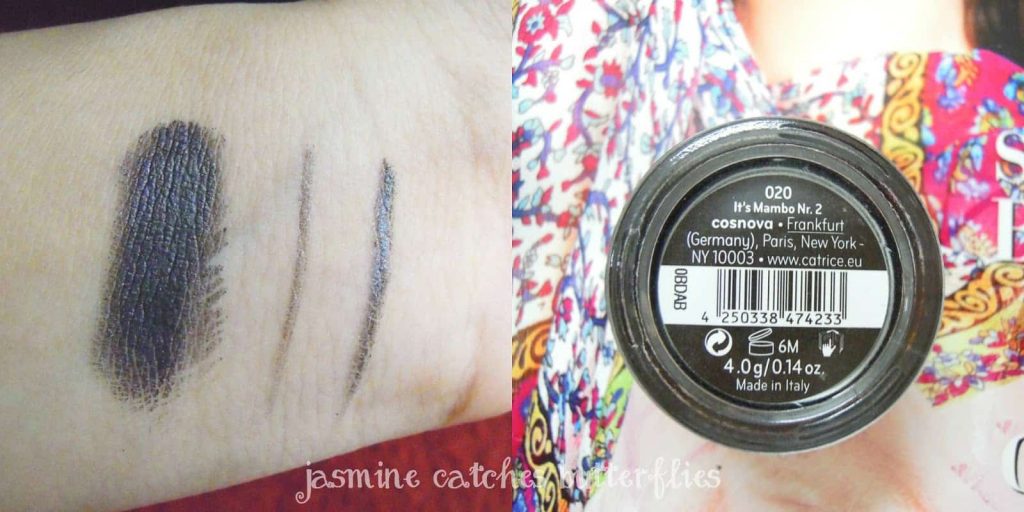 L-R: Swatched with finger, single stroke swatch & built up swatch with Sigma E65
Price: 750 PKR
Amount: 4.0 g / 0.14 oz
Availability: I bought mine from Naheed Supermarket.. According to Catrice's website, this liner is no longer available but a new version is out now.
My Ratings:

I don't give break downs of ratings but since 3.5 might seem too generous to some for the quality I was sold, I'd like to justify my stars. Packaging, pricing, waterproof and smudge proof traits and above all not drying down any further even after 12+ months are the points that still won me over. What didn't get my fancy was mainly the somewhat dried out formula I got which also lead to poor application and therefore affected single brush stroke pigmentation. Otherwise, this would have been an absolute 5 star product for me, keeping in mind that the shade was something I already knew about at the time of my purchase.
Catrice Gel Liners are such a globally loved product for all the right reasons that even though I ended up with a bad pot, I am still willing to get the new version in black because the cost and longevity are still pretty much unbeatable. I know many might yell 'Essence' at me right now, but I haven't tried anything from that brand as yet so I'd like to try one out from them too. Also, I shall now try out one of those gel liner melting tricks and update you guys with the results.
Let me know about your experience if you have used It's Mambo Nr.2! 🙂 x