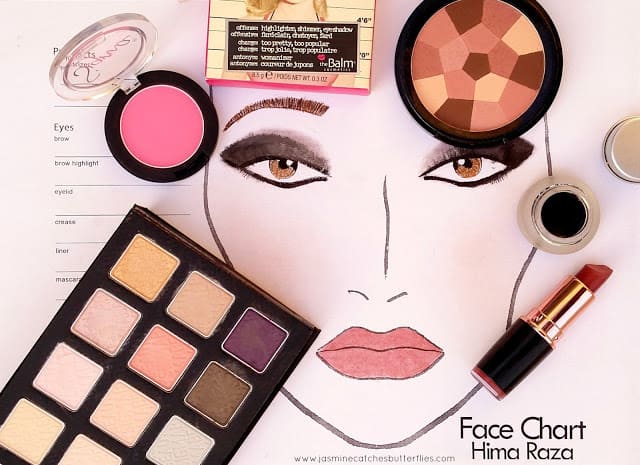 Over the weekend, Mirrors by Tazeen was offering two days of Pro Beauty Class which was a makeup workshop conducted by Hima Raza as their makeup artist. Now, I had never before taken any such classes for learning makeup artistry so I was pretty excited to see how it goes when I was given the opportunity to cover the event as a beauty blogger.
Mirrors by Tazeen is located in DHA Phase 5, Karachi and Hima happens to be the owner's daughter who has studied makeup abroad for years before becoming a professional herself. I must say that she has a very sweet and warm personality so right from the beginning I felt very comfortable as her student. There were only around 10 seats available for this workshop so I am glad the class was not congested and this ensured that everybody got individual attention too.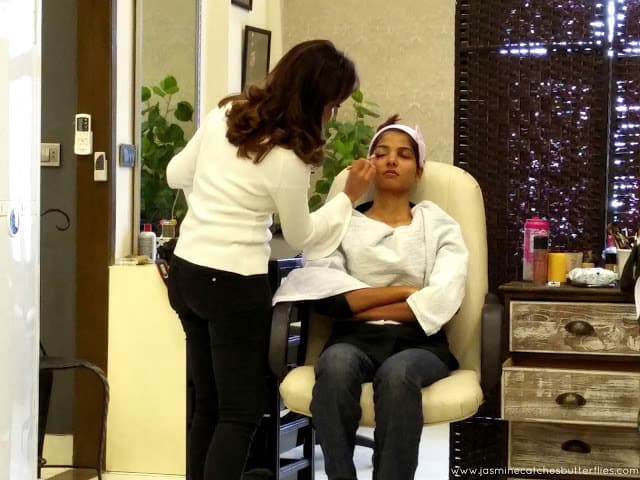 Hima Raza giving a makeup demonstration at Mirror By Tazeen
Firstly, we were provided a booklet that outlined some of the makeup looks along with a few face charts so that we could use it as a reference and practice ourselves later on. A list of what was to be covered on both the days was mentioned on the salon's Facebook page with the sign-up details. For each day the classes were scheduled to be covered within 2 hours but they did extend over an hour as we were given time to practice on ourselves. Now, being a newbie to a class of the sort I was not sure if I should be carrying my own tools and makeup or if they will provide anything. Turns out that it is up to you because they do let you use whatever makeup they have present at the salon but I would still suggest that you should at least carry your own makeup brushes, sponges and things like mascara for hygienic reasons.
So, Hima did deviate from the mentioned order of what we were to cover on each day but I don't think it makes that much of a difference as long as you are learning everything you expected from the workshop. It was more of an overview of how you should prepare your skin, what foundation to go for, how to colour correct according to your skin tone and etcetera. Considering the fact how expensive most of these makeup classes can be, for 7000 PKR, I think it was good for someone who already has a little bit of know-who and just needed some professional guidance. Personally speaking, as someone who has watched over thousands of makeup and skincare videos on YouTube I am well aware of what is needed for like a good base or how to apply eyeliner. However, interacting with a professional and having some hands-on experience under their guidance is different. While I already knew what goes where, Hima helped me in working things out for my own features. This is something that is not as easy to figure out as buying the right kind of makeup.
By the end of the session, I was confident about how to wear a bold eye look for my own eye shape as I usually only prefer wing liner but ended up loving the cut crease when Hima encouraged me to pack on more eyeshadow. She also touched upon the 100 Watt skin which has been such a craze locally for wedding and party makeup and also gave some tips on making lash application easy which I found really helpful. She guided us with contouring and highlighting and at the end also taught how to do ombre lips.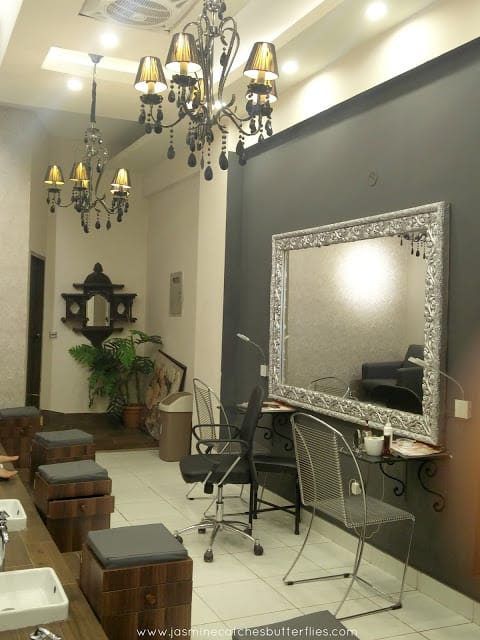 All in all, I found it to be a good experience as I could finally ask a professional stuff like 'am I doing this right for my face?' and Hima never once tsk-ed or frowned. So if you are somebody who already knows the basics and is just looking for some extra help, classes like these are beneficial.
Shout-out to Ayesha Ajaz for keeping me company on both the days! She blogs over at Beauty By Ayesha and I met her for the first time as she was also there to cover the session as a beauty blogger. We had a great time chatting while doing our makeup and you all should follow her because she already has amazing makeup skills and her snaps are quite informative too.