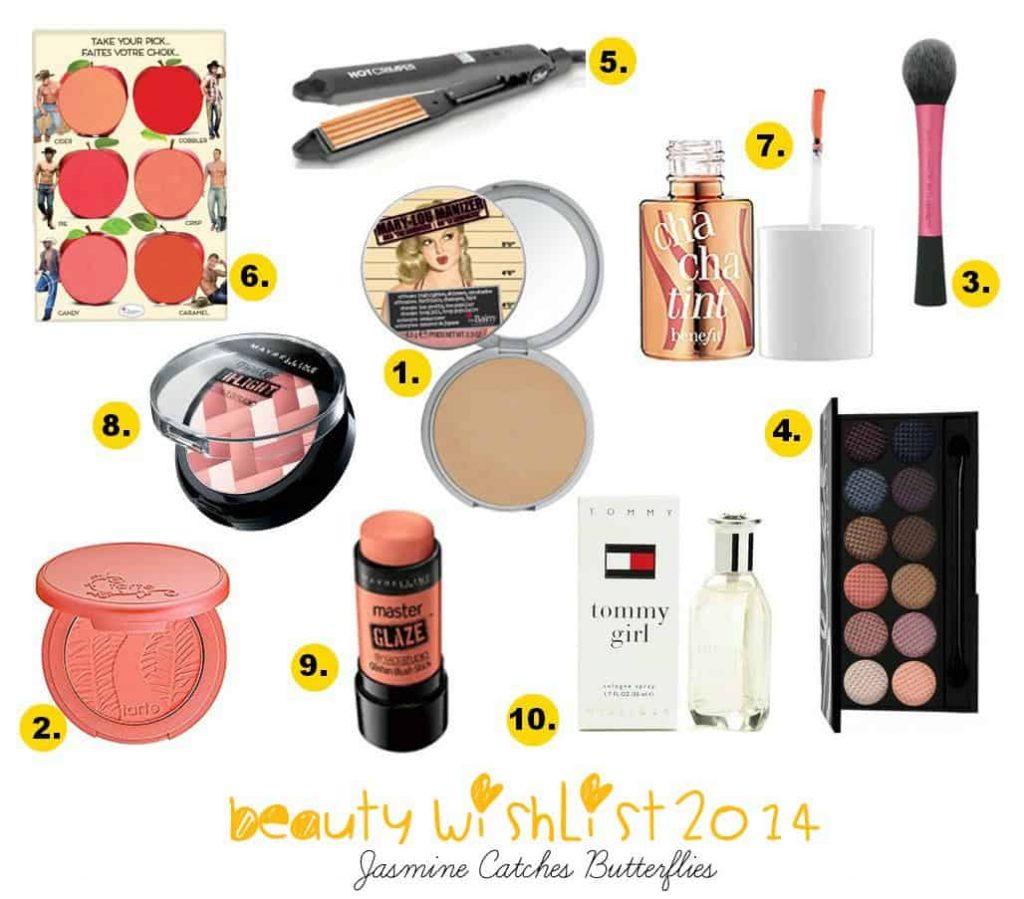 Isn't it fun to do wishlists in order to keep track of your shopping goals, and you never know who might grant your wishes! 😛
Here are the top 10 products on my wishlist this year in the chronological order.
1) theBalm Mary Lou-Manizer: If you remember, I had this on my wishlist last year as well! Ever since it came out, I have been lusting after it, but I don't know why every time I thought of buying this in the past, something or the other made me to change my mind. It's like as if I was always waiting for a perfect moment to purchase it. However, I'm determined to get it this summer!
2) Tarte Amazonian Clay Blush in the shade Tipsy: There's just way too much hype about the Tarte blushes in the blog-world. I'm intrigued to try one out in this lovely shade for I am a nutter for corals.
3) Real Techniques Blush Brush: Okay, by now you can tell this wishlist mainly revolves around cheek products! I didn't realize any earlier either but to be honest, most days I just go out with a blush on. I have been on a look out for a good quality blush brush and RT's one takes the centre stage everywhere at the moment.
4) Sleek i-Divine Eye Shadow Palette – Oh So Special: I haven't tried anything from Sleek yet, mainly because it's not easily available here (like most of the items listed! -.-) and it goes out of stock on just4girls.pk so quickly! I've been eyeing this beautiful palette for past 6 months or so!
5) Hair Crimper: Straight hair is boring this spring, therefore I'd like to try out a hair crimper or waver to add some texture to my locks. I'm not sure what brand to go for and I think any would do, but please suggest some! 🙂
6) theBalm How 'Bout Them Apples? Lip and Cheek Cream Palette: Just look at how adorable it is! Everybody needs a palette like this in their lives! Am I right or am I right?
7) Benefit Cha Cha Tint: This is such a perfect summer tint and the fact that they used the word 'mango' to describe the shade, makes it all the more tempting!
8) Maybelline Master Hi-light by Face Studio in the shade Pink Rose: Maybelline has introduced these super girly mosaic blushes for spring and yeah, I need one of these too!
9) Maybelline Master Glaze by Face Studio Glisten Blush Stick in the shade Coral Sheen: I guess that's it for my coral blush obsession this season. No promises!
10) Tommy Hilfiger – Tommy Girl: If I were to get high on something, it'd be this perfume! O.O I don't care how many girls wear it already, but ever since my cousin passed me her bottle, I've been addicted. I'm running low on this fragrance fuel and I need more!
I hope you all have been doing well! I have been very busy this semester and just can't wait for it to be over already! Finals are lurking close and I have a post in the pipeline before I completely disappear, which is likely to be by the end of May and will return only by the end of June. Meanwhile, feel free to request and suggest future posts. Also, I'll be really grateful to each and everyone of you if you could just like my facebook page
here
, follow me on bloglovin'
here
and add me to your google circle
here
. 🙂
Keep smiling and tell me what's on your 2014 wishlist! 🙂 x