Hey Butterflies!
I know I haven't blogged in past four days but this week, my university started and now I'll eventually get busier than busy so sorry if I go missing for a while from time to time! Nonetheless, I'll miss you all and try my best to do posts whenever I get time! 🙂
Now, if you have been following my blog for some time, you might know that I recently went for vacations up north to see a cousin of mine. Well, while I was there, my cousin gave me this scrub that she had gotten from Dubai. I have been using it for a month now and today I'll be reviewing it.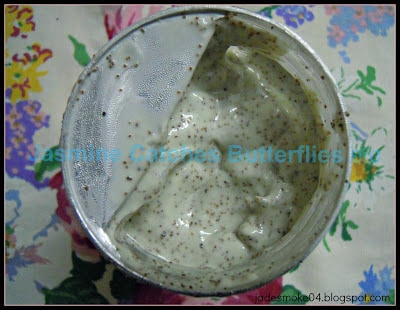 Bio Glow Almond and Honey Face Scrub has a very creamy but non-greasy formula which moisturizes skin deeply. As you can see in the picture that this scrub is not very gritty, the grains are chunky and not too dense, therefore, it is gentle and suitable to be used on face. Even though I prefer fine grained gritty scrubs just for the sake of personal satisfaction of being scrubbed well, I can undoubtedly say that most people will love its formula. This scrub is infused with rosemary, honey, almond oil and natural plant extracts which does wonders to skin by softening it and the glow you get after using this is noticeably visible.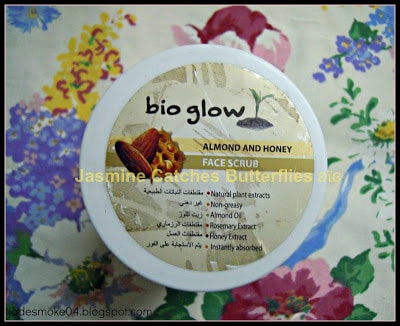 This will last me a long while as it comes in a huge jar which a plus since I don't know where to look for Bio Glow scrubs here.
Yays:
1. A gentle face scrub.
2. Deeply moisturizing.
3. A suitable winter scrub.
4. Softens skin.
5. Non-greasy formula.
6. Gives a visible glow.
7. Constitutes of healthy natural extracts.
8. Comes in a huge jar.


Nays:
1. You prefer a gritty and fine grained formula.
2. You don't know where to look for it.
My Rating




Like my FACEBOOK PAGE & add it to your interest list for updates.
Check my sidebar to Follow Me Around & Grab My Button! x
Don't forget to comment, follow, subscribe! 🙂