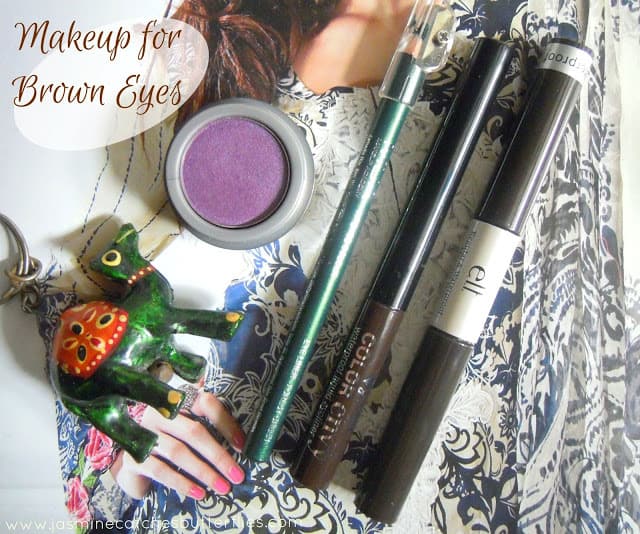 I love playing with colours so much that I don't really have a single favourite, however, often I have noticed people find it tough to balance out everything when it comes to colourful eye makeup. Therefore, I have come up with a soft makeup look that can help you in enhancing your brown eyes without resembling a clown. For this, the key is simplicity and you can complete your eyes in just 4 easy steps. Let's jump right in.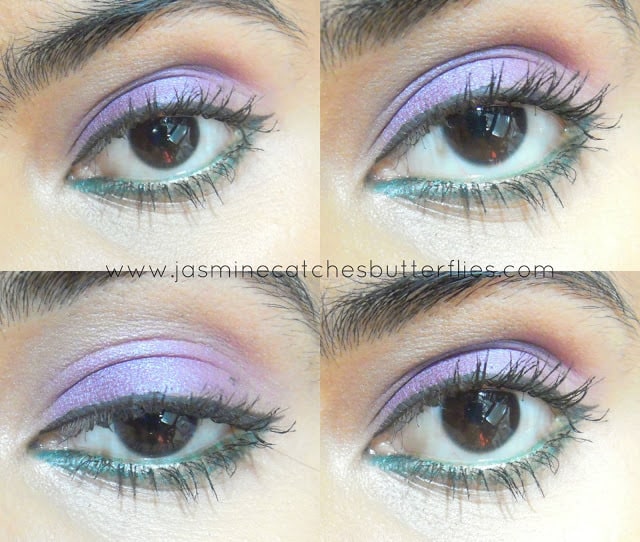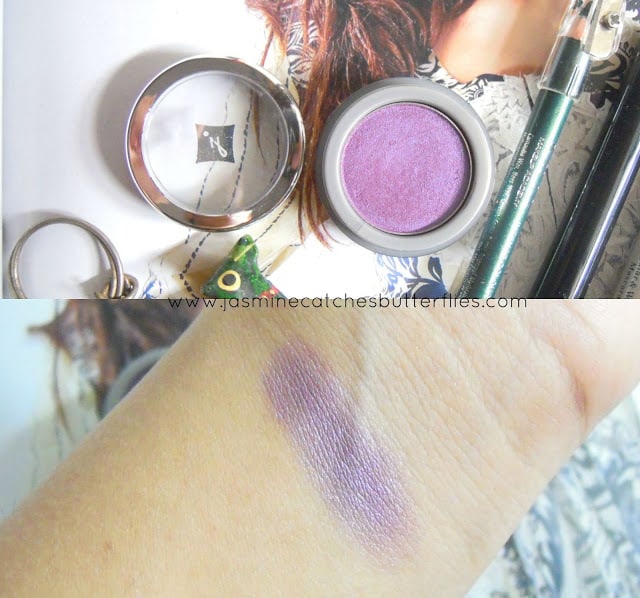 Jordana Color Effects Eyeshadow Single in 10 Ms. Jordana – 505 PKR*
Step 1: Purple Eyeshadow
I used my finger to apply Jordana Color Effects Eyeshadow in 10 Ms. Jordana*, which is a beautiful iridescent purple eyeshade that is actually the star of this look as it compliments brown eyes. This eyeshadow is buttery soft, intensely pigmented and blends nicely.
Since I wanted to keep this effortless, I just used one eyeshadow all over my lids. Anybody can do this, even as a beginner since it involves no complex blending and juggling around with transition shades.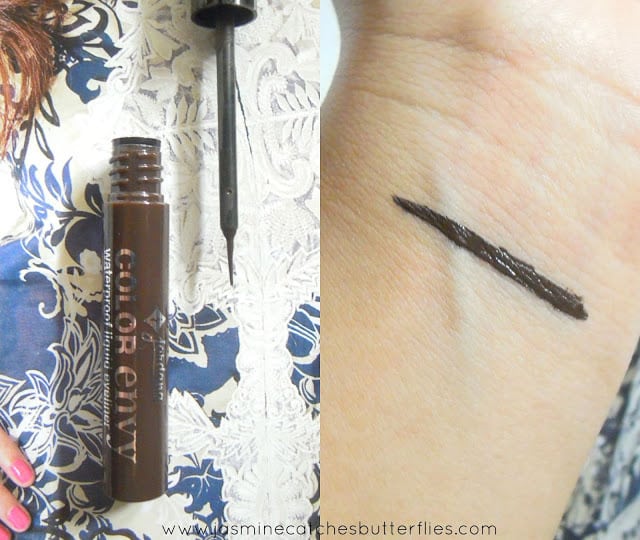 Jordana Color Envy Waterproof Liquid Liner in 02 Brown Desire*
Step 2: Brown Eyeliner
You know I love my browns, don't you? I had to use this amazing chocolate brown liner from Jordana Cosmetics, called Color Envy Waterproof Liner in 02 Brown Desire*. Brown over black helps in keeping this look subtle while still tying everything together. The liner dried matte and I only did a thin wing on my lid, which was made easy by its fine brush tip, because I wanted the purple to really show through.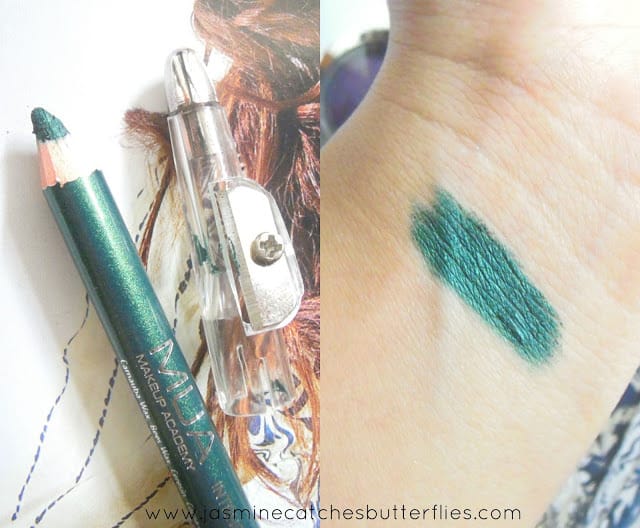 MUA Intense Color Pencil Liner in Forest Green – 210 PKR*
Step 3: Green Eyeliner
Green is another colour that goes with brown eyes and instead of creating a chaos on the top lid, I used MUA Intense Color Pencil Liner in Forest Green* along my lower lash line. The colour is amazing and aptly named, however, this particular pencil isn't the creamiest I have used and it also faded in a couple of hours.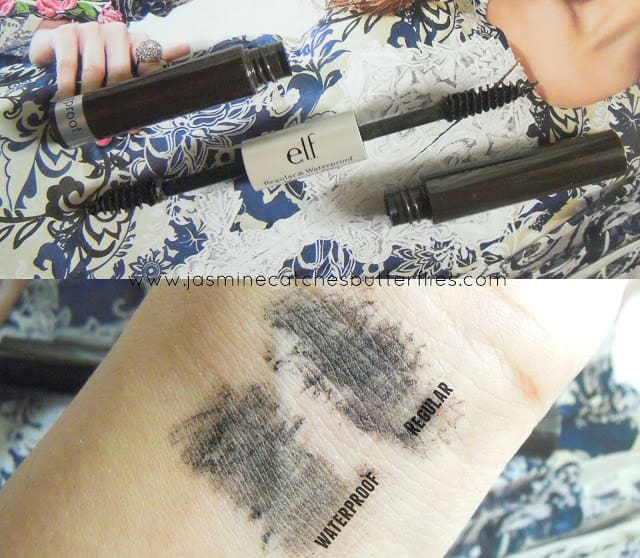 e.l.f Black-Brown Mascara Duo – 350 PKR*
Step 4: Black/Brown Mascara
As the final step for any eye look, mascara is necessary to give eyelashes a boost. I did a double coat of e.l.f Black-Brown Mascara Duo*, but you can use either black or brown. Any would do but brown is just a bit softer. The e.l.f mascara is dual ended, there is waterproof mascara on one end and a regular one on another. Both the mascaras have a dry formula, but the waterproof one is a bit drier. I used the regular one today and it still did transfer under my eyes. I haven't experienced that with the waterproof side previously. The brushes on both ends are small and easy to work with. While, this mascara does clump up lashes, it also adds immense length.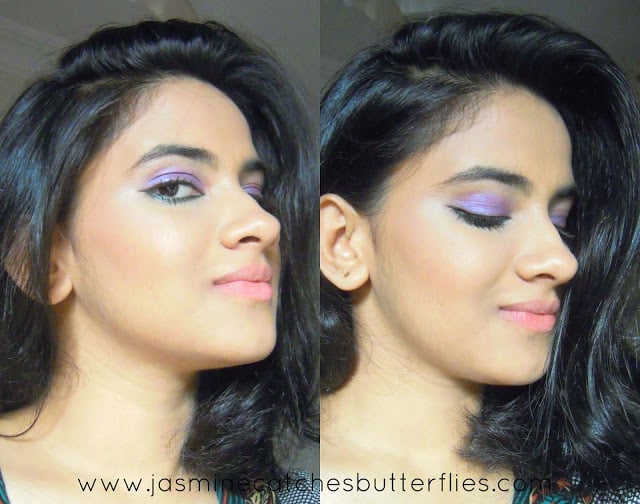 Ta-da! That completes our eye makeup and I hope you found this post helpful. You don't have to use the same products as me, but I still reviewed each briefly in case you are interested. Except for the Jordana Color Envy Brown Desire eyeliner, all of these are available at just4girls.pk and you can use my 5% discount code J4GJB5 to save some cash.
Let me know what you think of this look!