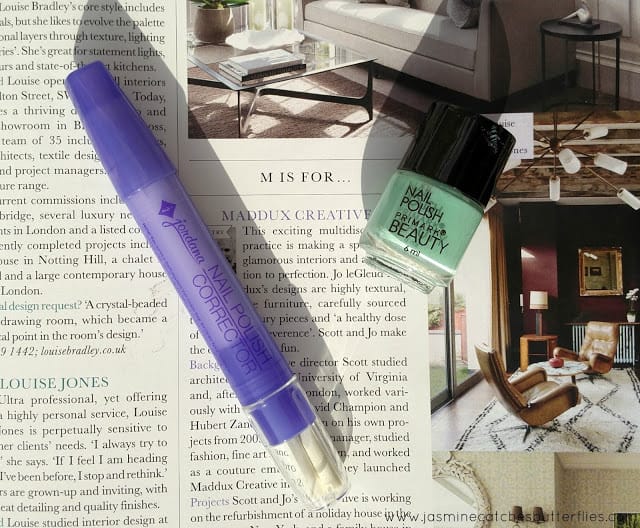 Jordana Nail Polish Corrector
PR Sample*
Nail polish boo-boos are unavoidable, even if your hand is steady, just as the brush strokes the nail fold in your attempt of covering the corner, there you have it. Jordana Nail Polish Corrector is an interesting tool. I remember seeing a similar pen when I was younger that my friend had in her manicure kit and no doubt I was pleased but did not know where to get one locally.
Normally, for correcting nail polish mistakes, I would just wipe it off with my thumb and most of the remainder on the skin comes off within a couple washes. By that time, of course, the polish isn't as fresh but since nobody holds my hand to look up close every time I do my nails, it doesn't really matter on a day to day basis. However, beauty blogging has its own vows and even the tiniest of slips scream in photos.

I have tried the soaked up cotton bud trick and have had lint stuck to my freshly polished nails a fair few times. I have also tried the petroleum jelly around the nail trick and it tends to get messy with bits of skin still missed. So I love the idea of a nail polish corrector and this one by Jordana has gotten my fancy. It comes in a sturdy purple marker shaped packaging with an attached saturated tip and two dry extra tips for replacing later when one gets grubby. The tube is filled with acetone and the tip is nicely shaped to easily clean up the edges around the nails without messing up the applied polish. The saturated tip obviously has an airtight cap over it to prevent the acetone from evaporating.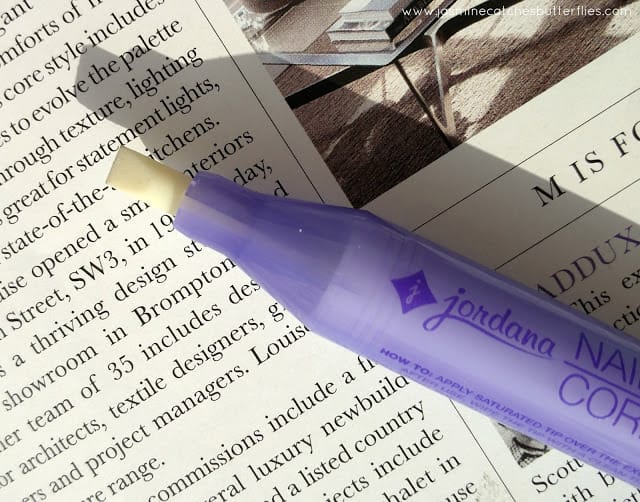 You can find the proper usage instructions on the corrector and I just apply a gentle pressure while going over a few times to completely erase my slip-ups. Once I am done correcting, I wipe the tip with a tissue before storing it away. The product is supposed to be nourishing and moisturising since it contains glycerin. Now I can't say much on that since I do not have any skin concerns, but I can say that I do not find it drying, unlike some nail polish removers.
Personally, I love this Jordana Nail Polish Corrector as I do find it effective. This is certainly not a must have but if you are a nail art junkie and perfectionist or like to flaunt your masterpiece on Instagram then this would be handy for wiping off any trace of imperfections. Bear in mind this is not a product to remove entire nail polish off your nails, instead, it is just a corrector for cleaning around the edges and skin covered with excess polish.
Price: 799 PKR / $3.99 (No idea why it's nearly double in Pakistan!)
Quantity: 4 ml / 0.13 fl oz
Availability: Currently, you can get this online at jordanacosmetics.pk in Pakistan.
Do you like the idea of a nail polish corrector?

Follow
(function(d, s, id) {var js, fjs = d.getElementsByTagName(s)[0];if (d.getElementById(id)) return;js = d.createElement(s);js.id = id;js.src = "https://widget.bloglovin.com/assets/widget/loader.js";fjs.parentNode.insertBefore(js, fjs);}(document, "script", "bloglovin-sdk"))