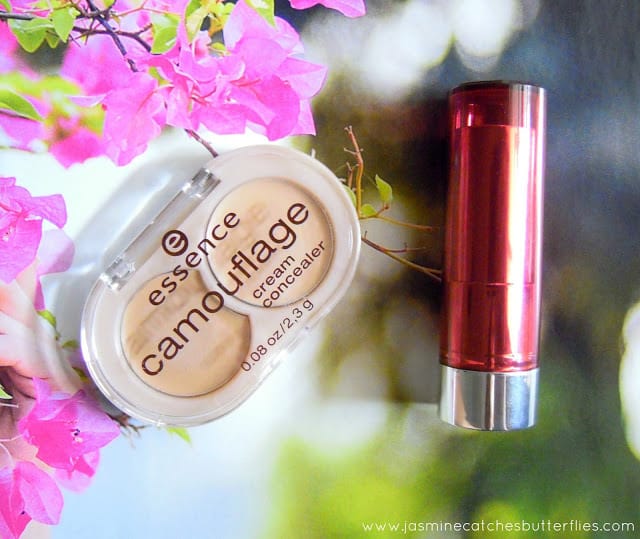 Essence Camouflage Cream Concealer – 10 Natural Beige
Sheer and Shine Lipstick – 09 I Feel Pretty
PR Samples*
Essence Cosmetics is popular for nail polishes and blushes but Camouflage Cream Concealer and Sheer and Shine Lipstick happen to be my first products from the brand. I am not sure why I have never picked up anything from them before as everyone raves about their quality and I love the adorable packaging they come up with. However, a concealer and an everyday lipstick are a good place to start with when you are new to a brand and these alone can be sufficient for beginners. Somebody with clearer or younger skin only requires a little concealing and brightening with a hint of colour on the lips to enhance their features.
Essence Camouflage Cream Concealer – 10 Natural Beige
Cleverly named, the Essence Camouflage cream concealer duo has a dark shade of beige as well as a light one and I find both to be more cool-toned rather than warm. They seem yellow-toned in the palette but on blending they look pink in terms of undertones on my skin. I am a little surprised that there are no other shades available in the range as just these two cannot cater to all the skin tones. If you have been around for long enough, you might know that my face (darker) and body (lighter) don't match so I have a tan going on at all times. The darker shade seems to work fine on my natural complexion but with a tan, I need a colour corrector underneath and can use it as more of a highlight. Both the shades would work best for fair skin tones but tend to look ashy on olive undertones.

The consistency of this concealer is quite thick so on application it can appear patchy if not blended properly. The coverage provided is medium but can be easily built to full. However, packing on the product can cause creasing under the eyes so you have to be careful, work with only thin layers and set it with a powder. I added a drop of oil on the darker one to make it creamier and it is easier to use it under the eyes now. For blending, I prefer using my fingers over brushes as I can evenly smooth out any lines without moving the product around too much.
Camouflage concealer comes in a sturdy and slim plastic packaging which makes it easy to carry. On sniffing it closely a floral scent is detectable but it is not otherwise perceivable.
Price: 450 PKR
Quantity: 2.3 g / 0.08 oz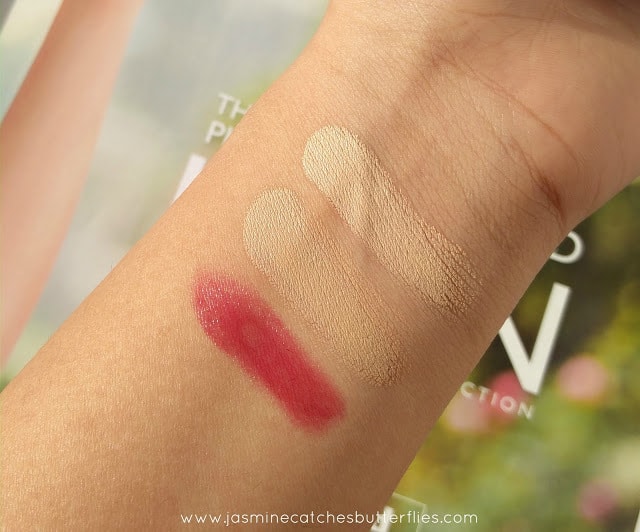 Essence Sheer and Shine Lipstick – 09 I Feel Pretty
Highly moisturising the Essence Sheer and Shine Lipstick is a pretty addition to my collection. After dusty rose pinks, I love sheer berry shades for everyday wear and I Feel Pretty adds a lovely tint to my lips. It looks quite similar to Maybelline Baby Lips in Cherry Me except for this is more pigmented and buildable so will make a nice gift for a younger cousin (or anybody like that) who wants to try out lipstick but isn't ready to go all out yet. This lipstick is available in a total of 10 shades.
The name explains the formula so while this adds a shine it isn't over the top glossy and I like the look. However, this does not make it long lasting. The lipstick tube is super light weight as it is completely made out of plastic. The cap is coloured the same as the lipstick shade and the logo engraved on the actual product adds a luxe touch to this drugstore product. On a closer whiff, the product smells floral and is reminiscent of granny makeup but nothing overpowering once on.
Price: 350 PKR
Quantity: 3.5 g / 0.13 oz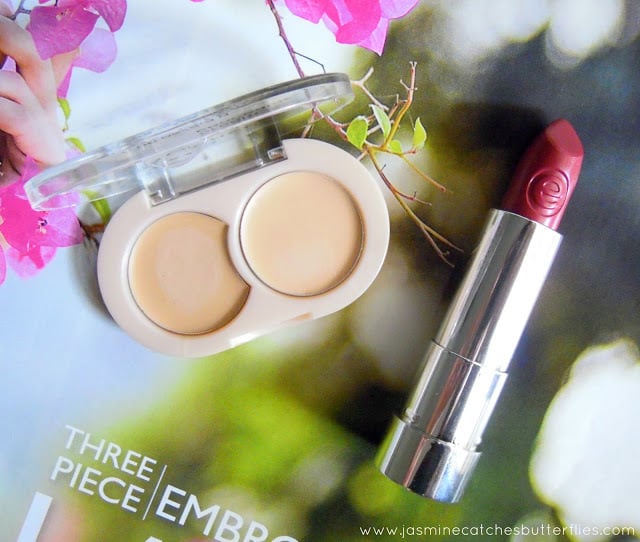 Availability: You can get these from Essence Cosmetics kiosks in malls and supermarkets nationwide.
My first impression of the brand is overall positive and I wouldn't completely write the concealer off even. The product itself is decent but I just wish they do add more shades to their range. As for the lipstick, you can already tell I love it and I believe it is perfect for teenage girls or wearing it to college/university.

Follow
(function(d, s, id) {var js, fjs = d.getElementsByTagName(s)[0];if (d.getElementById(id)) return;js = d.createElement(s);js.id = id;js.src = "https://widget.bloglovin.com/assets/widget/loader.js";fjs.parentNode.insertBefore(js, fjs);}(document, "script", "bloglovin-sdk"))