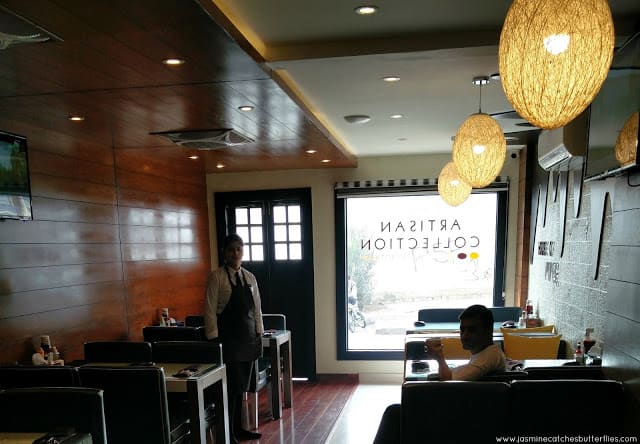 House of Wings
What better way to start the new year than talking about food? Yesterday I had the opportunity of trying out the menu at House of Wings and boy, it surpassed my expectations as there was much more to savour than wings. House of Wings is a new double story restaurant in Khadda Market that has a total capacity of 44 seats and offers an extensive variety of American cuisine. So if you are looking for something more than just burgers and fries, you are in for a treat.
First, we were given a tour around the restaurant and while it is not the most spacious one out there, it is still cosy and properly facilitated. The kitchen again is tight but open and squeaky clean. I like the current black and yellow theme they have going on with the cushions but since the place has not yet had an official opening, there are still things that they plan on switching up. Nonetheless, the overall ambiance is fit for fine dining and I am glad it is not just another cafe. Also, only other than most of the vegetables, chicken and bread, everything else is imported to maintain the authenticity of each dish.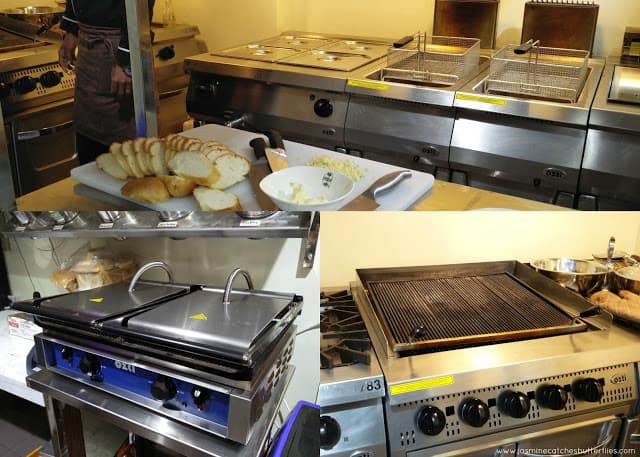 House of Wings Kitchen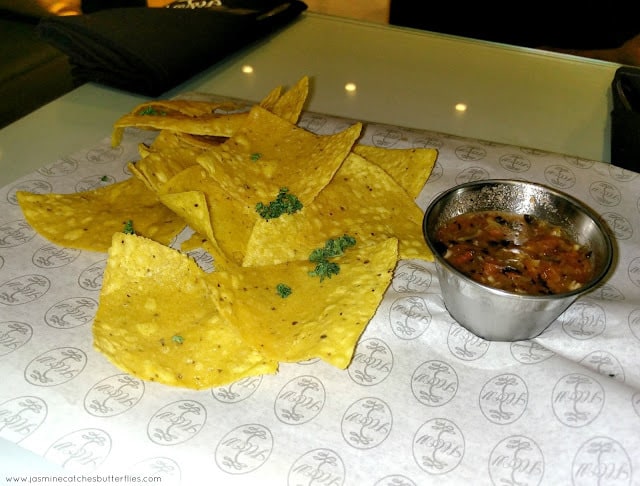 House of Wings Chips and Salsa
The menu tasting started with sipping on some French Vanilla Cappuccino and I kid you not the place had me at the aroma of that coffee. Never have I ever before have had a coffee in Karachi that actually lived up to its name. The smell of French Vanilla was enticing and the rich, creamy flavour of the cappuccino was even yummier. For this alone, I would love to visit the place again. The owner is from Texas himself and a chat with him was quite knowledgeable. He shared that the more coffee is ground, the more flavour is lost, so they only grind five times before brewing.
For appetiser, we were served Chips and Salsa which was simple but the good thing was the tortilla chips were big and crunchy. I just wish they had no leftover oil from frying but maybe that's just me being really finicky. Then we had Grilled Chicken Salad, and that is when you could tell how Americans take pride in their large meal size for it was impossible for me and my friend to finish the bowl even after sharing. The flavours within the salad were well balanced and the chicken was grilled to perfection as it was juicy and saporous rather than being overcooked like what we tend to do with meat here.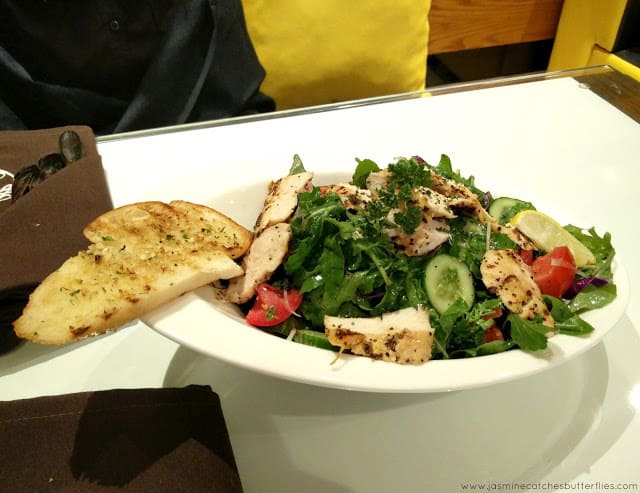 House of Wings Grilled Chicken Salad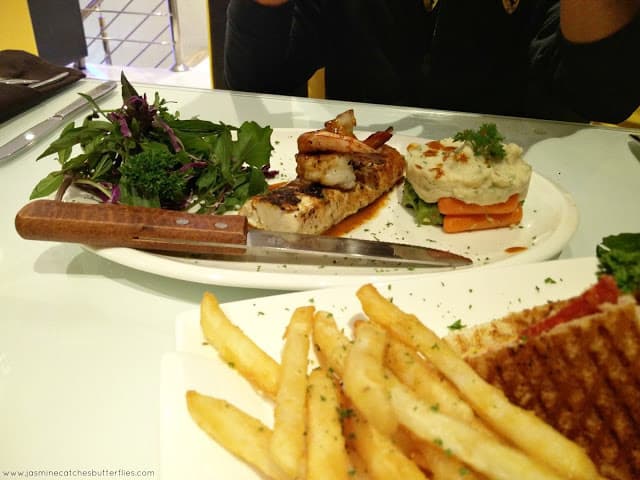 House of Wings Cajun Style Grilled Tilapia
Onto the main course, we began with Cajun Style Grilled Tilapia which even had barbecued prawns on top. I love seafood but sans the rancid smell and fortunately this fish only had a mild aroma to it. Squeezing a lemon over top, further enhanced the flavour and while it was not really hot, the addition of cajun spice was a pleasant hit to a desi palate. My favourite thing on the platter, however, was the side of mashed potatoes with broccoli and baby carrots. To begin with, the first thing visibly different was that the colour of the potatoes was white and not yellow unlike what we usually get locally. This is because they probably import russets too which are large, North American potatoes with white flesh, also commonly used for fries by leading food chains. Anyways, that was not much of a mystery to unfold, but what they had in those mashed potatoes was something that I kept guessing all noon long. I could definitely taste sour cream but it had some other ingredients too and the combination was amazing.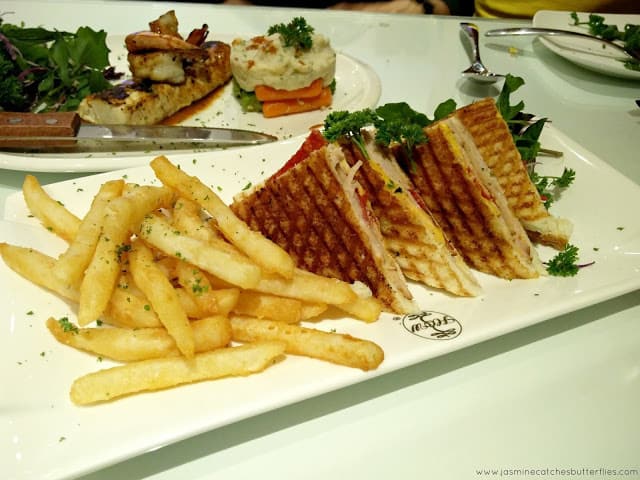 House of Wings Combo Sandwich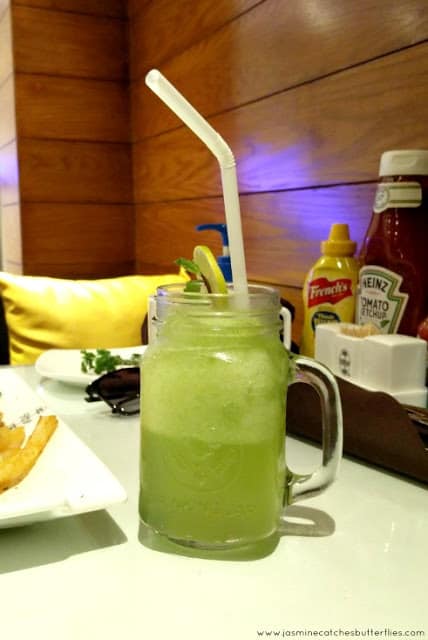 House of Wings Mint Lemonade
Next, we had a plate of Combo Sandwich, which was quite filling. This grilled sandwich has three types of meat in it which are smoked turkey, beef pepperoni, and chicken bologna along with cheese and you can choose between American, Jalapeno or Swiss. To top all of that, it has buffalo ranch sauce which is salty but at the same time appetising. Not to mention, the sandwiches were served with a side of plain fries which were crispy on the outside and soft on the inside.
Lastly, I opted for Mint Lemonade which again to my surprise was served in a big mason jar and was a lot more in comparison to what is usually served in other restaurants. The drink was refreshing and perfect for washing down my meal. I just felt that it was a tad bit sweeter than what I would prefer but again things like these are subjective to individual taste. I have always had a sweet-tooth and I am the kind of person who until last year loved adding teaspoon after teaspoon of sugar in tea and beverages but it has been over six months since I have stopped taking sugar with milk on a daily basis so probably sweetness in beverages now surprises me. Anyhow, you can go for other options in lemonade too like lime, spice or sparkling, not exactly sure how they differ but this is pretty much the case with the whole menu as you get a lot of choices. I mean House of Wings even offers three different brands of water so you can imagine what I am talking about.
A lot of new food places keep popping up in Karachi and honestly, I did not think this would be any different. However, my experience was pretty pleasant and I would wholeheartedly recommend you to try out House of Wings if you are looking for authentic American cuisine sans the Pakistani twist. You can get more of the Mexican variety too with tacos, nachos and then the original taste of steak from Texas which the owner proudly claims. There was only so much we could eat in a day so I do look forward to trying everything else on the menu along with the cheesecake desserts which seem fascinating with options like Passion Mango and White Chocolate Raspberry. The overall pricing is on par with other such restaurants, however, there are two expensive steaks that cost more than usual. One is T-Bone Steak which costs 5499 PKR and another is a "Cowboy Steak" Bone in Rib Eye that costs 8999 PKR. I presume it is so because of the classic bone inclusion, but I am now intrigued to try.