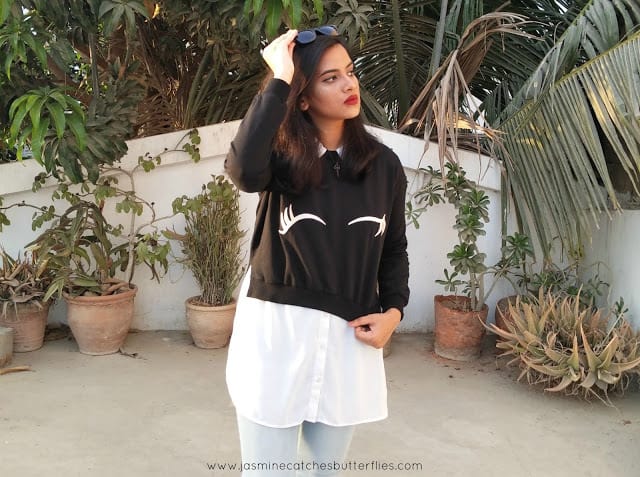 White Eyelash Print Long Sleeve Sweatshirt
PR Sample*
I know you guys have been enjoying my fashion posts featuring Zaful lately and it makes me so happy. I have been working hard on these and I am glad I got to experiment with my style some more. Today's post is going to be last of its kind for a while but I will soon be back with a bang so don't you worry!

Fall is upon us now and I am so excited because of all the winter clothing, coffee, and berry lipsticks. I am sure we all have closets full of sweater, coats, jackets and even sweatshirts but this time for fall I am up for rocking something different than usual. I am a short person and since cropped tops look flattering on people with my body type, I have always wanted to wear one too but I am not bold enough to flash my belly in public. Hence, when I came across this White Eyelash Print Long Sleeve Sweatshirt*, I really liked the idea of it. You can still wear this on your own if that's your thing but I prefer wearing it over a shirt. I just find it to be more doable than wearing only a cropped top.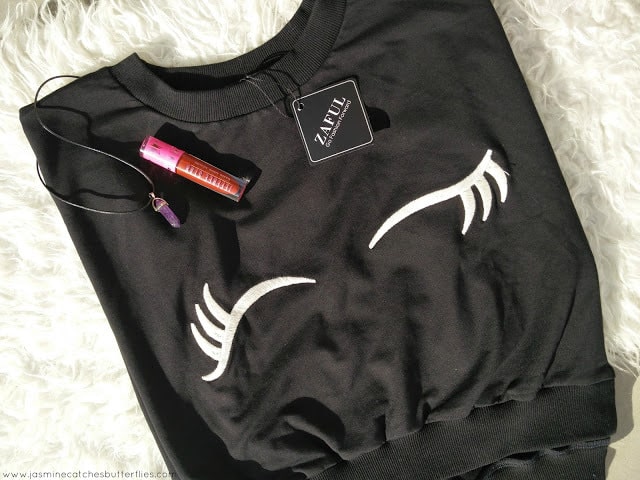 White Eyelash Print Long Sleeve Sweatshirt
This sweatshirt first caught my attention because of the lashes batting on it as I have seen a few popular bloggers and vloggers including Estee Lalonde wearing a similar design. I love the wink emoji and don't take me wrong but I love winking too. Not in a flirtatious way, but it just seems very frank to me. Anyways, so the bottom line is, I snagged it because I love everything about it.
The lashes are nicely embroidered with a white thread. The sweatshirt is cropped in such a way that it has a shorter front but is slightly longer at the back. It is made out of polyester and has a loose fit so it is perfect for layering. The sleeves though are relatively fitted and long. Therefore, I would advise you to wear a short sleeve or sleeveless shirt underneath or else full sleeves can get bundled up below. The sizing guide on Zaful is very helpful. I used it to place my own order for a medium which turned out to be the correct size for me.
This sweatshirt looks very cool and badass at the same time. It is super comfy too and I can't wait to live in it as Karachi gets colder! Priced at $29.89, this seems quite reasonable and the fact that it is currently on sale for only $13.75 is too good a deal to be missed! If you would like to know about payment methods and delivery details, please check another one of recent Zaful blog post.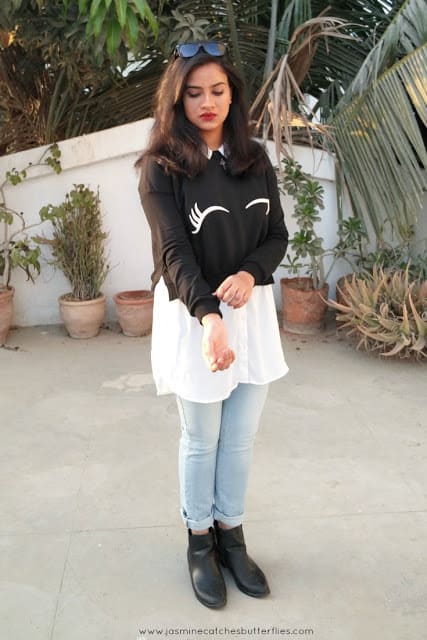 I styled my sweatshirt with a white georgette sleeveless button down top, a pair of light wash jeans and my favourite black boots that I bought at Stylo last year. On my lips, I am wearing Jeffree Star Velour Liquid lipstick in the shade Unicorn Blood as it is appropriate for this time of the year. For accessories, I kept it pretty simple by just wearing a purple faux quartz crystal necklace and matte black Rayban wayfarers.
Now, I would love to know your thoughts about the cropped sweatshirt fashion as this is my top pick of the season!
If you would like to win a $100 Zaful gift card, be sure to enter my ongoing giveaway! 😉