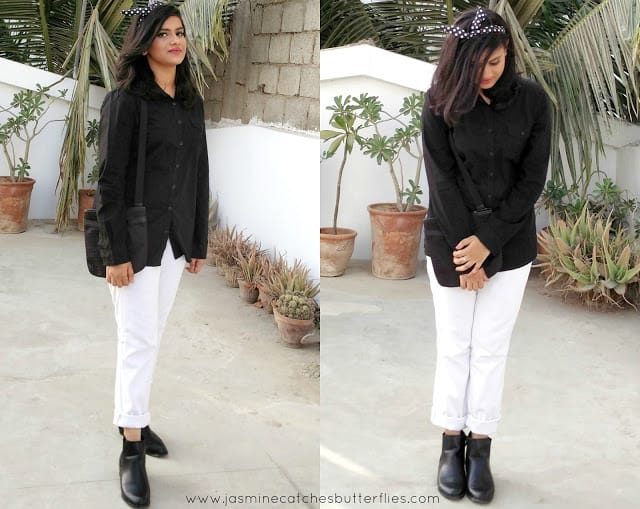 Monochrome Outfit styled with Born Pretty Accessories
PR Samples*
Getting down to the basics, everybody needs some staple monochrome pieces in their wardrobe as when in doubt, just wing it. Black and white, always work and you can either dress these up to make a statement or dress them down for a laid back look. So, using Born Pretty accessories I have put together an outfit which is effortless but still gives the impression that you tried.
For this look, I styled my basic black button-down shirt and slim fit white jeans from Stone Age with bunny ears bowknot headband, a silver cat paw ring and silver aeroplane studs, all of which I got from Born Pretty Store. If you are feeling bold, do the gold, but I aimed for a more casual look and did not want to go all matchy-matchy with more black and white either so silver was the best choice.

I personally love Born Pretty Store for their wide variety of accessories that too for such reasonable prices. Most of the items are often on discount and for the non-sales goodies, you can use my 10% off discount code ADJT10. To top all that, the online portal offers free worldwide shipping which takes 4-5 weeks to Pakistan but it is a complete seller for me as I do not like to blow my money on shipping and I'd rather use the amount for buying more stuff. I have had the accessories I got for a good few months and the quality of everything for the pricing is great too. You can find more details and my thoughts about them below.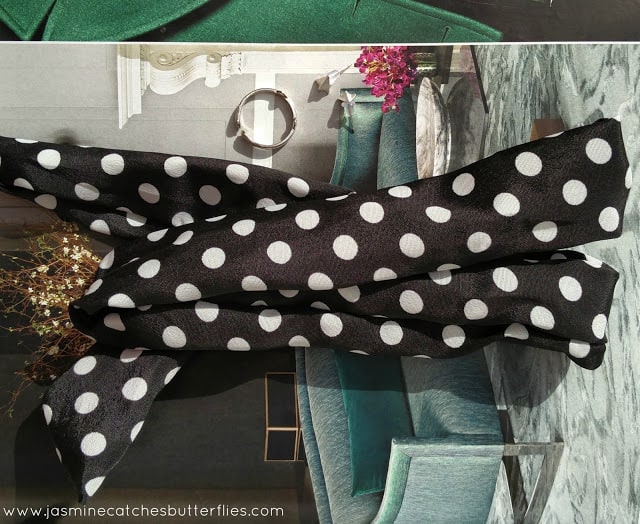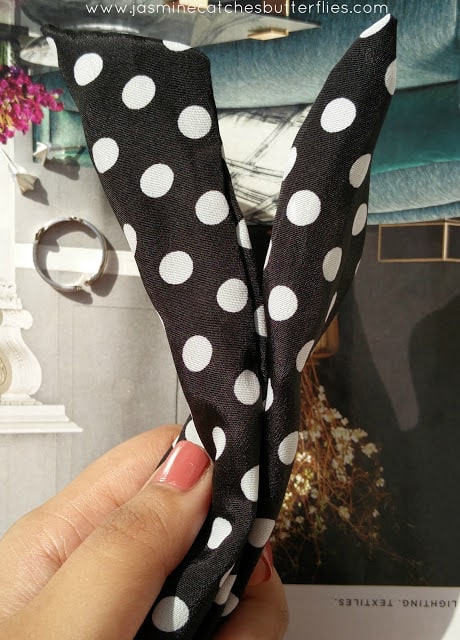 Wave Point Bowknot Chiffon Cusp Hair Accessory (Bunny Ears)
Wave Point Bowknot Chiffon Cusp Hair Accessory* (Bunny Ears)
There are a lot of variations available of such headbands on the Born Pretty website and after going through them all, I settled for this one in the polka dot style as they look very retro and cute. It goes really well with my monochrome apparel and is the actual driver of the look.
The headband has a wire inside which is slightly bent on both ends for the bunny ear look and it is easy to wear. Just wrap it around your head like I did and you can either twist the ends together or tie them in a knot like I did. The knot secures it in place better but since it has a chiffon covering, it slips and slides on my silky mane so I like to pin it in place.
Price: $2.53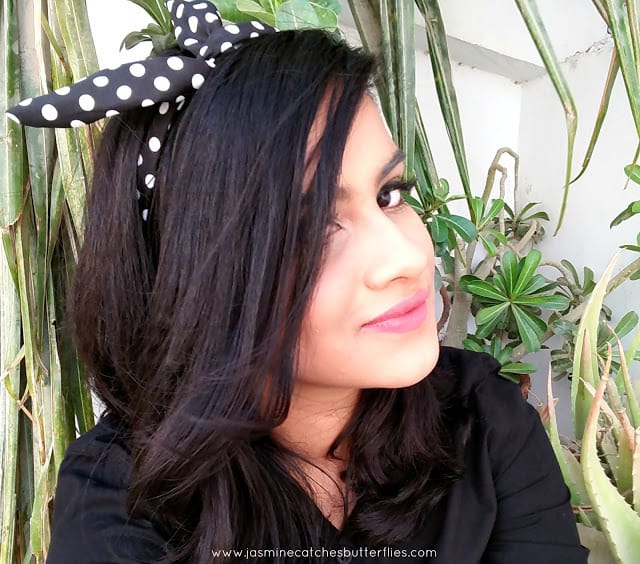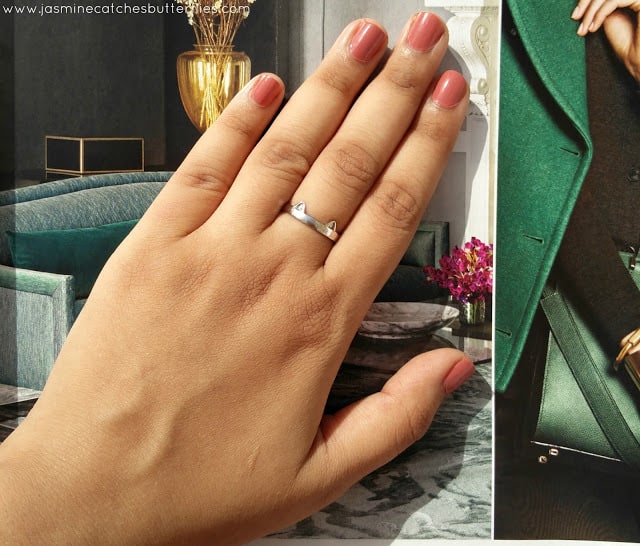 Lovely Cat Ring Paw Pattern Open Adjustable Ring (Kitty Ring)
Lovely Cat Ring Paw Pattern Open Adjustable Ring* (Kitty Ring)
This is the cutest thing that I have seen in a hot minute and I think all kitty lovers will wish to own this adorable cat ring with such intricate detailing of the paw pattern. When I do monochrome, I do not like drawing too much attention to the jewellery I wear and dainty silver ones are perfect in such a case. They are undetectable from afar but you are bound to get compliments when somebody notices on coming closer.
This cat ring is silver plated and has been doing pretty well for the past two and a half months. If you store it safely in a plastic bag, it will not stain or lose its colour for a long time. I left mine out for some time and it got a few spots here and there but you cannot even notice them in the photographs and even in person you have to look very closely to catch any. I also like the fact that this ring is adjustable so you do not have to worry about your perfect size while ordering online.
Price: $3.19 (on sale for $1.49)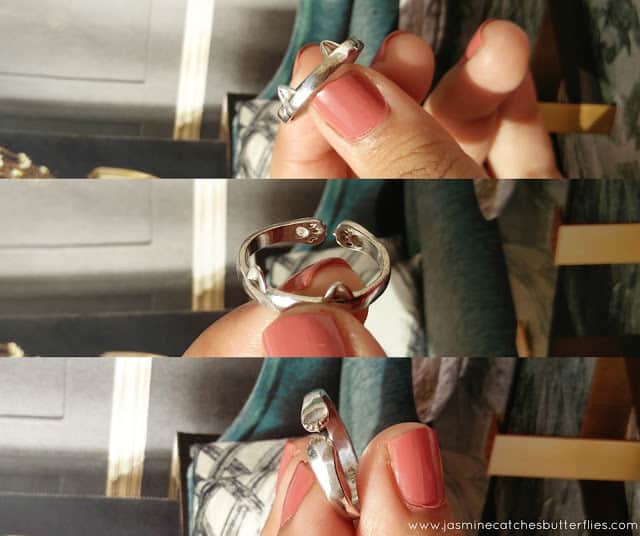 Lovely Cat Ring Paw Pattern Open Adjustable Ring (Kitty Ring)
Mini Airplane Earrings Simple Style Cute Silver Ear Studs* (Airplane Studs)
I have mentioned before that I love origami and making paper planes was the very basic of what we learnt as kids so naturally I was drawn towards these mini paper plane like ear studs. They are made up of silver and white copper and have not stained at all but I do keep them safely stored in their plastic bag. The studs look so adorable and the good thing is they aren't really age restrictive because of their small size. My only gripe with these is that the pair I got seems to be upside down as compared to what is shown on the website and how paper planes actually are too. I am not sure if I got a faulty set or what but I was a little disappointed because I was most excited about getting these.
Later on, I found out that paper plane jewellery has been popular because of Taylor Swift and Harry Styles matching necklaces too from the time they were dating so I am sure a lot of people would like to buy such stuff but I hope the whole lot is not manufactured upside down.
I haven't spoken to the brand about this issue yet due to my own busy schedule, but I am sure they will cooperate as their representatives are usually really helpful. I will keep you posted in any case and update my review once I do.
Update (17/06/2016): Born Pretty has told me that the airplane studs differ from the photos on their website because they have a different manufacturer now. I have told them to update the photos on their website for the customers.
Price: $3.24 (on sale for $2.59)
Mini Airplane Earrings Simple Style Cute Silver Ear Studs (Aeroplane Studs)
Now while keeping it casual since I wanted to still achieve a relatively composed look, I wore my black ankle boots that I got from Stylo and a Tommy Hilfiger crossbody bag which was a gift from my relatives.
I have linked all the Born Pretty Store accessories mentioned in this post and if you would like to get any for yourself don't forget to use my 10% Discount Code: ADJT10 which is applicable on non-sales items.
I would like to know how you style your monochromes! 😉