Guest Post by Luci from www.lucibarker.co.uk
I absolutely love switching out my makeup routine for the different seasons; whether it's Autumn for the dark, vampy colours, Winter/ Christmas for all the shimmer, Summer for the perfect red lip and finally Spring for all the pastels and the oranges. For today's post, I will be talking about my 5 must-have beauty products that we all need for SS21, let's dive in.
MUA Soothe & Cool Primer Stick
It was only last summer that I decided to try out some of the MUA primers because I'd heard lots of things about the Sticks and also the Banana Primer. This is the Soothe & Cool Primer Stick which is basically a water gel based primer; it sinks straight into the skin and, even with all your moisturiser and SPF on, you don't feel like you've got lots on your skin before you've even started applying your makeup. It's really refreshing and cooling to apply to the skin and does help the process of applying makeup when all you want to do is sit in front of the fan! You also get a really decent amount of product for only a fiver; I'll be stocking up on this for sure.
NYX Bare With Me Tinted Skin Veil
Now, when the weather is really warm, we don't want to be wearing thick, heavy, full-coverage glam, do we? So, my go-to base product switches to a tinted moisturiser or some sort of CC Cream. I've used a lot of tinted moisturisers over the years and honestly, I didn't notice a difference with a lot of them, so for a while I just went with a little bit of concealer and powder but, sometimes it's nice to have a full face on, just without the weightiness of foundation. I decided to pick this NYX Bare with Me Tinted Skin Veil up (such a long name but it's basically a tinted moisturiser) when it first came out and it's been the only one I've used since. It's super light weight, has a slight bit of colour and coverage to it and gives you such a healthy glow. If I'm going for something a little more glam, I do add some concealer and bake the skin so it stays put, but it works a treat. I'd say it has a light to medium coverage, but it is buildable to a good medium coverage. Considering how well this one works, it's not expensive at all and I highly recommend trying this one out for when the hotter weather gets here.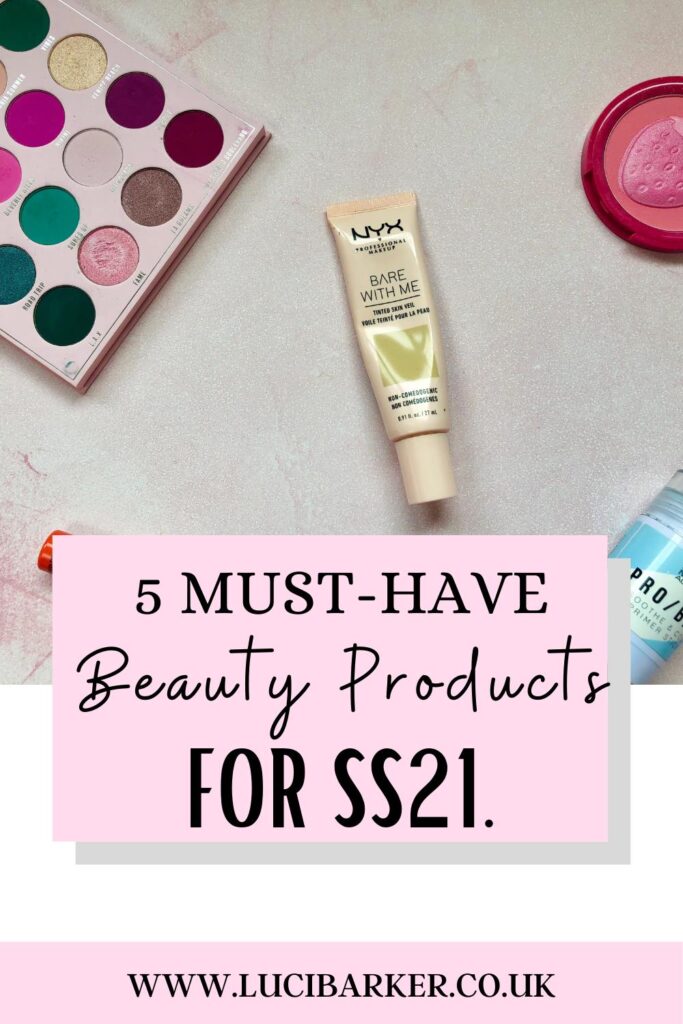 I Heart Revolution Strawberry Blusher
Next up is the IHR Strawberry Blusher which is actually only a recent fave of mine. Firstly, I did originally only pick this up because of the way it looks, but it's actually such a good idea as there's a matte blush, a shimmery blush and a highlighter all in one compact. I've been swirling a big fluffy brush in the pan and, probably, getting carried away with how much I'm using, but it gives such a nice rosy glow to the cheeks. This blush will be so good for travelling because I won't need to take a separate highlight, meaning more room for lipsticks or not going over my baggage allowance haha!
The Body Shop Matte Lip Liquid in Cali Gerbera
I'm all about the nude lips for a good 90-95% of the year, but once Easter's over and done with and the warmer weather rolls around, the bright lipsticks come out from the depths of my makeup collection. I particularly love an orange lip, it makes my eyes pop and makes me feel like I'm on holiday; especially if I've got a tan. This one from The Body Shop, has been a go-to of mine for around 4 years now as not only is it matte so it doesn't bleed onto the skin, it's really creamy so doesn't dry your lips out and it's super pigmented, one swipe and your lips are done. I can't find this on the body shop website though so I think it may have been discontinued, so I may need to find an alternative.
Do you have a fave orange lippy?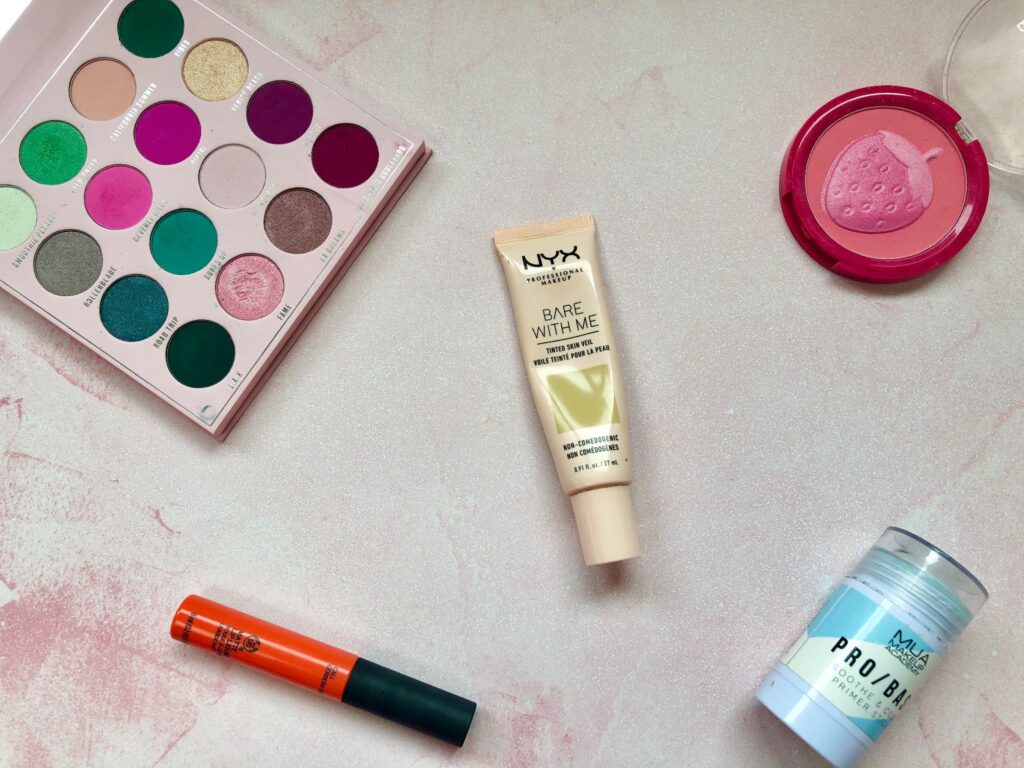 Makeup Obsession LA Dreams Eye Palette
My last must-have for this time of year is the gorgeous LA Dreams eye palette from Makeup Obsession and I have been completely and utterly obsessed with this over the last couple of weeks. For me, Spring makeup consists of a lot of pastels and this palette has pastels, some darker shades when you want to spice up the looks, a good mix of mattes and shimmers and also a neutral colour which helps a lot when it comes to blending. For only £10 you get 16 highly pigmented, creamy and super blendable shadows and such stunning packaging too; I'm a sucker for some cute packaging.
Have you tried any of these products? Are there any staple products you use during the Spring/ Summer? Let me know in the comments below!
So that brings to a close my 5 must-have beauty products for Spring this year, I really hope you enjoyed the read. Thank you to Jadirah for having me on her blog today and I hope to see you over on my blog soon!
SHOP THE POST:
ABOUT THE AUTHOR:
This post was written by Luci from www.lucibarker.co.uk, which is a 'little bit of everything' blog; from beauty to fashion, lifestyle and travel as well as blogger tips and good-to-know's, you can find it all on my Blog.
You can find me here:
Instagram: lucibarker_
Twitter: lucibarker_
Pinterest: lucibarker_
Etsy: FayeDesignsByLuci