I introduced myself to
LUSH face masks
a few months back when I was in Dubai and spotted a LUSH shop at
The Dubai Mall
. LUSH is known for its bath bombs, lip scrubs, and face masks. The good thing about the brand is that it is organic and cruelty-free. While I have
tried a few products in the past
that I did enjoy, I was always really intrigued to give LUSH masks a go. Since LUSH does not have an outlet in Pakistan, I definitely had to stock up my lip scrub and grab a few other products while I was in Dubai.With the help of a very kind LUSH staff member, I ended up buying a full sized tub of Oatifix as my skin is dry/combination and it was winter when I shopped. I covered LUSH Dubai on Snapchat for my blog and Pakistan Beauty Society, so they were kind enough to give me some samples to try out too. Therefore, I ended up getting three more LUSH masks in sample pots, which surprisingly lasted me 3-4 uses each. So, now I am ready to give you my thoughts on all of them.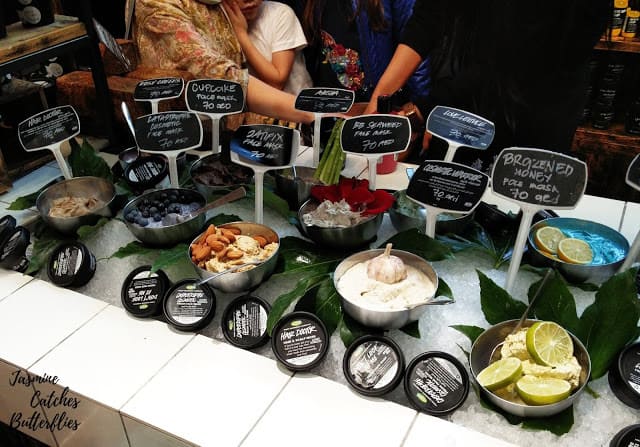 LUSH Face Masks
LUSH Oatifix 
As the name depicts, Oatifix contains oats but also ground almonds, bananas, glycerin, Sandalwood oil and more such ingredients which soothe irritated skin and nourish it by moisturizing. It has vanilla in it too which gives it a nice yummy scent. This mask has the texture of a thick paste and it is leaves behind a buttery layer on the skin.

It is recommended to apply for 15 minutes and then rinse off with warm water while massaging it into the skin. It makes the skin really soft and is great for harsh, cold weather.
Price: $8.95
Quantity: 2.1 oz
LUSH Don't Look At Me
I am drawn to colourful masks and for some reason blue in particular. Not sure why the mask is named Don't Look At Me (DLAM) when I do want you to look at me and see how beautiful I look as an Avatar. This one is a scrub mask which means that you can use it as a mask and also as a scrub at the same time. It contains ground rice, lemon, and murumuru butter as some of the key ingredients. So, it scrubs away dead skin, brightens complexion and moisturizes too.
I really wish I would have bought a full-size version of this mask as well because it ended up being one of my favourites. Back then I was just concerned that this might dry my skin out as it contains lemon, but little did I know that it has murumuru butter to return any moisture striped by the citric acid in lemon.
I noticed how this made my skin tone improve over time and basically evened it out. It is gentle and ideal for weekly use. Again, it is recommended to apply for 15 minutes and then rinse off with warm water while massaging in order to scrub.
Price: $12.95
Quantity: 2.1 oz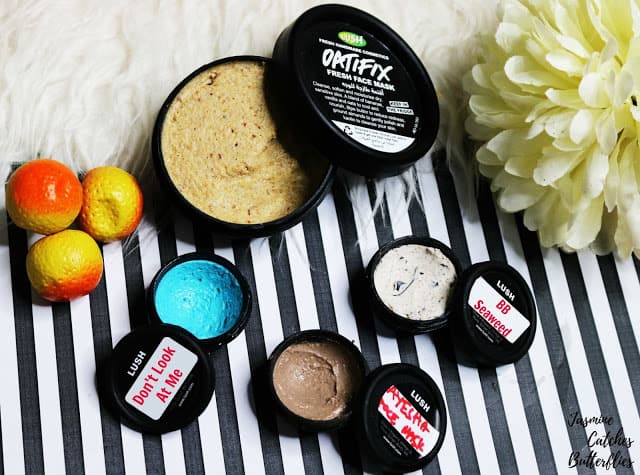 LUSH Face Masks: Oatifix, Don't Look At Me, Ayesha, and BB Seaweed
LUSH BB Seaweed
To me, this mask, is sort of an all rounder. It contains seaweed, honey, crushed almonds, rose absolute, aloe vera gel and basically everything nice. It is suitable for sensitive skin as it gently scrubs and nourishes.
LUSH BB Seaweed is also a thick paste like mask, but I feel the need to add a little bit of water to it in order to spread it more easily on my skin. Also, since it contains chunks of Bladderwrack seaweed, it was a bit annoying to work with. Personally speaking, I do not find the scent of this to be pleasant. However, the mask itself works nicely and does its job.
It is recommended to keep it on for 15 minutes before rinsing off with warm water.
Price: $8.95
Quantity: 2.1 oz
LUSH Ayesha
Typing this blog post, I am having an urge to send my cousin in Dubai another shopping list.. Sigh. But Ayesha is definitely worth it. This mask is aimed for mature, problematic skin and being someone who has suffered premature aging due to excessive sun exposure in childhood, this mask is a treat for my skin. Ayesha contains fuller earth, kiwi, witch hazel and enzymatic asparagus. It soothes, brightens and tightens.
I love this mask for its soothing properties and I did feel pore tightening after washing it off 15 minutes later. The good thing about LUSH masks is that even if they are clay based, they do not go too dry and this in particular does not crack at all. That is a plus for me because if the masks that tend to crack are left on a little longer, they strip away moisture once they dry and it is said that they also make skin wrinkly in the long run. This on the other hand, stays soft due to addition of honey and oils.
Price: $9.95
Quantity: 2.1 oz
LUSH products are bit on the pricey side due to their organic goodness and it is a bummer that you cannot store most of these masks for longer than three to four weeks due to absence of preservatives. However, that also means that you are not going to be exposing your skin to harsh chemicals. It is best to keep LUSH masks refrigerated even before expiry.
The overall price range varies for these masks depending on the type of ingredients present. Also, different LUSH masks come in different sized pots so I would say that you do check out their website for more such details. I have listed prices of each of my masks for 2.1 oz pots in this blog post so you can compare them.
Fun fact: If you return 5 empty black pots to LUSH for recycling, you get a fresh new face mask, free!