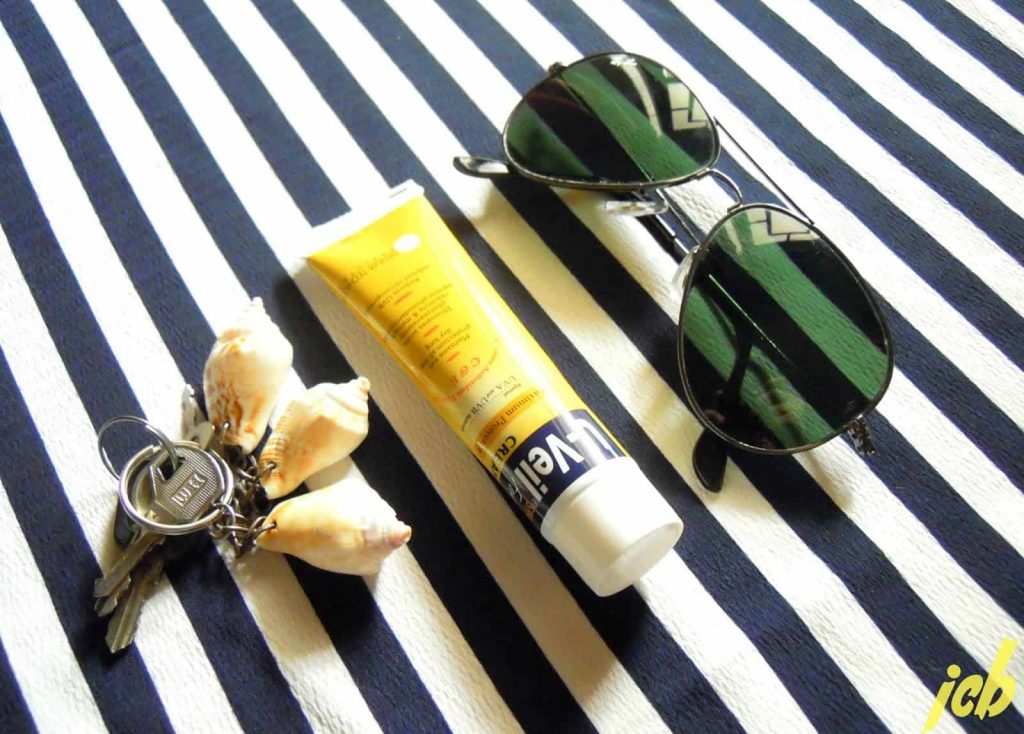 U-Veil Forte Cream SPF 60 featured in my March Favourites and since some of you guys wanted a full review, here it is. I am sure most of you are well aware of the brand as this is the a commonly prescribed sunscreen by dermatologists locally. In the past, I have done a detailed post on how sunblocks work and discussed all the nitty gritty from SPF to the types of UV rays, so if you would like to read that too, click here.

As I mentioned, I was recommended this sunblock by a dermatologist last year and even though I had used this once in my childhood too, I didn't realise how effective it was only until recently. Usually when you use a sunscreen, it protects you from harmful effects of sun, but you still do tend to tan, especially if you do not reapply after a few hours. Whereas, U-Veil claims to be water-resistant and lasts all day long. Now, my sun exposure has cut down a lot since my school days, but if you know anything about my skin type, you would know that I can tan within a minute of staying out in the sun. I am not even exaggerating. That is just how responsive my skin has always been to sun because I suffered a lot as a child at the hands of it.
Even though, I have dry/combinational skin (thanks to the sun again), just like everybody else, I can't bear tons of oily/greasy stuff on my face in the sweltering heat of Karachi. Skipping my moisturiser is out of question and sunblock is equally essential. U-Veil is not only non-greasy, which makes it absorb quickly, but it also does not clog my pores unlike some of the other sunblocks that I have tried in the past. Enriched with Vitamin C and E, which are antioxidants, this is called a cream, yet it is very light weight and I find it slightly runny, so it does not make my skin feel suffocated. Previously, wearing sunblock, always meant coming back home with a sticky, greasy face, however, that is not the case anymore and I believe people who have naturally oily skin will love this sunblock too for that reason. This also makes it ideal to be worn under makeup without that cake face feeling.
In addition to all that goodness, U-veil does not leave any sort of white cast whatsoever and it has a subtle scent which is not at all bothersome. However, what makes this sunblock my favourite is the fact that it keeps me from tanning. This product is produced by Derma Techno Pakistan and it reads on the back that it does not only prevent cancer but also hyperpigmentation, premature aging, wrinkling and effects of melanin. I don't soak the sun all the day, but I can tell the difference this sunblock has made in my life is noticeable. Somebody who used to turn two to three shades darker in the blink of an eye can now dodge the sun way more easily. I wouldn't say that it has been doing so a hundred percent, but I cannot ever be certain about it for there are days when I forget to wear this sunscreen. Nonetheless, the results for me are remarkable. This is of course due to such a high SPF but it is needed when you live right above the equator.
I would definitely recommend U-Veil to everybody and it is one of those rare products that I need a lifetime supply of.
Price: 315 PKR
Amount: 30 g
Availability: Easily available at local pharmacies and medical stores.
My Rating:
p.s:
Check out my Potpourri (Medium) Ad. Space
Giveaway
which ends this Wednesday and only one Love Spread (Small/Free) slot is left! 😉 Explore all my advertisement packages
here
.
Have you used U-Veil before? 🙂 x