Discovering Jolie Beauty right before the end of a tumultuous year was a pleasant surprise. I mean, it's the little things that keep us going, so as a makeupholic, stumbling upon this new and promising UK based brand made me excited. In order to expand their product range, Jolie Beauty recently launched 4 powder highlighters. I got my hands on two of the shades that work the best for my medium-tan skin tone; Saintly and Dreaming.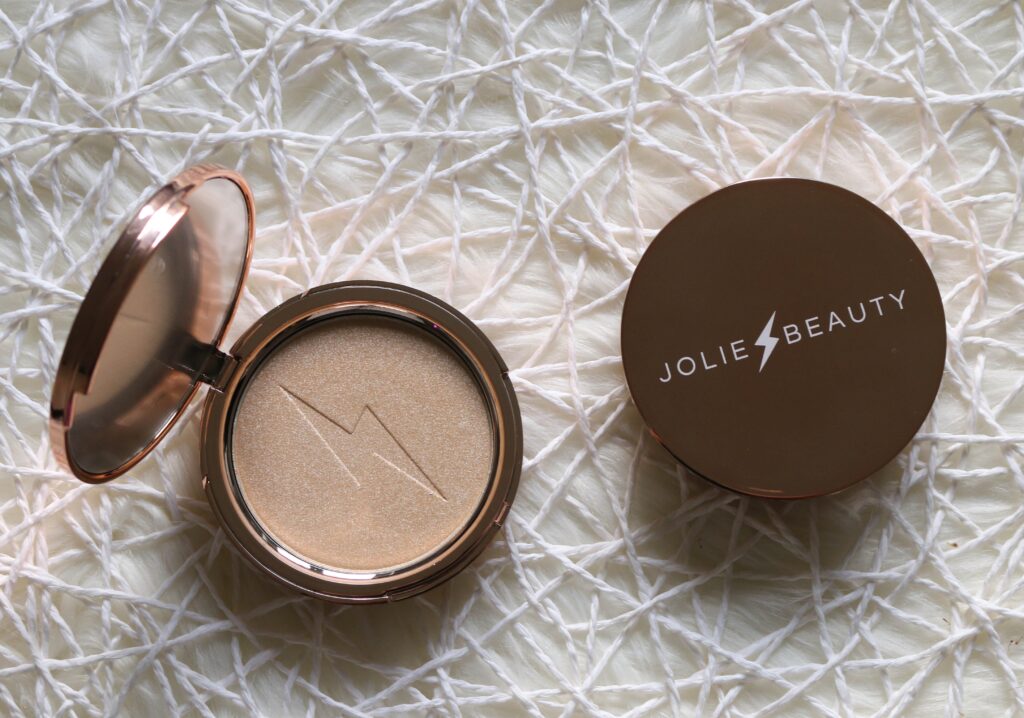 I have always loved glowy skin and I am a sucker for highlighters so much so that the first thing I ever bought with my own money was theBalm Mary-Lou Manizer. Though I remember how in my early teen years matte skin was a huge trend and everybody just wanted to steer clear of the "shine"!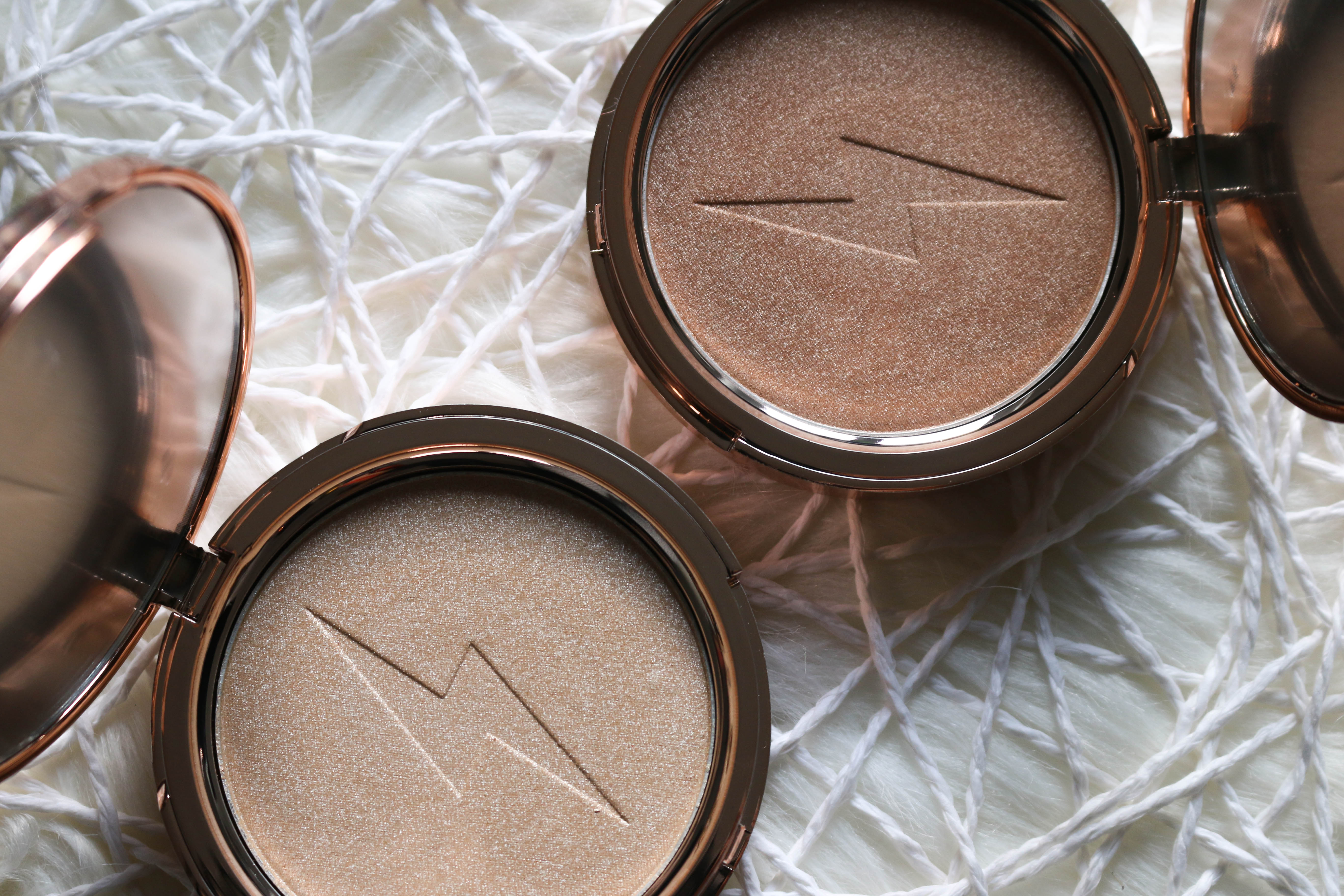 Be it Jaclyn Hill's tricks of achieving a popping highlight or Natasha's 100 Watt Skin, highlighters made a comeback last decade (sounds crazy, I know) and looks like they are here to stay for a long time. Jolie herself is a talented makeup artist so I was elated to see the addition of Second Skin Highlighters to the Jolie Beauty makeup range.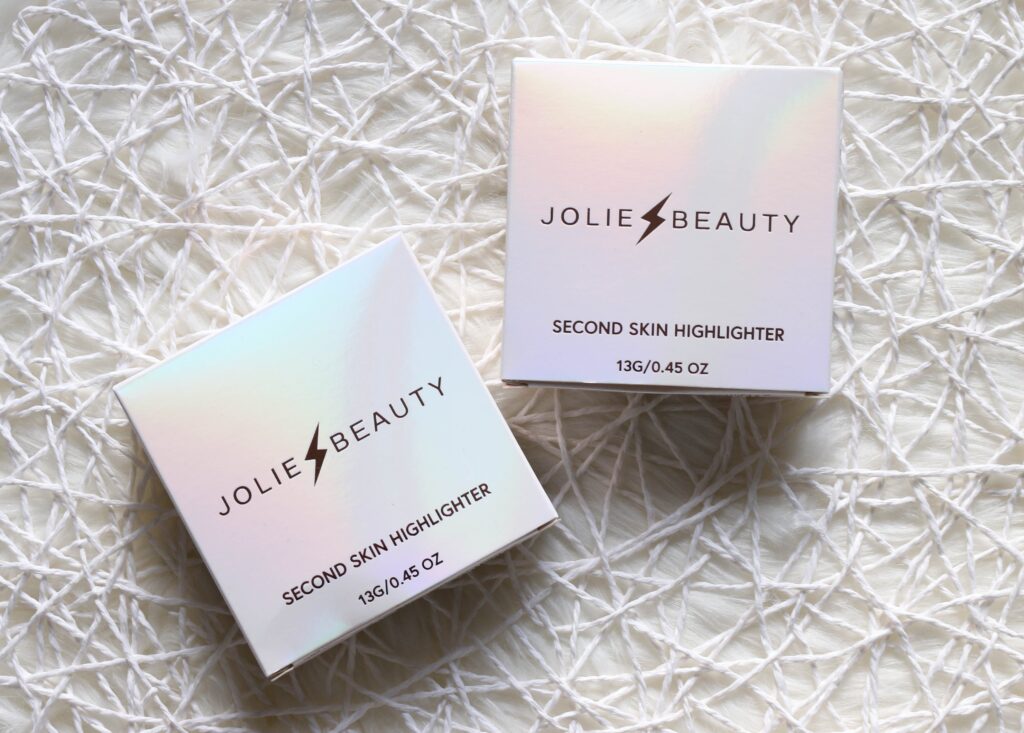 Packaging
My Jolie Beauty Second Highlighters came in a pearlescent white cardboard box, securely packed in a bubble wrap sleeve. The actual product comes in sturdy and classy looking rose-gold compacts. While they are a bit on the chunkier side, I don't mind it. In fact, I was really happy to see the inclusion of a mirror on the inside as it makes these highlight compacts travel friendly.
My only gripe with packaging is that the clasp is a little too snug so it can be a struggle to open it, especially if you have long nails.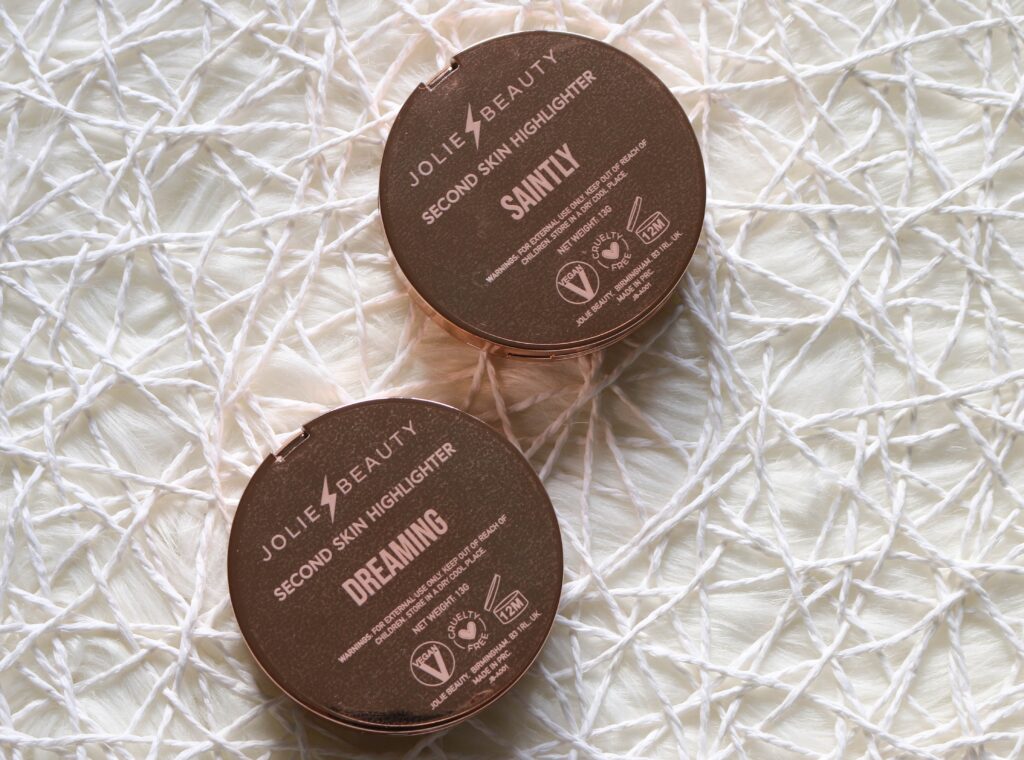 Shades and Pigmentation
Jolie Beauty highlighters come in 4 gorgeous shades as follows:
Saintly – light champagne gold (for light to medium skin tones).
Dreaming – warm champagne gold (for light to medium skin tones)
Paradise – a warm rose gold (for medium to dark skin tones)
Euphoria – a cool-toned rose gold (for medium-dark to deep-dark skin tones)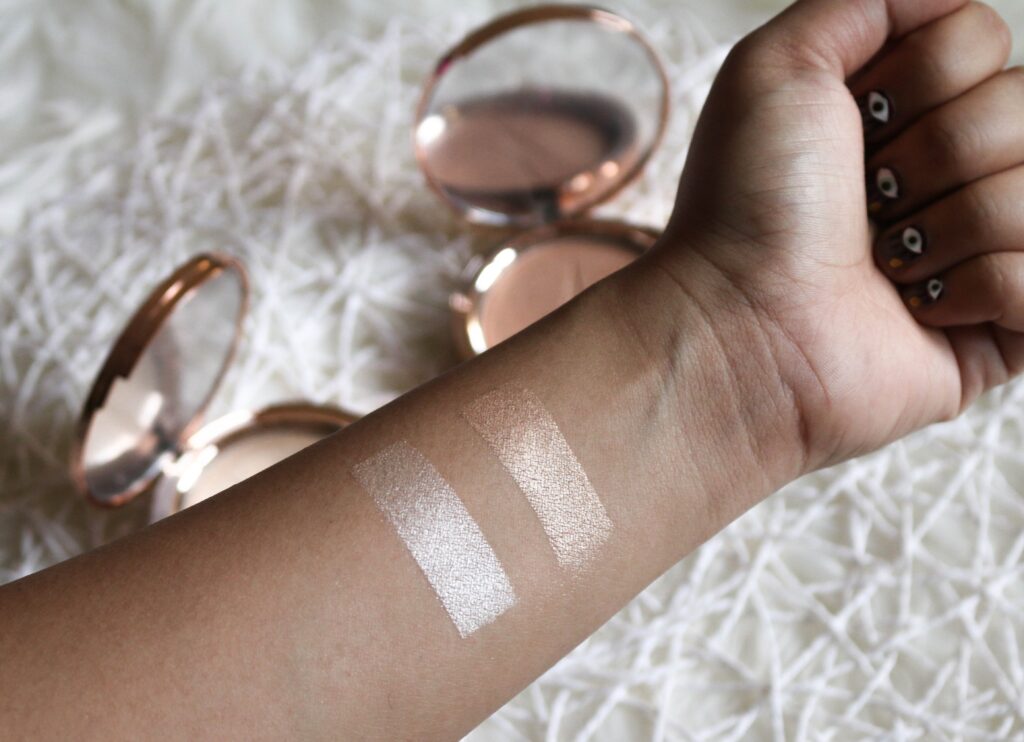 Since I have a medium skin tone, I got the shades Saintly and Dreaming. Both the shades are lovely and I can't seem to decide which one I love more. While Saintly might look a bit pearly white in the swatches, it makes an amazing inner corner, brow-bone and nose highlight for me. I use it to add an extra pop when I go for a full beat look.
On the other hand, Dreaming is such a gorgeous gold shade that compliments my skin tone very well and I love to use it as a cheekbone, temples and chin highlight. Also, do note that it looks much darker in the pan but looks absolutely stunning on the skin as a champagne gold.
Unlike their previous launch of the Jolie Beauty Oh So Blinding Highlighter Palette, the Jolie Beauty Second Skin Highlighters are supposed to be on the subtle side. While I have not tried the former, I find these brand new babies to be pretty pigmented and blinding too. Though I get it, the Second Skin Highlighters are pretty versatile so they can be totally used for an every day dewy glow too.
Formula and Performance
The Jolie Beauty Second Skin Highlighters are cruelty-free and vegan. The formula is finely milled so there is no chunky glitter and these highlighters feel so buttery and smooth. They are easy to work with as you these pack a punch of pigment so even a gentle dab with a brush is more than enough for a beautiful glow. The pigmentation is buildable and these highlighters blend like a dream.
As the name suggests, these Second Skin Highlighters can really make you look like a naturally glowing goddess with a no-makeup makeup look. Since the formulation is so fine, these highlighters don't pick on the skin texture and can look amazing even on mature skin.
Quantity: 13g
Availability: joliebeauty.co.uk
Price: €22.95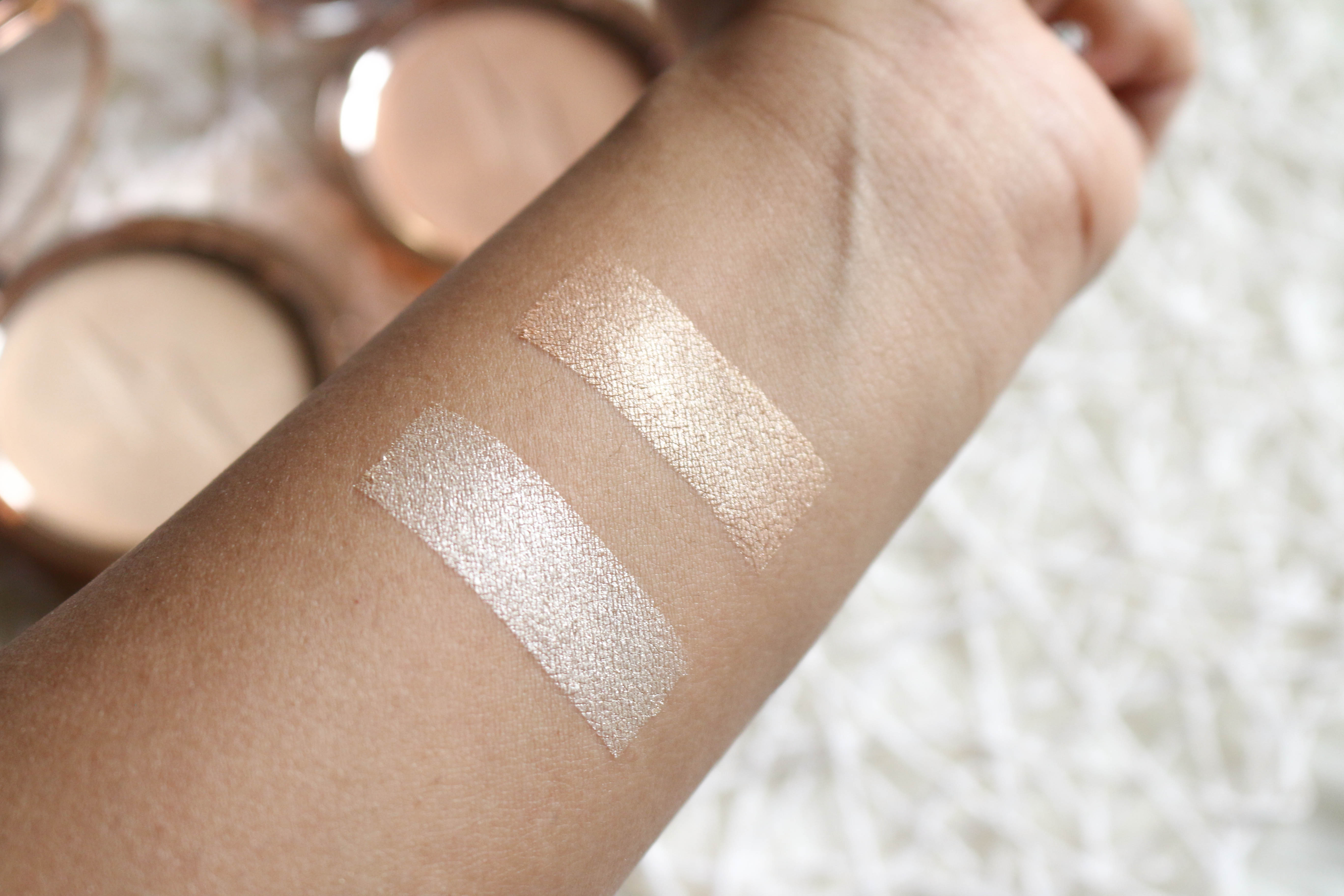 In a nutshell, these Jolie Beauty Second Skin Highlighters are pretty impressive in terms of quality and I am now looking forward to trying more of their makeup products!