I hope you're all having a blessed Ramadan. 🙂
I'm sure we are all looking forward to Eid and we all have loads and loads of preparation and shopping to do by chaand raat. However, it gets tedious for most of us, especially ladies who have to do household chores along with daily prep for iftar to squeeze time out of their busy schedules to go out for a long proper shopping spree due to which one thing or the other is always left out. Luckily, we have
Daraz.pk
, an online shopping website, to surf, chose and order from the comfort of our homes and thanks to Daraz that I have got some exciting news for you lot!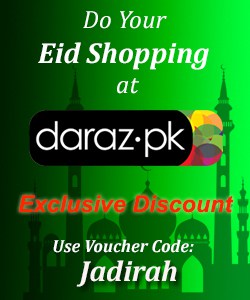 Daraz has very generously offered an Exclusive 10% Discount on all purchases made using the voucher code 'Jadirah' at the time of checkout. There are already a number of Ramadan and other discount offers going on over at Daraz and this will just add to them! That means more discounts! Yaaaay! 😉
This voucher code is valid not only during Ramadan but in fact for the next 3 months today onwards for all my readers and you can pass this on to anybody you know! 🙂
Also, do note that customers can only use 1 discount voucher/coupon code at a time.
You might be aware that I recently shopped from Daraz and I can't stress enough about how reliable and good their service is! If you want to see what I bought and want to read more about Daraz then click
here
.
So, what are you waiting for? Go! Shop! Enjoy! 🙂
Disclaimer: I'm NOT getting any commission for any of the purchases made using this voucher code.