You might be aware that I am usually very skeptical about online shopping as it's hard for me to trust online sellers in every way and things aren't always exactly the same as they seem in the photos. However, I recently got a chance to shop online at
daraz.p
and this was my second purchase online. Coincidently enough, the first time I had shopped, was jewellery from Artel and this time again I bought jewellery but from
100 Degreez
on Daraz.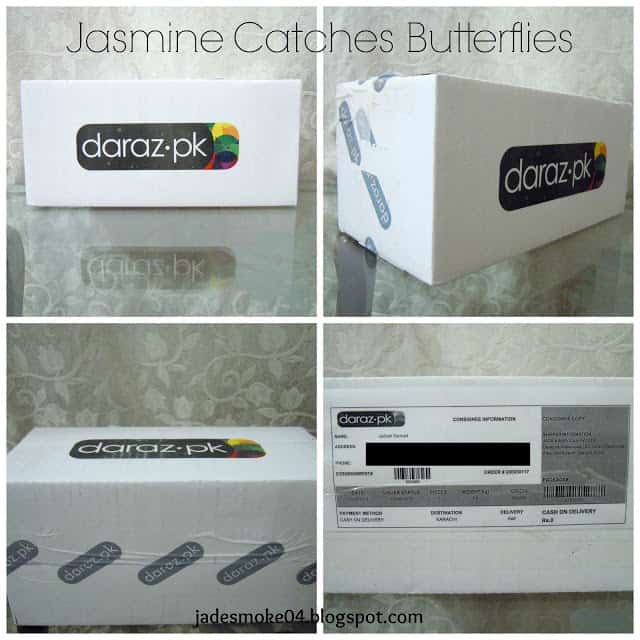 Daraz Parcel*
So I was going through their new arrivals and this multi-hinged Owl Pendant caught my eye. I had seen it previously featured online somewhere and had quite liked it. There were a number of combos available, and I liked this one the most. Silver Owl and the Pair of Birds. This owl is more popular in bronze, but I am a silver's gal so chose this one. You might be able to spot the owl one on Etsy shops and I have seen some local online jewellery sellers have it too but of course they are not as reliable as Daraz. The silver owl and this combo is not available on daraz anymore though. You can find Bronze Owl and these Pair of Birds in separate combos there.
Lets peek into my parcel: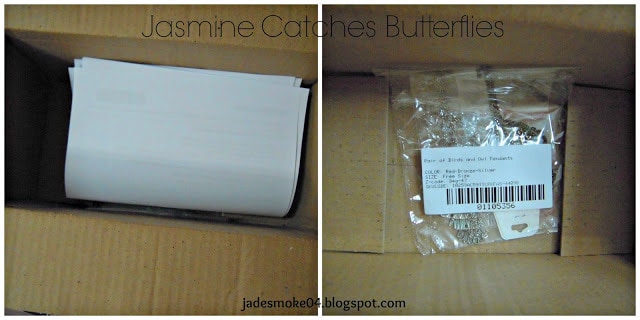 I was really pleased with daraz's service. As soon as I ordered, I received a confirmation email along with a text and call. They told me I'd receive my parcel in a week's time, but the best part was my order arrived the very next day. I received a text earlier that day which had delivery timing, and it actually arrived almost 2 hours in advance!! You should better stay at home all day when you receive their text. 😛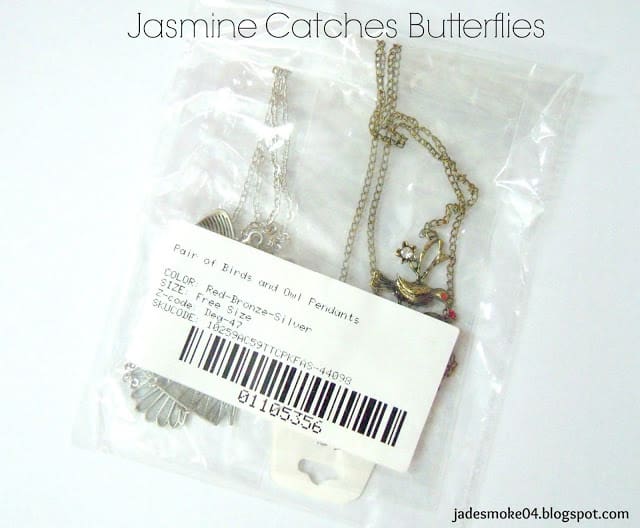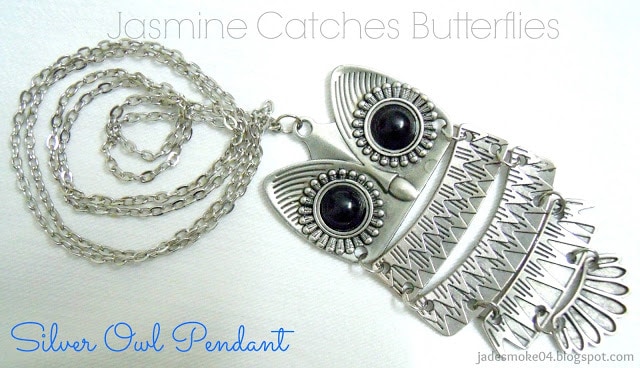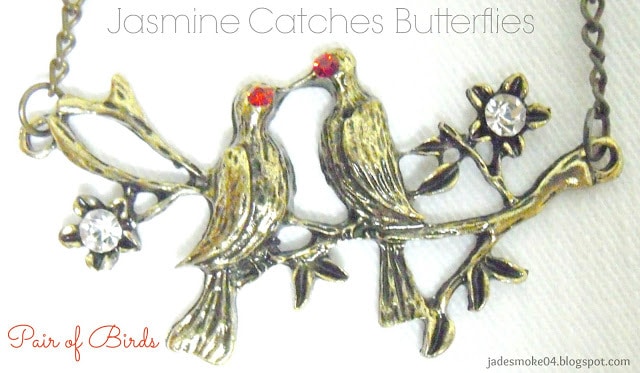 Daraz sent me two forms in the parcel, one was the Invoice, and other was a Returns form. They do Free returns within 7 days if you are not satisfied with your purchase except for jewellery and watches due to their delicate nature. I am content with the quality of my owl pendant but I have to say that the Pair of Birds one looks more golden in photos and is a bit dull in real but then it makes a very good vintage necklace!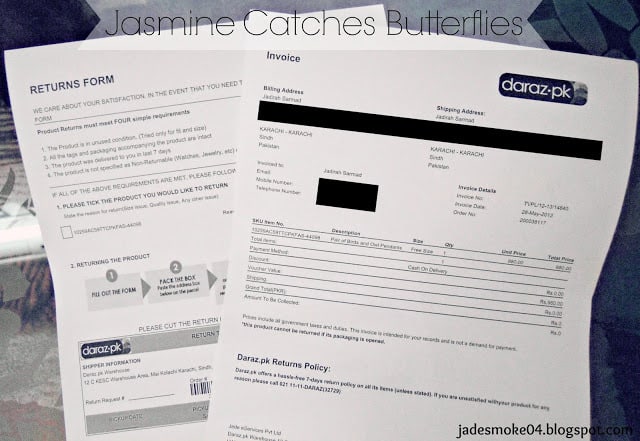 Invoice and Returns Form
However, there are some things that I'd still like to mention as positive feedback to Daraz. Starting with what you see when you go to their website is "Free delivery available (in Pakistan)" written on a small truck on the top left corner, but it is not linked to any conditions page, and you might end up thinking it's free for all orders in Pakistan. They do have a "shipping and returns" page linked towards the end of the home page but not everybody might see that. I did not. I got to know that they had free shipping on orders above 1500 PKR only when I had placed my order. 150 PKR shipping on orders of a lesser amount. No big deal there, in fact that is a quite reasonable shipping amount but still these things should be more transparent in my opinion. I didn't have to pay it though because I had a 1000 PKR voucher that I had received from Daraz, and you get 500 PKR off when you register so it got adjusted in that amount.
I know I didn't make a very good use of the whole amount but then again I found that even though there are some really good brands listed, those brands actually have put up a very limited variety and quantity. Everything just goes out of stock super quick. Most items that I looked through, stated "Only 2-3 left". It kind of like forces you to make an impulse purchase. This is not something that I would blame Daraz for though, rather the brands collaborating with Daraz should work on this.
Apart from that, I am a satisfied customer, and I really like their hassle free delivery service. I definitely would be making loads of purchases in future and I have gotten my friends hooked too! 🙂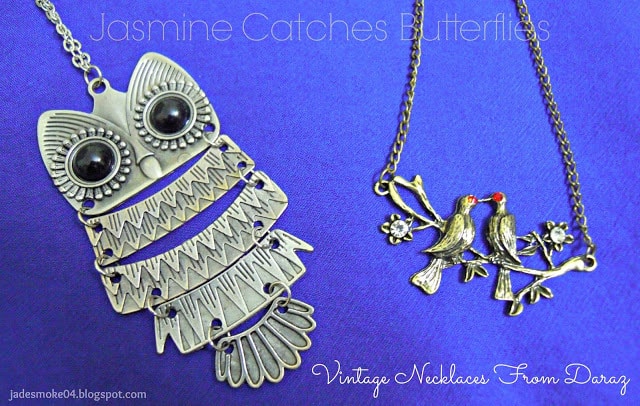 Vintage Necklaces From Daraz
980 PKR*
A huge thanks to Daraz for introducing me to their website! 🙂
Have you ever made a purchase at Daraz? What do you think? X