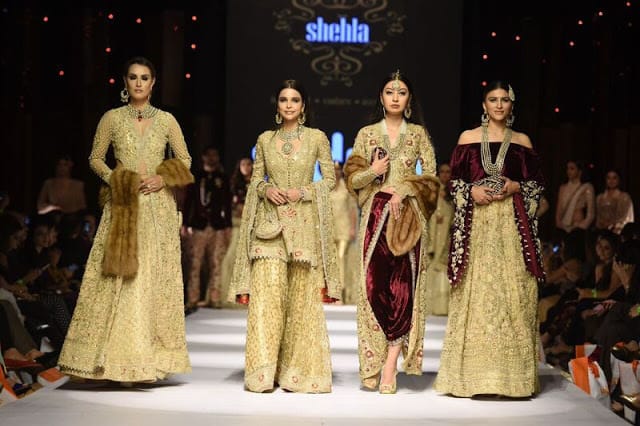 Fashion Pakistan Week got much delayed this season, however, when it finally happened, it sweeped us off our feet. The theme was Winter Festive, and we saw a great incorporation of colours and heavy embroidery in most collections. On the whole, most designers opted for bridal pret, yet there were a couple collections that stood out, as my favourites did it differently.

Day 1: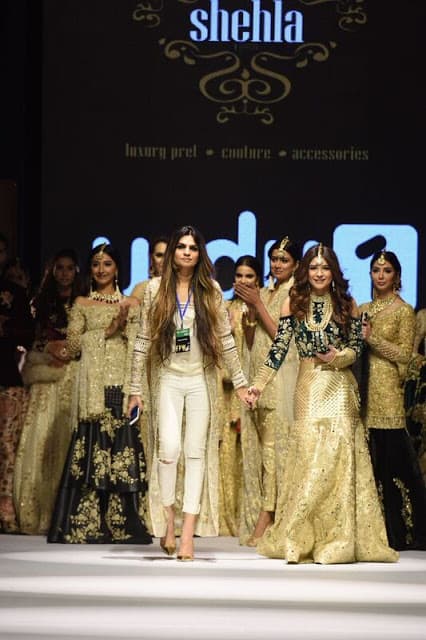 Shehla Chatoor: All The Raj
I love royalty and this collection was a cross between east and west. The eastern royal colour palette was well conserved, with maroon, green, cream and gold. While we could see eastern embellishments like tikas and jhumars, at the same time fur boas added a western touch.
Tony and Guy Hair Fashion Scout:
This was a collab with Saniya Maskatiya and Gulabo by Maheen Khan. Much did not get my fancy but Syra Yousuf and Sarwat Gillani certainly slayed for them, respectively.
Tena Durrani: Omorose
Pistachio and tea pink in the collection fitted the theme so well and a lot of the dresses and saris were wearable.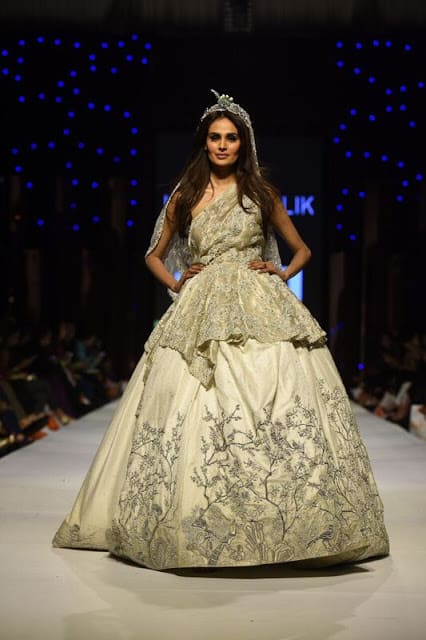 Hisham Malik: Eternal
This was one collection that was different from the lot and loved the gowns especially.
Sana Safinaz: Russian Roulette
The collection focused on jewel tones and I liked a couple outfits but it was mostly loud for me.
Day 2: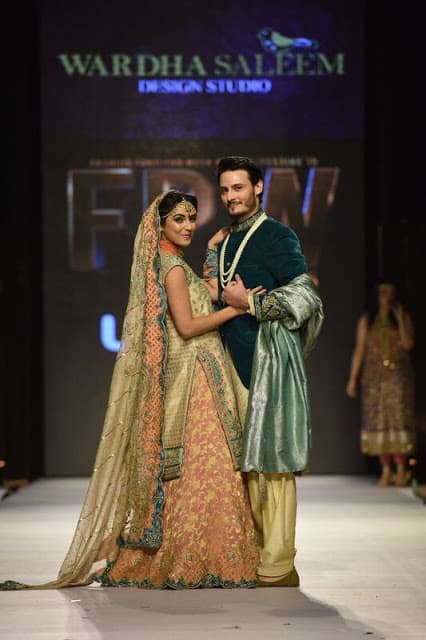 Wardha Saleem: Zar Gul
Wardha pays the most attention to detail and her collection centred around golden flower was perfect for Pakistani wedding season. Osman Khalid Butt and Maya show stopped for her, winning all our hearts. Must OB looked dashing in emerald green.
Obaid Sheikh: Winter Festive 2015
Again saw a combo of pink and olive green. The male models were well-dressed male models and the ladies looked equally elegant in autmnal shades including black.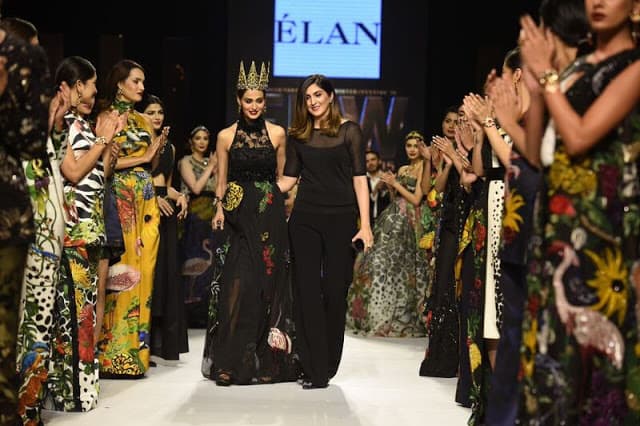 Elan: Sauvage '16
Elan is one of my favourites but this time they played prints and didn't cut it for me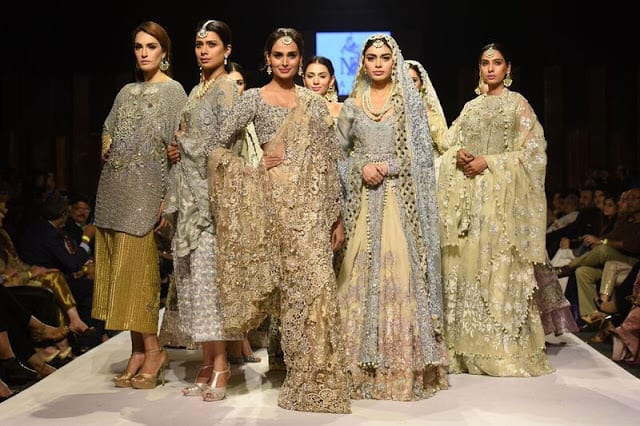 Nida Azwer: Mystical Garden
Breathtaking usage of white, pastels and grey we could even see the new pantone shades in her collection which was just announced yesterday!
FnkAsia: From Tuscany With Love
Huma went for the darker palette. I disliked the mustard but loved the grey, blue and brown.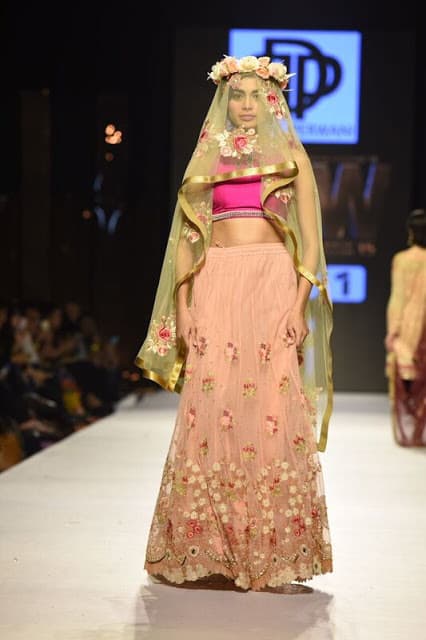 Deepak Perwani: La Vie en Rose
Loved the pop of fuschia, the collection covered semi formal to formal day to night outfits.
Day 3:
Umar Sayeed: Eysian
White, blue, pinks, purple, you name it. The designer gave us a variety to choose from and well purples got my fancy.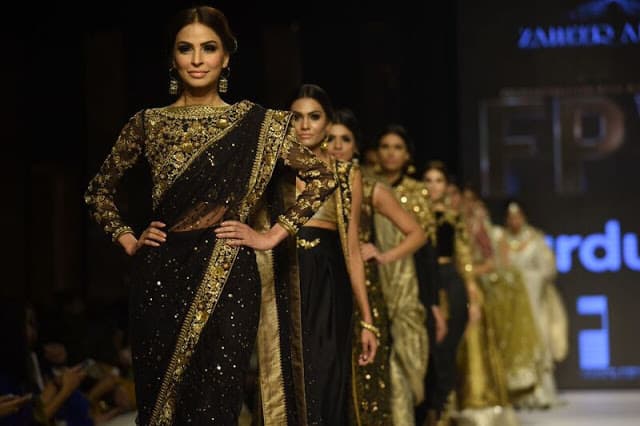 Zaheer Abbas: Baad-e-Naubahaar
Favourite ever. King. Slayer. Killer. Insert more synonyms. Net is one material that I hardly ever like but ZA made me rethink with the sari Fouzia wore.
I secretly wish of wearing it on my university farewell now! The whole collection was stunning as ever and ZA is now the undefied champion of FPW for me.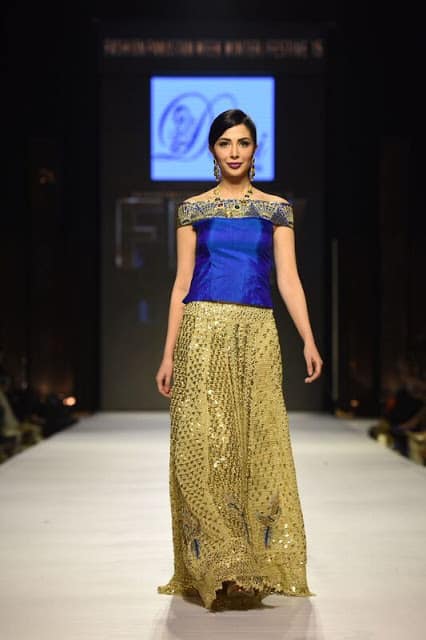 Nida Tapal/Delphi:
Dreamweave
Blues and greys it was for the season for Delphi. Loved Sabeeka's royal blue and gold outfit.
Zainab Chottani: Dil Rubba
Dil Rubba was a hit and miss collection. We have already seen most of it in the past years, all that overly done bridal joras.
Faraz Manan: Imperial
By this collection, I could see no new colour scheme and even though I hold nothing against men who wear pink but it just wasn't good enough especially with brown shoes.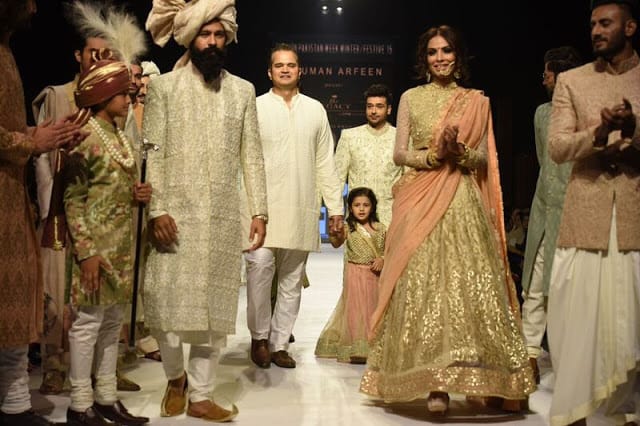 Nauman Arfeen: Legacy
Pinks, gold and green were definitely popular amongst FPW designers this time. The menswear was still commendable especially because of the variety in styling.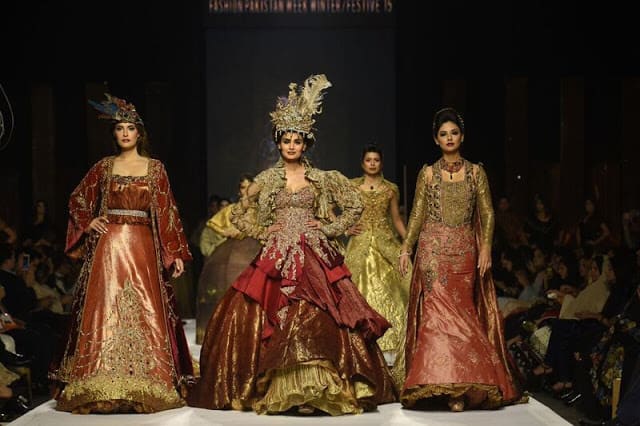 Nilofer Shahid: Rembrandt
Well deserved conclusion to the show. The collection took us back to the Shakespearean time. What a debut by Nilofer. Mehreen stole the night for all the collections on Day 3 by the way.
Photo Credits: Tapu Javeri
Digital Partner: Mind Map
PR Partner: Latitude CRS
My top three favourites were Shehla Chatoor, Zaheer Abbas and Nilofer Shahid!





A-List Advertiser: Beauty Talk With Saadia

(adsbygoogle = window.adsbygoogle || []).push({});