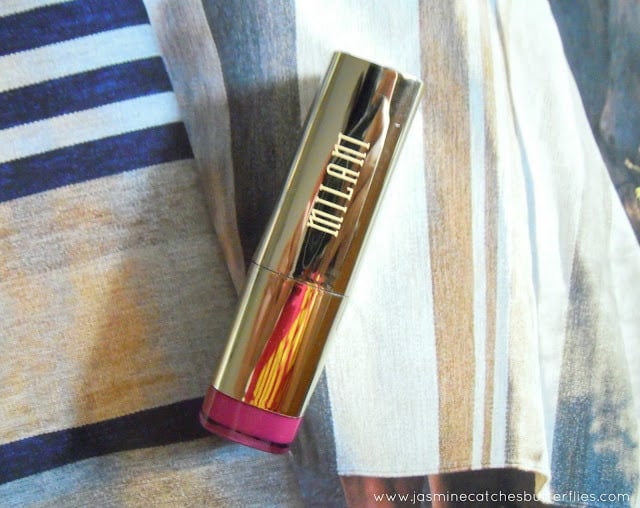 Milani Uptown Mauve Lipstick
PR Sample*
Many a times, people feel intimidated by bold lip colours, especially when they are not used to of seeing them on. Prior to blogging, I was no different. I remember seeing a photo of Gwen Stefani back in the day in red lipstick that I thought was a bad choice until much later when I fell head over heels in love with the same photo. One of my makeup goals for the year was to try a purple lipstick since reds and pinks are still acceptable but purple requires a whole new comfort level.
I think my obsession begin when I saw a beautiful green eyed blogger review MAC's Heroine. Never before I had seen anybody pull a purple lipstick off so well. However, I just did not know where to begin with a shade that would suit me until I had a chance of looking at Just4Girls' new in stocks. Milani is one brand that I have heard people rave about endlessly because of its affordability and quality. I jumped at the chance of reviewing one of their Color Statement lipsticks because along with their blushes, the lipsticks have been very popular with beauty gurus.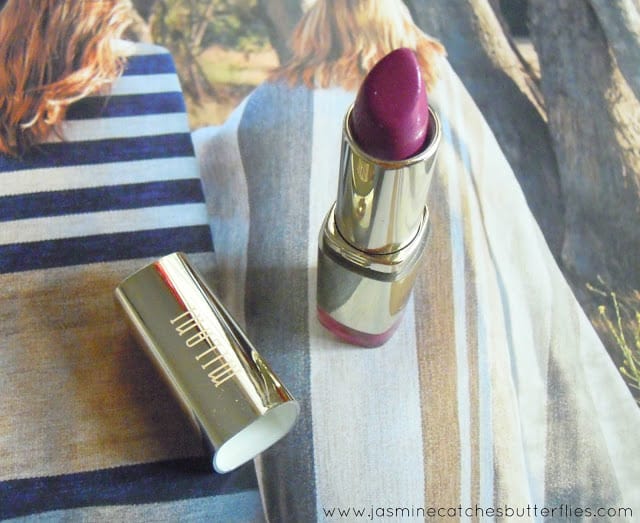 Lately, I have been feeling overloaded with lipsticks and I believe I pretty much have every red and pink under the sun now, so this was a great opportunity to crawl out of my shell and try a purple. The lipstick I got is called Uptown Mauve and I wouldn't call the shade mauve as it looks like a pink toned purple. The finish of the lipstick is quite glossy and while it glides on smoothly, it can get all over the place if you are not careful. I like the look of it but it tends to bleed and feather so try not to go overboard as you can get sufficient opacity in a single swipe and use a lip liner. Since this is such a dark shade, the lipstick holds up even after eating and drinking, but the colour fades to fuschia with time.
Talking about other aspects, I love the cool gold packaging now even though a couple years back it used to look cheap to me. You can see the shade at the bottom and that simplifies routine tasks. The smell of it is sweet and similar to Jordana's Raspberry lipstick but it is not overpowering.
I am looking forward to wearing this lipstick all throughout fall especially paired with grey cardigans. Stay tuned to my blog and social media for makeup looks featuring this.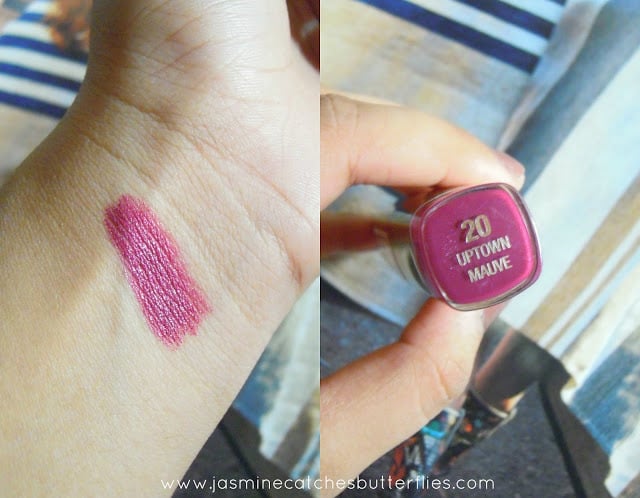 Price: 850 PKR
Quantity: 3.97 g
Availability: Online at just4girls.pk. Use code J4GJB5 to get 5% off all your purchases.
My Rating:

Have you ever tried purple lipsticks?


(adsbygoogle = window.adsbygoogle || []).push({});