Hey, girls!
Hope you're having an amazing day! I am Fatiha & I am a beauty & skincare enthusiast at heart, this gives me an excuse to play with more & more makeup & break my bank by engaging in non-stop hauls . Being a part of the Pakistani beauty community I love testing local, drugstore & high end products , create looks & post product reviews for my lovely followers. If you have been on Instagram lately, you would have definitely seen a lot of sponsored posts/content on something known as a "Glow/ Gold Serum".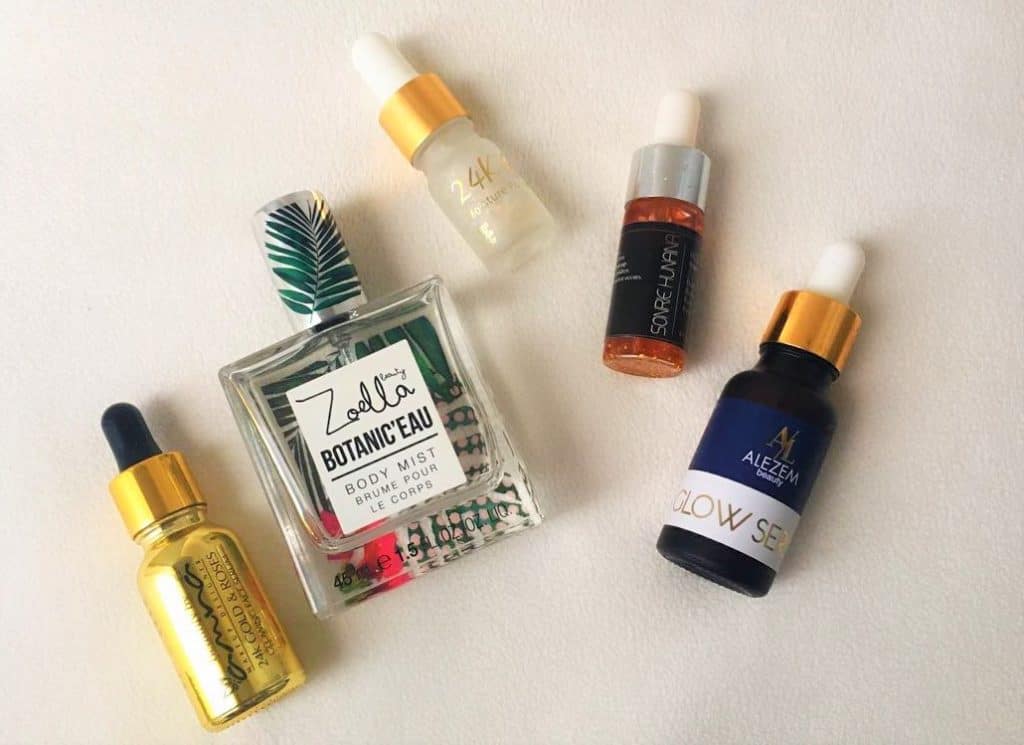 Let me start from the beginning, two-three years ago, FARSALI came out with their "Gold Elixir", a beauty oil with skincare benefits. The facial oil was infused with 24K flecks of real gold which the world had never seen or heard of before! According to the skincare experts, Gold has amazing skin benefits, it slowed down collagen depletion, reduced skin sagging, stimulated cellular growth for a youthful looking skin & gave a radiant glow.
As expected, the elixir went viral on Instagram. It got YouTubers' stamp of approval, had amazing reviews online BUT it retailed at a hefty price tag of $54! No makeup enthusiast can deny the seriousness of this number especially when you're working off a limited budget.
Shortly after a few Pakistani brands surfaced with their own unique twist to the Gold serum & everyone was excited to try it. See, we as a country are obsessed with anything that is remotely related to gold, be it jewelry or clothes. So when the word "gold" started creeping up in our makeup & skincare, we went NUTS! The cosmetologists at these companies got the hang of what was going on and started coming out with "gold" foiled masks, gold sheet masks, gold under eye patches & gold clay masks. You name it & they put gold in it, the funny part is that they were able to sell that too.
So coming back to our desi scenario, we had a couple of new guns in town. PR started flying out, every influential name in the blogging community started talking about it & almost everyone wanted to try it out because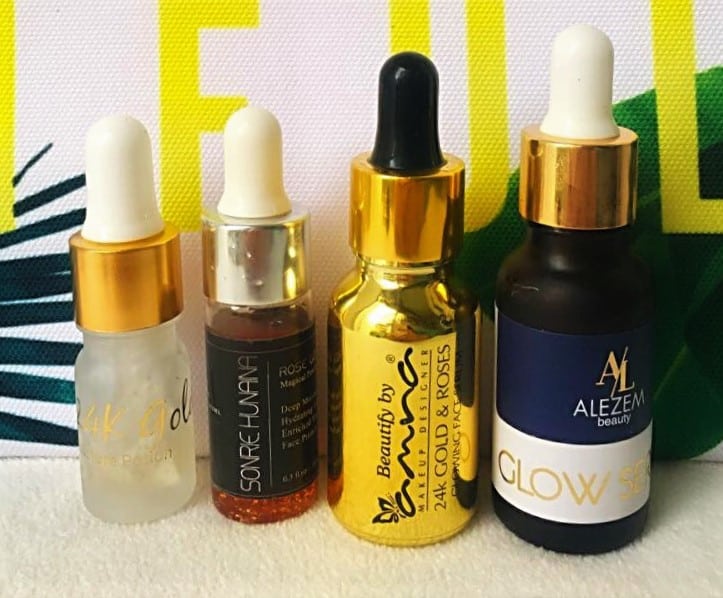 a) It was affordable! (less than 2.5K)
b) It was hydrating & moisturizing
c) Dream come true for people with exceptionally dry skin
d) Excellent smoothing primer
e) 100% organic
f) Added a natural radiant look to the skin
g) Easily available
h) No credit card needed, God bless COD (Cash on Delivery)!
Below are a couple of them that I have personally tried & here's what I have to say ..
Beautify by Amna 24K Gold & Roses Serum
Without a doubt, the most talked about gold serum in town! Our desi bloggers love it & it stands out for its heavy influencer marketing & discount codes. I would highly recommend this one if you have dry & dehydrated skin type. This is an organic elixir made up of Rosehip seed oil, Argan oil, Pumpkin seed oil & Rose oil. Being an oil-based serum, it might not work for oily & acne prone skin hence always do a patch test on the base of your neck to check for anypossible allergic reactions. The formula is rich with the 24K gold fleckswhich in my experience gave my skin a radiant boost on the days I ran low onsleep. It absorbs quickly without leaving a greasy film on my skin, I use it asa moisturizing primer, mix it with my matte & full coverage foundations tohelp it blend. I will sing praises because it is my holy grail & it hasworked out great for my skin.
Priced at Rs.2450/-

TIP: ALWAYS buy this one in a bundle deal & use a blogger code to get some free products along! (Jadirah's Discount Code: J210)
Alezem Beauty Glow Serum
This brand is comparatively new in the market with an impressive range of products. I got their serum, a pair of false lashes & a lash aid applicator in a goody bag from a blogging workshop & I must say I am impressed with everything I have tried so far. Being an oil-free formula, it will work perfect for all skin types especially for those of us who have oily/acne prone skin. I found the formula to be hydrating on the skin, did notirritate or aggravate my dry patches, absorbed quickly without any greasy feel& gave a slight smoothness to my skin. Did it add a glow to my face?Probably not BUT it made my skin feel as if it had a glass of water! Bible.
It is an organic formula with an impressive list of ingredients like Aloe Vera extract, Alpha Arbutin, Vitamin C, Argan Oil &Pro Vitamin B5. I use it as a hydrating/smoothing primer to help prep my skin for makeup. It smells a little medicinal but it's a great option if you'relooking something for oily skin under 1K.
Priced at Rs.900/-
Entice Cosmetics 24K Moisture Potion
As much as I love the brand, their lovely CEO Rabbia, their bubblegum primer & liquid lipsticks, this product was a pass. I got a sample of the potion in PR & it took me a while to understand how to use it. The formula wasn't a moisture potion, in fact, it was more like a smoothing primer. It didn't hydrate or add a glow to my skin & even the packaging was all wrong. I personally think that the product would have done great IF it came in a tube like packaging & it was marketed as a smoothing primer because it made my skin texture, smile lines, pores & fine line POOF! It blanked out my skin of any flaws & the foundation layered on wonderfully.
I would encourage you to skip this one & get their bubblegum priming potion.
Both retail for Rs.2150 on their website.
Sonrie Hunaina RoseGold Elixir
This happened to be the ONLY gold serum that I have had a love-hate relationship with. It hydrates, moisturizes & gives you a glow BUT it's not as lightweight as per my experience. It is comparatively thicker inconsistency & it did leave a greasy after feel to my skin. This might not work for girls with oilier skin type or during the summer season as it will make your face sweaty & greasy. I incorporate this one in my Winter Nighttime skincare regimen every third alternate day & I wash my face first thing in the morning. It didn't break my skin out or cause any other skin related issues. Oh, and it smells the best out of the four! So if you have very dry skin & you want to go for an oil-based serum then this might work for you.
Retails for Rs.2000/- on their website. (Currently at salefor Rs.1600/-)
That's all from my side, let me know which serums have you tried. You can check out my reviews & content on @fatihasaysblog, come say Hi! <3
Signing off
Fatiha