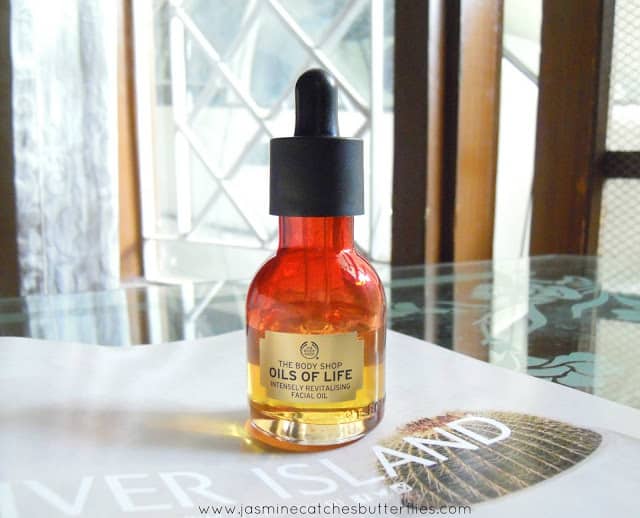 The Body Shop Oils of Life Facial Oil
PR Sample*
Moisturisers make my world go round. Having a combination skin that turns reptilian on the cheek and nose area while breaking out mostly along the jaws once or twice a month, has always given me a tough time in balancing out my skin care products. Facial oils, though sounding extreme, have taken over the throne since the past few years and have proven to glorify nearly all skin types. The Body Shop Oils of Life Facial Oil is my first ever of its kind. Sure, I have been using organic coconut oil for a longer while but something specifically launched in the market as a beauty oil had to be given a shot as well. I have been eyeing whole of The Body Shop Oils of Life range but it is expensive so I was delighted to receive this facial oil in a goodie bag for myself.

To begin with, I love the two-toned glass bottle and the dropper attached to the cap makes it easy and hygienic to use. This oil is a combination of several essential oils including three seed oils which are derived from black cumin, rosehip and camellia for antioxidants, omega 3 and 6, and nutritive oleic acid respectively, as the key ingredients. The formula is extremely lightweight and non-sticky with a warm but faint and pleasant scent. According to the directions on the packaging, you are supposed to use only 1-2 drops for both your face and neck and I know this is not a replacement for a moisturiser, rather something that provides added benefit and helps in layering for dry gals like me, still that amount is too less to cover me. So, I instead use 3-4 drops for my face and wipe down the remainder on my neck. I have noticed that whenever I use it more regularly, I can see a difference in my skin within weeks. It does not promise overnight magic but in about a month's time, my skin appears more even in tone and certainly elastic rather than dry. There are days when I switch things up and I also do notice how my skin suffers if I skip oils from my skincare routine.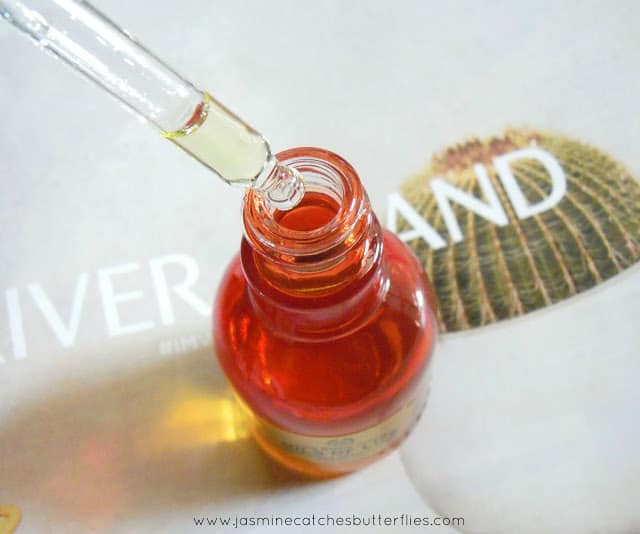 I have alternated between this and the coconut oil and both are great but this is much more lightweight for everyday use and I tend to get excessive with the former as a moisturiser so I do break out if I am careless. Whereas there was a short duration when I experienced breaking out with the Oils of Life facial oil as well. However, I soon realized that it was not this rather the St. Ives Timeless Skin Collagen Elastin Moisturizer as I was using the two in combination. Basically, it is advised to go over with your regular moisturizer once you apply the oil rather than doing so the other way round. I was following the same with the duo but the St. Ives moisturizer contains mineral oils so even though the brand claims to be non-comedogenic, it is not wise to use anything under it as it then locks all of that into your pores and leads to breakouts. I found out about this after looking up online as both the products were new for me back then and you can find more information on that
here
.
I haven't had this zit poppin' issue with the oil on its own or even with other moisturizers since. The Body Shop Oils of Life Facial Oil can be used in the morning as well as the night. I personally do not stick to this schedule on a day to day basis myself, instead, I mostly use it before going to bed with my night cream but if I am at home and not wearing makeup then I apply the oil during the day time too.
Now even though, this is quite pricey, it has already lasted me three or so months and I have more than half of it left so this is something you can invest in as a safe skincare option as the formula would cater to a variety of skin types.
Price: 5130 PKR
Quantity: 30 ml
Availability: All The Body Shop outlets in malls nationwide or you can shop it online at just4girls.pk.
just4girls.pk 5% OFF Code: J4GJB5


(adsbygoogle = window.adsbygoogle || []).push({});