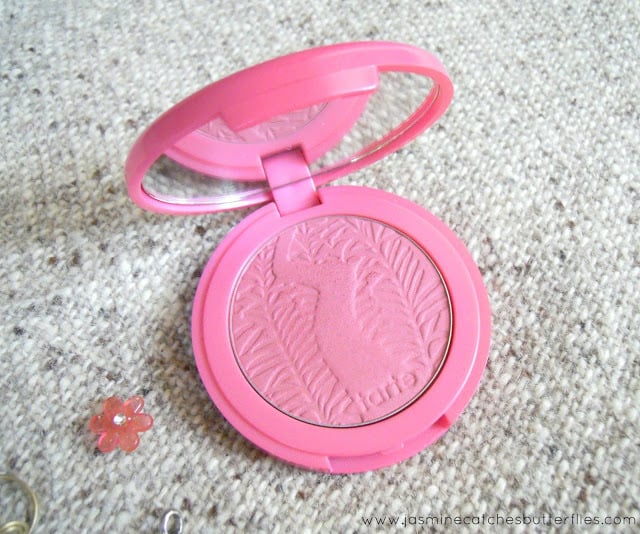 Tarte, a brand which shot to popularity for its Amazonian clay blushes, had always been the one I closely kept up with with every new release in hopes of getting easy access in Pakistan some day and alas just4girls.pk made it possible. My first purchase of course had to be their blush because that is what everybody has always raved about and I don't recall a single negative review. However, what you see on the internet rather than experiencing yourself can be quite different, mostly because of the way things are projected.
The Tarte Amazonian Clay blushes come in a total of sixteen wearable shades but I chose Blushing Bride because it was something different for my collection and at the same time a safe pick for my complexion considering the hefty price tag. The brand says that these blushes are solar baked that is they are baked under the sunlight and even though I know baked blushes require some breaking in, the word 'pigmented' has been used almost synonmously with these blushes for so long the I was quite disappointed when I swatched mine for the first time. I had to swipe my finger a good few times over the blush to get any colour at all and after using it for more than a month I still wouldn't say the pigmentation blows me away even though Blushing Bride belongs to the darker side of the collection being a mauvy/dusty rose shade.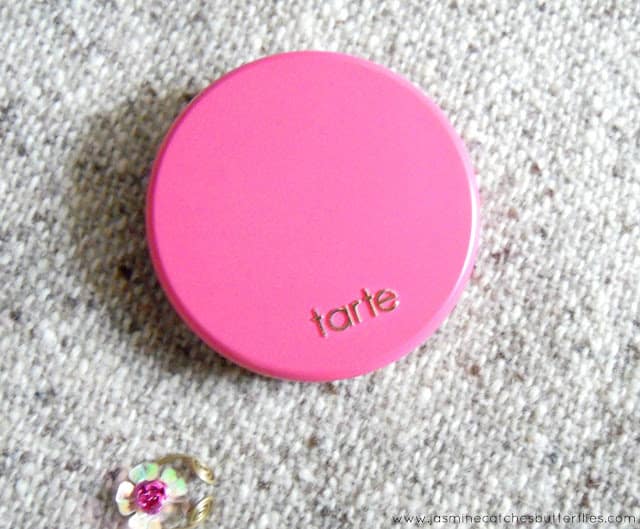 However, what I learned is that since this blush isn't buttery, creamy, soft to touch, it has no fallouts. None at all. Zero. I do feel annoyed out of habit for this being tough to swatch with finger and notice in the photo where I rubbed the swatched finger on my wrist it lost more of its pigmentation but that is because the blush blends easily, sets quickly and then does not transfer. Blushing Bride would look great on fair and medium complexions just because it appears natural and is slightly buildable. You can use a pointed bristle brush like a stippling brush over a fluffy brush for better colour payoff. It is nothing insane, yet I feel I don't have to worry about putting on too much with this blush. The amount is always just right. As for the staying power, I haven't worn it for 12 hours straight myself but it certainly fades through out the day.
Tarte blushes are free from parabens and all those bad ingredients. They do not even have any added fragrance and on a closer sniff it smells like some kind of oil to me but not at all detectable otheriwse. The packaging is simple with an embossed product itself. The lid clasps snugly and the compact has a good sized mirror. The pan itself is magnetic and can be poked out from the back to add to a customizable palette.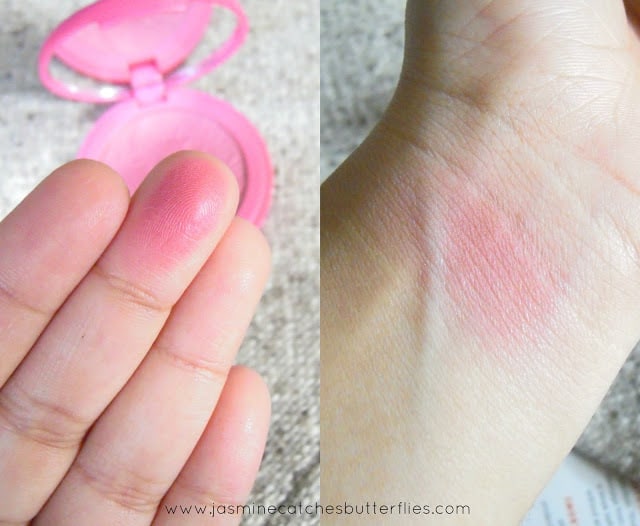 I have had a blow with
Mary-Lou Manizer
and I would say the same about this. Neither of the two are bad products but considering the price tag, if I had known better, I could have gone for something similar for much less. It is a decent product, I do like it for an easy everyday option but I just don't get the hype as it turned out to be completely different from what I expected after seeing so many people rave about it.
Price: $28 (Sephora), 3999 PKR (Just4Girls), 4090 PKR (Tarte's Website)
Quantity: 5.6 g
Availability: I bought mine at just4girls.pk as the brand is not sold in stores here.
You can 5% off on all your orders by using the code J4GJB5 on just4girls.pk

Follow
(function(d, s, id) {var js, fjs = d.getElementsByTagName(s)[0];if (d.getElementById(id)) return;js = d.createElement(s);js.id = id;js.src = "https://widget.bloglovin.com/assets/widget/loader.js";fjs.parentNode.insertBefore(js, fjs);}(document, "script", "bloglovin-sdk"))