Hi there butterflies!
Remember the time when I did nail tutorials each Saturday? Well, I'm thinking to do nail posts weekly again. What do you say? 🙂
Today I'm posting an easy nail art tutorial for you all which you can rock this summer! 😉
You don't require any fancy nail art tools as always, just follow through the steps and you are good to go! 🙂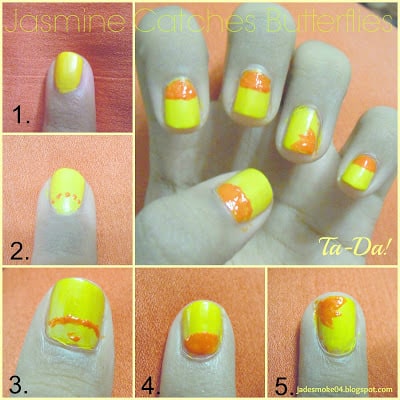 Step 1: Paint your nails yellow!
Step 2: Use a toothpick to dot on little orange circles as shown in the photo on all your fingers except ring finger.
Step 3: Join the dots with the help of a toothpick.
Step 4: Fill in the semi-circle with an orange nail polish with the help of a paint brush.
Step 5: Draw an orange flower on the top left corner of your ring finger with the help of a toothpick.
Seal in your nail art with a top coat! 🙂
Sorry about the inconsistencies guys! We had no sun all day and I am feeling terrible due to flu and fever! :/
If you try this out do send me a picture! 🙂 X