Not long ago,
L'Oreal
took over the beauty scene by launching three
Pure Clay masks
that soon became every beauty guru's favourites! My Instagram was plastered with photos of people "
multi-masking
" with
L'Oreal Detoxifying
,
Mattifying
, and
Exfoliating
masks. I don't just jump on the bandwagon, you know. So, I waited for the hype to die down, people to move on, somebody to come along and say that it is not really worth it.L'Oreal has always been popular for its True Match foundation more than anything else. However, more recently the brand added some more foundations to their range, along with other makeup products. They sure are game, but even though L'Oreal has been selling creams and skincare products for a while too now, they never really attracted as much attention as these masks have managed to gain.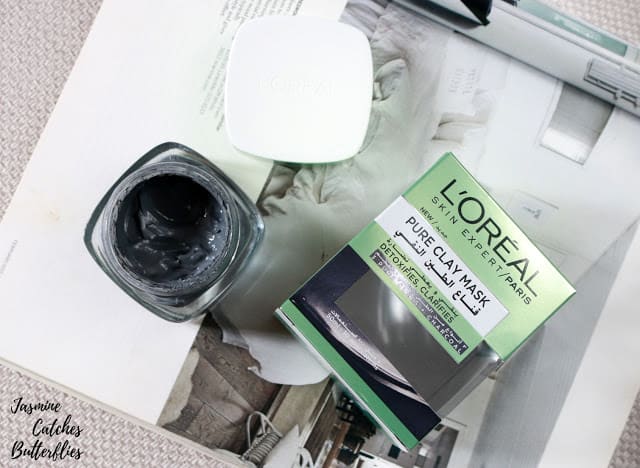 L'Oreal Pure Clay Detox And Brighten Mask Review
When I did not come across even a single negative review on the L'Oreal Pure Clay masks, I gave in and decided to check one out for myself. So, a little before Eid, I was shopping at Naheed Supermarket in Karachi when I saw L'Oreal's shelf stacked with all three of the pure clay masks. I was instantly drawn and even though I wanted to get the Exfoliate and Refine Red Algae mask, largely because of the colour, I ended up picking Detox and Brighten Charcoal mask after discussing the pros of each with the helpful salesperson. One other mask in the range is Purifies and Mattifies Eucalyptus mask. All of these masks retail for 1099 PKR and come with matching foaming facewashes too.

Anyways, my skin is dry/combination and my T-zone tends to get oily in the summers so a detox mask sounded like a good idea. This L'Oreal Pure Clay Detox And Brighten mask has been compared a lot with Glamglow Supermud Clearing Treatment because they both have charcoal as key ingredients. Now, Glamglow masks cost around 6000 PKR and I have never even had an opportunity of trying one so I cannot really compare the two. But what I would say is that L'Oreal mask surprising works really well. I noticed a visible difference right after the first use and it definitely brightened my dull looking skin. You can see it for yourself in my first impressions video that I posted on YouTube when I tried this mask for the first time ever.
The consistency of the mask is a bit thick in comparison to most clay masks that I have tried, for instance, the Freeman ones. It goes on as dark grey and dries down to light grey. You can see the gunk pulled out from your skin as dark grey dots once it has dried. Since my skin is a bit dry I feel the need to moisturise my face right after washing off the mask. Nonetheless, I am happy to report that it still does not over dry my skin and can be safely used once or twice a week.
I know a lot of people do not like the idea of scented skin care products and I do not either. This pure clay mask does have a nice fresh and floral scent to it which is not overpowering at all. The good thing is it did not irritate my skin so I actually really like that.
The tub that the mask comes in is made out of glass and is quite chunky but it feels luxurious too. The only bummer for me is that you get only 30ml of product which will only last you around 10 applications. Nonetheless, I found it to be absolutely worth each penny and this is going to be a sure shot repurchase for me.