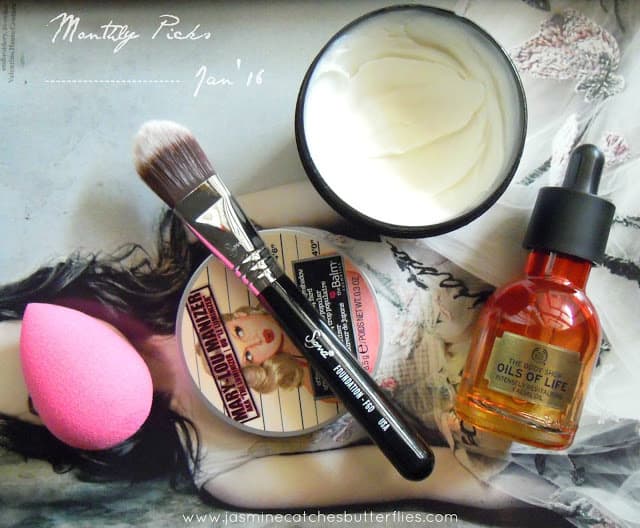 I regularly started posting my monthly favourites since last January and I have decided to stick to it because this is a good way of not only tracking what I have been enjoing but also using up products in my stash. Otherwise, I am a creature of habit who would go on using the same four products for the rest of her life and miss out on all the other goodness. I like to keep these posts quiet specific by only showing you all what I discovered and actually used throughout the month.
Let's jump right in!
1. Lush Ultrabland Cleanser
I won this in a giveaway and you all know how stoked I felt since Lush is one brand I dearly wish officially launches in Pakistan soon now. I have been using this Ultrabland cleanser as a beauty balm for removing the bulk of my makeup and sometimes I leave it on for longer to absorb into my skin when it is flaky and extra dry. This smells soothing and I use mine cold as I keep it refrigerated so in the hot, humid Karachi it feels refreshing.

2. Beauty Blender
I gave this little pink sponge a fair course of time to try and I am glad about my decision of investing in one. While makeup looks great on camera, the real life story is not as graceful and most people find even the makeup mafia's au naturel excessive. A Beauty Blender still wouldn't take it all away and while things do depend on your skin's condition and the the type of coverage you require, it still is a great deal to have in your arsenal for toning down the potential cake face. Like the sound of it? Go on and read my detailed review.
3. Sigma F60 Foundation Brush & Mary-Lou Manizer
Sometimes, teamwork brings out the star in you. Same has been the case with this duo. To be honest, on their own neither of these really pleased me. I do like paddle brushes but Sigma F60 Foundation Brush just didn't cut it for me and it had been hanging in my collection for ages. Then you also know that Mary-Lou Manizer did not prove to be as badass for me as it seemed counting on the hype. However, by putting these two together I have had a ball the past month with my highlight game. Remember how I told you I didn't find Mary-Lou as easy to blend on my cheeks? Well, the F60 does the trick for me and I guess any fan brush would do too but since I don't have one, I improvised with what I had on hand. Now I can gradually build up my highlight by packing on precisely and blend it out evenly at the same time. Mary-Lou does tend to blend out to nothing and looks its best only in flash photography but if I build and blend it looks just as fine.
4. The Body Shop Oils of Life Facial Oil*
A product that quickly made space in my skincare routine and wants to make me try out more from the Oils of Life Range. I reviewed this is detail last night so read that blog post in case you are interested.
5. Hydro Coach
You already know how essential water is and I am not here to lecture you, but is your intake sufficient or is it just what you think? Hydro Coach is an app that helps you in tracking your water intake. I knew apps like these existed and after trying a couple from the play store I settled for this. It tells me how much water I should drink in a day based on my weight. I have the free version but you can go pro if you want to track according to your routine and also measure water level in other beverages. I feel the basic version is enough for me and I have noticed a difference in my health and skin since I have actually began tracking. On most days I consume more than required as I already have a habit of carrying a water bottle but then there were days when I lagged amidst my schedule. Though in my head, I always still thought that I was drinking enough until Hydro Coach made me realise that it was not the case when I got sucked in by work. The app helps me as I have a set target and I feel motivated about achieving it every day.
Now you tell me your picks of the month!


(adsbygoogle = window.adsbygoogle || []).push({});