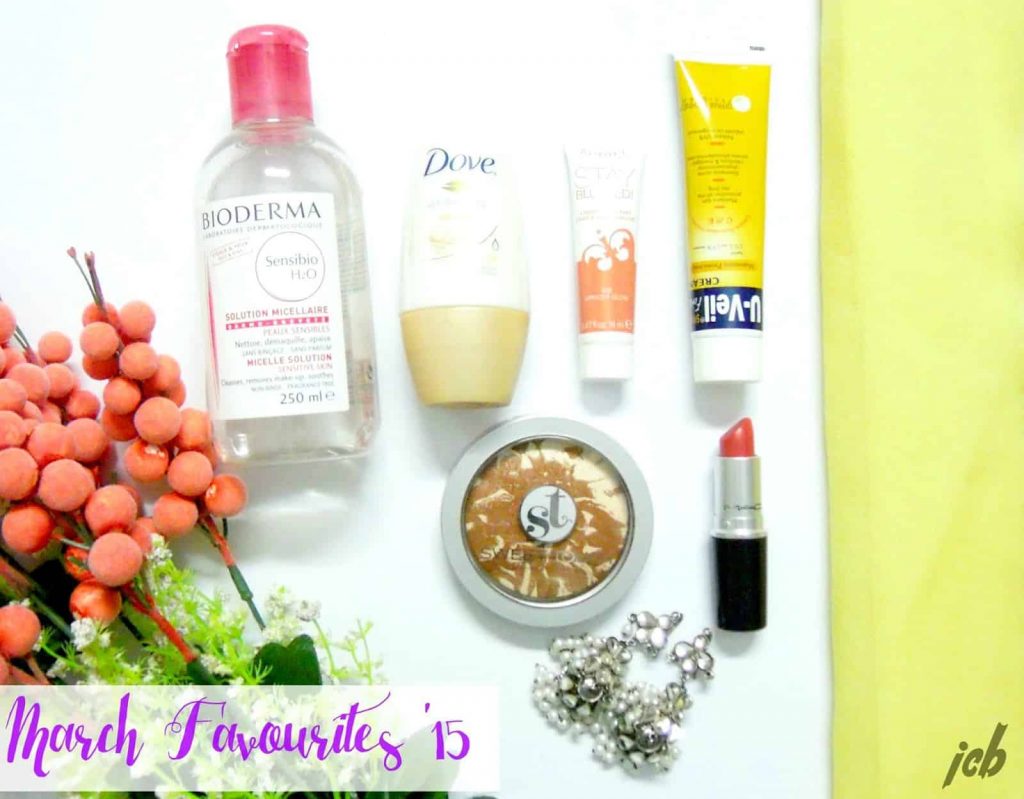 I'm so happy that so many of you guys loved and appreciated my Spring Wardrobe Series. I will try to plan more such, different than the routine posts for future but right now I am going through a very stressful time as this is my midterm exams week. Gutted that I won't be attending Telenor Fashion Pakistan Week as a result but do watch out for a round-up and my thoughts about the whole TFPW this time, on the coming weekend. Anyway, I contemplated doing the monthly favourites for March as I feel I did already cover my current makeup items in my spring series but sticking to the "resolution" and in order to share a couple other bits and bobs, here is the post for you.

1. MAC Crosswires (Review and Swatches)
Crosswires was my first ever MAC lipstick, but I got around loving it to the max only recently. This is perfect for spring and summer and I also like to just lightly dab it on my lips for a natural no-makeup look.
2. Rimmel Stay Blushed Liquid Cheek Tint – Apricot Glow (Review and Swatches)
If you are somebody who loves peach blushers like I do, you need to check out this Rimmel liquid cheek tint in the shade apricot glow. It is sheer, lightweight and looks lovely.
3. Sweet Touch Glam 'N' Shine Bronzing Natural* (Review and Swatches)
I can't tell you how much I love this bronzing highlighter on my tanned complexion, but this would even look great on paler skin tones. It makes my skin look healthy and the glow it adds is mind blowing!
4. Dove Whitening Silk Dry Deo (Review)
I can totally skip deodorants during the mild winters of Karachi, but with the fast approaching summer, it has become a necessity. This Dove one keeps me feeling clean, dry and fresh all day long.
5. U-Veil Sunblock SPF 50
I was suggested this by my dermatologist and I guess this is the most commonly prescribed sunblock. I repurchased this a little while back after a gap which was for no apparent reason. It really works and this is the only sunblock I have ever worn that actually keeps me from tanning. Sometimes I forget to use it and that is when I totally regret.
6. Bioderma Micellar Water (Review)
I cleanse my skin on a daily basis with Nivea Cleansing Milk but on the days when I am wearing a full face of makeup, Bioderma is very handy. It really cuts down the time and doesn't dry my skin out at all.
7. White Jhumkay
Rediscovered these white pearly jhumkay in my jewellery collection this month and I feel like wearing them all the time. They are heavy though, but still they look so traditional and stunning.
8. Pale Yellow Colour
This sounds random, but I am in love with the pale yellow shade. I feel it is my colour and I am told so time and again too, so this is the perfect time of the year to rock it.
That's a wrap, pray that I ace my exams and set new records! 😉
What are your March Favourites and are you excited about TFPW? 😀 x