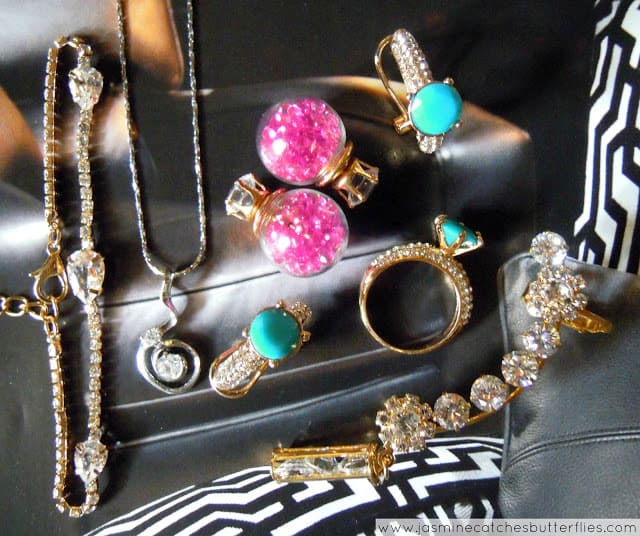 Sheer Class Accessories
PR Sample*
For the longest of time, prior to makeup, I used to be a jewelry collector. I still remember how I had drawers and shelves filled with my accessories on my mum's dresser. However, with time, that passion faded and they were only being pulled out for occasions like weddings and eid. The reason being that most of my childhood stuff were too colorful and if not that then what I have left is all very heavy. I do love statement pieces but I am a very picky accessory wearer now and all you will ever spot me in is a watch and tiny ear studs that I always keep on so that my piercings don't close. Naturally, when my dear friend, Saadiah, who is also a blogger at Beauty Talk with Saadiah, told me about her new venture of Sheer Class Accessories, the creature of habit that I am I gravitated towards earrings more than anything.
I was being very modest with my choices but Saadiah was generous enough to send so much stuff for me and even you guys, but more on that later! 😉 First let's take a look at what I got.

Double Ended Zircon Pink Ball Studs: So I had picked these really cute, chunky and colourful (surprise, surprise, the kid is still alive) ball studs first because I haven't seen these before and they looked interesting to me. They are available in a variety of colours but I went for pink because it would go with a lot of my outfits and I wanted to have a colour other than the usual monochrome. I wear it with the ball behind and that's probably how you are supposed to wear it but I think you can wear them the other way round too, though they would look a bit obnoxious. I love these and I have been complimented too so they are one of my current favourites.
Gold Plated Cubic Zirconia Dangler Ear Cuff: My obsession with ear is real when it comes to jewelry and though I won't ever dare to get another piercing, I have always loved wearing fake cartilage cuffs and rings. This is my first full length ear cuff and omg, it makes me look so badass! I recently wore it in an Instagram post and you will see more of it on my social media soon. This has a clasp on top and a pin at the bottom. I would suggest you close the clasp on your cartilage first and then put this through the lobe piercing. While for taking it off, unclasp first and then take the pin out. Once the clasp is on I don't experience any discomfort or pain unless I accidentally touch it or move it with the clasp on. If I don't touch it at all, I don't feel anything at all. You might need to find a suitable spot on along your ear where it won't hurt and make sure you wear it properly rather than clasping half way through.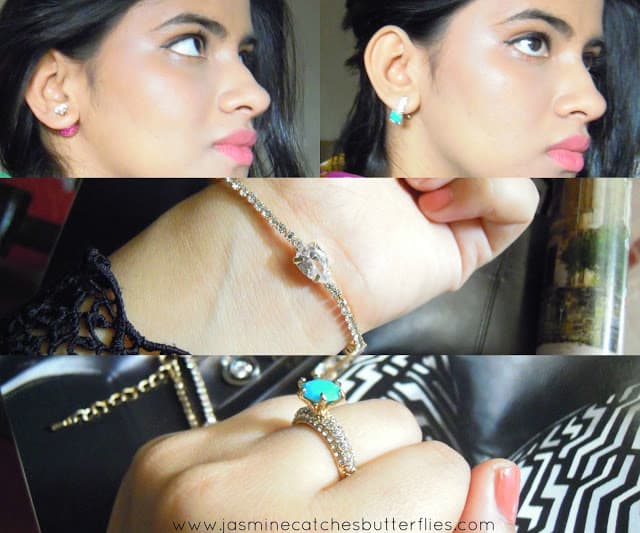 Fine Silver Chain with Twirl Zircon Charm: I either wear statement necklaces or extremely dainty ones. From what Saadiah concluded about my style she wisely chose this pretty necklace for me. It is perfect for everyday wear and can be worn by women of all age.
18k Gold Plated Bracelet with Cubic Zirconia: Look at this beauty, again a delicate piece of jewelry that she picked for me and it looks classy for both day and night. It is loose around my wrist and that is how it looks best.
14k Gold Plated Turquoise Rhinestone Studded Ear Studs with Matching Ring: Gone are the days when Jadirah was a silver's gal, I am all about this bling now. This has to be the best set of eastern jewelry for me ever. It looks so royal and at the same time is not at all overboard. The combination of gold and turquoise is absolutely killer and if my in-laws were to ever give me a ring, I would have gone for something like this! You just can't go on without saying Masha'Allah.
I am so impressed by the quality of all the jewelry I was sent and I must say Saadiah at Sheer Class has done a great job of bringing these to us. She is highly professional, gives you a detailed invoice of your order, delivers on time, is willing to hear and even takes custom orders. What else could you ask for? Discount? We even have that for you! Mention JCB15 while placing your order at Sheer Class and you can avail 15% off your entire purchase.
Still curious about the giveaway? Okay, go on.
JCB SHEER CLASS GIVEAWAY!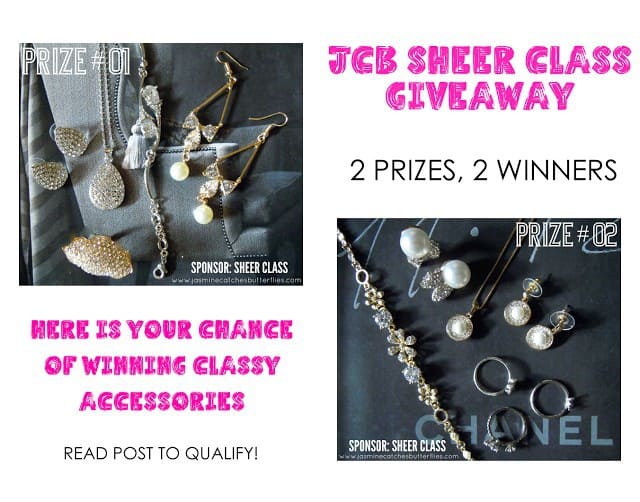 So thanks to Sheer Class, you guys have two prizes up for grabs and hence there will be two randomly drawn winners! To enter head over to my Facebook page and follow the instructions. You just have to like our pages, that is Jasmine Catches Butterflies and Sheer Class and leave a comment there telling us which type of jewelry do you like the most. You can earn bonuses mentioned on Facebook. The giveaway is only open to Pakistani residents and will end on 28th February 2016 at 11:59 PM.
Here is a breakdown of what you can win in each of the prizes. Both the prizes include some gold and silver as well as some delicate and some chunky pieces and we have got you covered well with the inclusion of rings, bracelets, earrings and necklaces.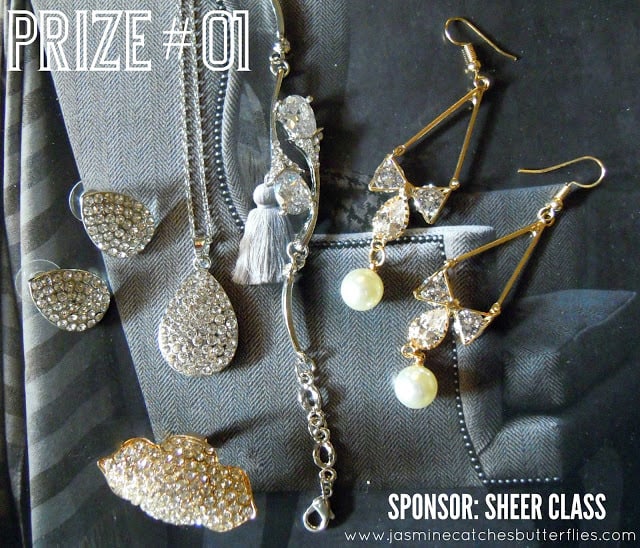 1. Swarovski Style American Diamond Pendant Set
2. Adjustable Rhinestone Studded Extended Ring
3. Finest Quality Stainless Steel Zircon Fashion Bracelet
4. 18k Gold Plated Faux Austrian Crystal Hoop Dangles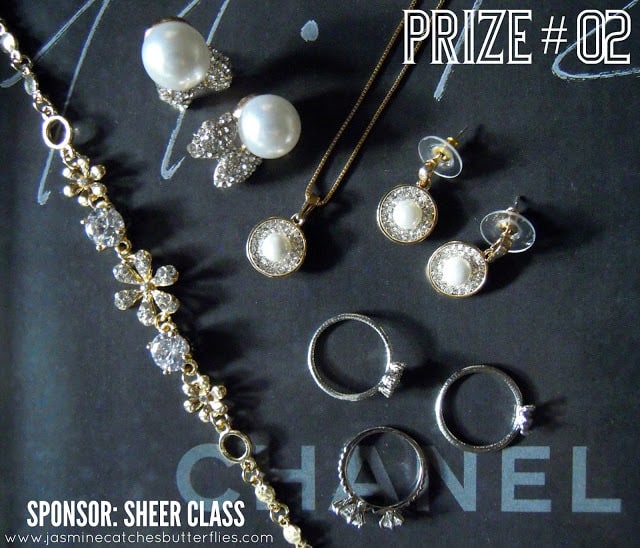 1. 18k Gold Plated Bracelet Studded with Cubic Zircon
2. Rhinestone Bow with Faux Pearl Ear Studs
3. 18k Gold Plated Faux Pearl Cubic Zircon Pendent Set
4. Stainless Steel Zircon Cluster Ring Set
Psst! I wish I could keep all of these for myself, but don't worry, I will be placing an order with Sheer Class soon. Go participate in the giveaway and all the best! 🙂