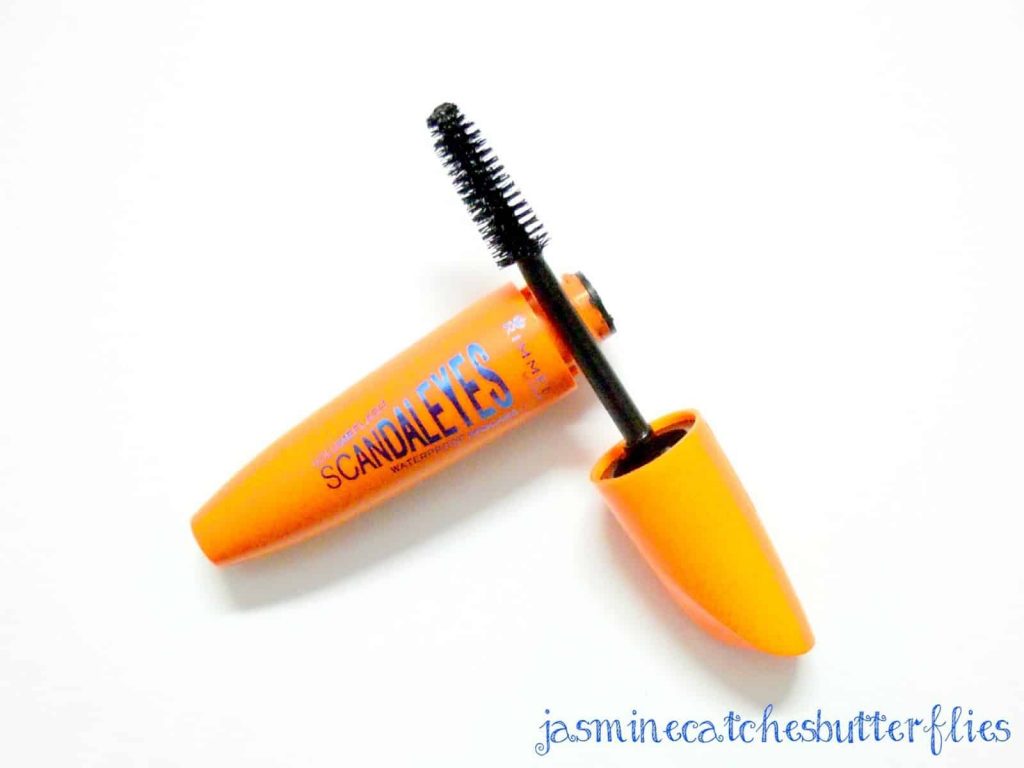 Rimmel mascaras have been my all time favourites. I have always loved their formula, consistency and the fact that they have never dried up on me. My first mascara,
Extra Super Lash
, was from Rimmel and till date it is one of the best mascaras I have ever tried under such an affordable price tag (almost half of other drugstore mascaras and even Scandal Eyes!). So, when I ran out of my last Rimmel mascara, Scandal Eyes was their latest offering. Therefore, I picked one up but in the waterproof version for it was priced equal to the regular one and it was about time I gave waterproof mascaras a whirl.

Top to Bottom: No mascara, 1 coat, 2 coats.
Rimmel Scandal Eyes mascara comes in multiple variants, each for a different purpose. The one I got comes in a chunky orange, very fine gold glittery, plastic tube. All the text on the tube is printed in royal blue on this waterproof version and none of it has faded. It is available in two permanent shades, Extreme Black and Black, I got the latter. The mascara itself is supposed to be a volumising one as depicted by the name and it has one of the largest brush heads I have ever seen. This mascara does lengthen and volumise lashes, but I don't think it really lives up to its claim of giving a falsies effect. The formula is wet and tends to get clumpy, especially on the second coat. Also, I have hit my eyeballs a number of times with the ginormous brush. :/ Mastering application with its brush takes a little time, otherwise it ends up being on the lids and under the eyes (even in the eyes!). Undoubtedly, for me the Extra Super Lash worked better. Nonetheless, this mascara is not at all flaky and even though its not the easiest to take off, it has survived some serious birthday bash snow sprays without running off my lashes even a wee bit!
Price: 1200 PKR
Amount: 0.41 fl oz, 12 ml
Availability: Rimmel outlets nationwide. I bought mine at Naheed.
My Rating:

If it wasn't the brush, this mascara might have performed better! x