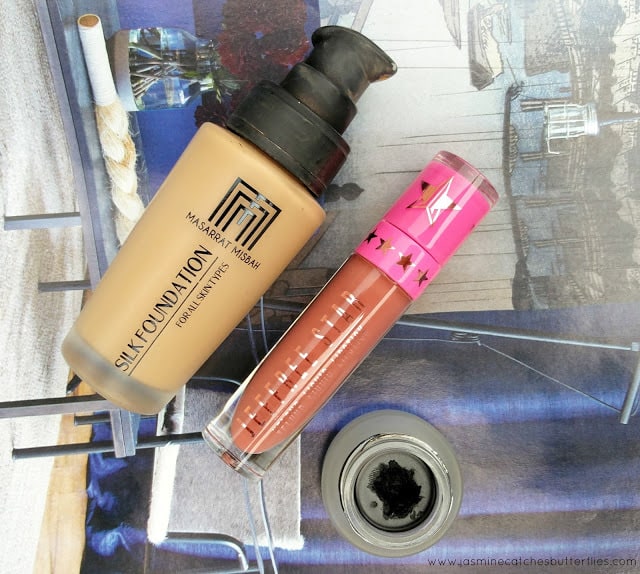 I hate rainy days. Did I break your heart? I am sorry. I have a long list of reasons. As a child I never really got why my father would avoid rain, it was so much fun to splash water after all. Now that I am an adult, I can relate. A city like Karachi is still not prepared for rain because it greatly affects our lives. The sewage is underdeveloped and a power outage is inevitable. It turns out to be so much more of a hassle at the end of the day rather than being a bliss. So rain for me is only fun as long as I can be carefree like I was when I was younger.
Confession time, last night I had a little bit of that moment when I was out with my A'levels friends after so long. I hadn't given much thought to rain while putting on my makeup earlier that evening and in fact, I was trying to keep it minimal because after becoming a blogger and watching 90 million YouTube videos, I feel like I am the only one who really wears makeup in my circle. Luckily, my product picks turned out to be wise.

I did have some powder makeup on too and I completely forgot to apply mascara but I do not wear waterproof mascara any longer because it takes a lot of effort to wipe off so I am glad I skipped because my makeup held up really well while we got drenched in the rain. I have been ranting all day on Twitter about the soggy weather and I decided I should rather take the challenge and continue blogging even through it. I say that because I take blog photos in natural lighting so today was not an ideal shoot day but I took the plunge and clicked as the rain ceased for a bit. It was only fitting that I share something about a rainy day but at the same time, it uplifts my mood. Makeup, of course, takes me to my happy place and the products that I am now sharing have passed the rain test.
1. Masarrat Misbah Silk Foundation 
Just yesterday a detailed post on summer foundations went up on my blog and I mentioned Masarrat Misbah Silk Foundation as my top pick mainly because of its longevity and it amazes me with every wear. This darling of a base did not break at all last night in such an undesirable weather condition.
2. Jeffree Star Velour Liquid Lipstick 
Not only Jeffree Star Velour Liquid Lipstick in Gemini is pretty and perfect for a casual look but it also holds up when the rain comes pouring down as if that's not a big deal at all. Even a male friend of mine was amazed to notice no lipstick mark on the straw as I sipped Oreo shake. :'D Jeffree, you did it, Queen.
3. Maybelline Lasting Drama Gel Eyeliner
Eye makeup running down your cheeks is the first disaster that rain can cause on your pretty face. I am quite generous when it comes to loading on black liners and I had full-on wings flapping last night because the rain could not weigh them down. No streaks, not one, honey. Maybelline Lasting Drama Gel Eyeliner is an all-round winner for me, be it the eyelids or the waterline.
So, he says he'll take you swimming on the first date? You don't need him. You need these.