Hi guys,
Hope you're all doing well. This is my last post before my semester finals which will start next Saturday and will continue till mid June! 😡
I was recently tagged by this sweet lady called Shehrzad from Desi Mom From Pakistan awarding me this Liebster Blog Award.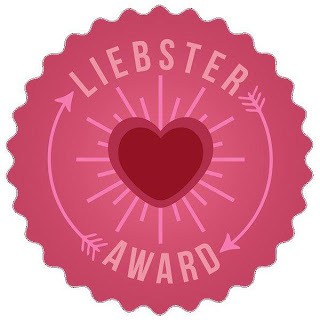 A Liebster Award is basically awarded to upcoming bloggers who have less than 200 followers. Liebster is a German word meaning 'favourite'.
The rules are as follows:
1) Share 11 things about you.
2) Answer 11 questions by the tagger.
3) Choose 11 fellow bloggers to nominate. They should have under 200 followers on Google Friends Connect.
4) Ask them 11 questions.
5) Thank the Person who nominated you and mention a link back to her blog.
So here we go,
I already did a post earlier this year, that was; A to Z of Jadirah Sarmad. You can check that here. I don't really have any facts other than them to share and those are more than 11. 😉
11 Questions Asked By Shehrzad are as follows:
1)-When did you start blogging and why?
I started blogging last August mainly because I love to write, but later I discovered that I can actually give voice to my thoughts here and can share stuff which I can't ramble about at home as I don't have a sister. </3
2)-Are you married? Kids?
No. None.
3)-What is your qualification?
I completed my A'levels last year and currently doing Bio-Medical Engineering (the major that I had always aimed for and the reason I took Computer Studies with Biology in O'levels along with Add.Maths and then took both Math and Biology in A'levels even though I hate maths).
4)-What are you wearing on your face and lips now?
A stressed out look, if that counts. Apart from that nothing at all.
5)-How many post do you do per week and how do you manage it?
I was consistent with 3-4 posts per week before my university started but now I hardly get time to do even a single post per week. Sad but I have got priorities. 🙁
I'll be in full swing in vacations though. B-)
6)-How do you unwind and relax?
Sleeping helps A LOT. Astrologers say that for a Gemini, it is very very important to get as much sleep as we possibly can! Apart from that music and some chilled drink when I need a break and have no time for a nap. And when I do have time, spa! 😉
7)-Whats the most expensive item in your makeup stash?
Hmm, now I'm not really good with price tags but probably my foundation, i.e., Karaja Stop Shine Foundation.
8)-Do you keep a fixed sum for makeup shopping every month or do you shop first and save later?
I save first and then shop. B-) I strictly avoid impulse purchases.
9)-Name your favourite brands,which have always delivered promises or have worked for you?
Still new to makeup so I can't really name any makeup brands but I do love Rimmel. As for beauty/body care products and hair I go for Neutrogena, Nivea, Freeman, Dove, Palmer's Schwarzkopf & Henkel, Pantene and the list goes on. Love Stoneage and Levis for jeans! ♥
10)-What is one habit of your followers/fans/Facebook friends that you find annoying?
I have got beautiful people all around me and each one of them matters to me so nothing serious. I just feel a bit taken aback when people comment on my post just for the sake of commenting rather than actually going through the post and it is very obvious when they do so.
11)-Who plays the role of greatest support or anchor in your life?
Undoubtedly my parents. They have always been extremely encouraging, understanding and of course caring. They are my strength.
11 People Whom I'd Like To Tag:
I couldn't find more people to tag, so lets save this space for the bloggers falling under this category when I find them in future. 🙂


11 Questions For Them:
What is that one beauty product that you can't live without?
What is your favourite food?
Do you play any musical instruments?
Are you into reading? If so, who is your favourite author and what is your favourite book?
What is your biggest pet peeve?
If you're given 10,000 PKR (approx. 101$) what would you purchase?
What is your favourite place for vacations?
What is your favourite blog post by you? Link. 😉
What is that one thing without which this world could have been a much better place for you?
What is that one makeup product that you would highly recommend to beginners?
Would you like to do a guest post on my blog while I am away? 🙂 Email me.
Thank you so much Shehrzad for tagging me! 🙂 I enjoyed answering your questions! 😀
My tagged ladies, leave me your links when you do this post, I'd love to read! 🙂
I'll be away for a while now. Take care my lovely butterflies! 🙂
xoxo