Hello Butterflies! 🙂
It took me so long to post my previous collective haul that this week I had another run to the super store. Even in my collective hauls that I posted past two weeks, I had kept on squeezing in stuff till the very end. Anyhow, here's more of hauling and since this post isn't photo heavy unlike the previous ones, I decided to briefly add why I bought what I bought. Also note that I didn't get any makeup items as I'll go on a proper summer-makeup-shopping-spree after my finals though I had to get a makeup remover but I forgot. -_-
Before we proceed, I'd like to inform you all that this is my second last post before my final disappearance until summer vacations as my semester is about to end and then we have our finals! >_< So, see you on the other end and hopefully I'll be blogging more often then. 🙂
Lets roll,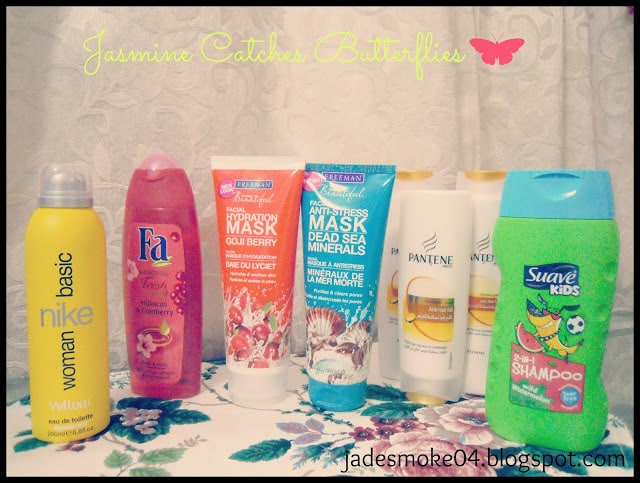 Nike Woman Basic Yellow (210 PKR)/Fa Shower Gel Hibiscus & Cranberry (165 PKR)/Freeman Facial Hydration Mask Goji Berry and Anti-Stress Mask Dead Sea Minerals (290 PKR Each)/Pantene Anti-Hairfall Shampoo (148 PKR Each) & Conditioner (156 PKR)/Suave Kids 2-in-1 Shampoo Wild Watermelon (245 PKR)
Nike Woman Basic Yellow: I bought this because summer's here and we need more deodorant now in this scorching hot weather here in Karachi. It isn't what I'd describe as feminine as for me feminine is sweet, floral, light. Whereas this is musky, even though according to the ingredients mentioned on the bottle it is supposed to be citrus which is what I couldn't smell at all in this. However, I think most people would like it.
Fa Hibiscus & Cranberry Shower Gel: Another luxury item for this time of year. The flavour, I know is more of a fall/winter themed one but when I took a whiff at store, I fell in love with the burst of cranberry scent that I got so just couldn't resist buying this particular flavour.
Freeman Facial Hydration Mask with Goji Berry and Anti-Stress Mask with Dead Sea Minerals: I had been eyeing Freeman masks for some time now and got the Goji Berry one as I have dry/combination skin, and even though it's really in control at the moment, most of the year it's dry so this would work on my dry-skin-days while I bought the Dead Sea Minerals one because these are so beneficial for skin and this one is supposed to be for all skin types so it probably won't be drying my skin out plus it is a blue coloured mask!!! 😀
Pantene Anti-Hairfall Shampoo & Condtioner: Hairfall seems to be such a common problem these days. I have tried the Dove anti-hairfall range twice and I'm almost through with my Loreal Elvive Arginine Resist x3 but I must say that neither of them can beat Pantene. While Dove makes my hair soft and smooth, it also greatly weighs it down and has totally failed me when it comes to controlling hairfall. Whereas, Loreal has noticeably reduced my hairfall but it doesn't make my hair feel as good as it claims to. On the other hand, I have used Pantene a lot through my teenage and it is one shampoo that I'd always keep on going back to. Even though I haven't gone through a whole bottle of Pantene anti-hairfall in particular, ever, but I had been borrowing it from my mom on occasions and the results are pretty noticeable even after a single wash. I haven't tried any of Pantene's conditioners before but I have high hopes as Pantene is a brand that suits my hair really well and works perfectly for me! ♥
Suave Kids 2-in-1 Shampoo Wild Watermelon: Now you might be laughing to see a baby shampoo in my haul but guess what baby shampoos are the best for everyday hair wash as they are mild! Suave isn't my favourite brand when it comes to normal shampoos but along with Johnson's baby shampoos this is the one that I am a fan of. I have previously used up two bottles of this in flavours; Orange Mango Outburst and Coconut Cowabunga. Loved them. It is available in a lot of fun flavours. Highly recommended if you are looking for something mild to rinse your hair with everyday this sweatin' summer!
Coming to food haul, you can now probably tell that I am a chocoholic!! 😛 My favourite chocolates are KitKat, Mars and Twix (missing here!).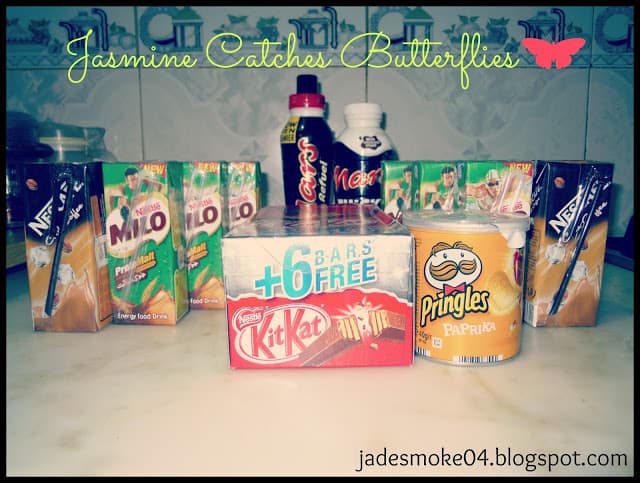 Moving on, check out these NEON jelly flats mom bought me the other day! These are something that most people would hate as the colours are too loud (mind you those bows are more neon than they look here) but the ones who'd love it would probably love it to death. As for me, well, I don't mind wearing funky stuff and the Lady Gaga in me adores them! 😛 I know these are hard to match with usual outfits but I have already been wearing them around the house and I find them super cute for summer. 😉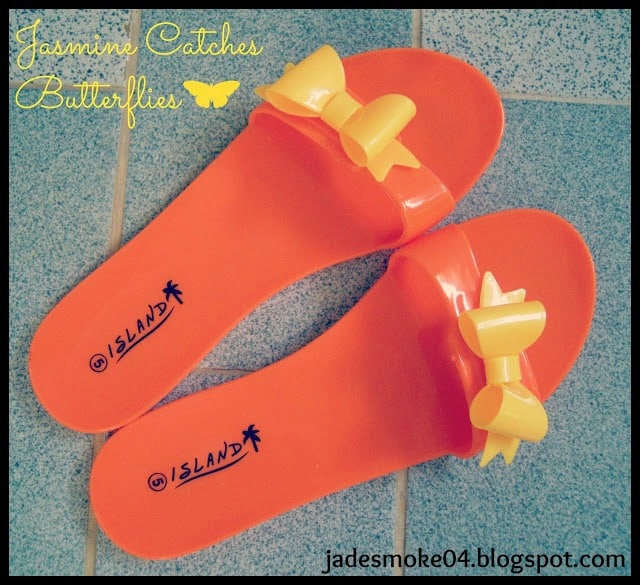 Enjoyed this haul? Leave me a line. 🙂 x