Hello butterflies, this is a lifestyle post that I'm doing today sort of a get to know me one. I have seen this A-Z Blogger's Tag going around and enjoyed reading other people's answers so decided to give it a shot. 🙂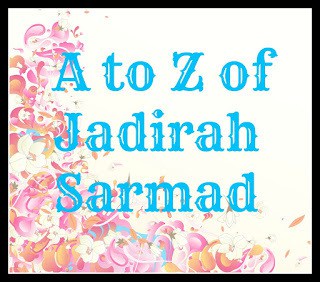 Age: 18.
Birthday: 4th of June.
Chore You hate: I don't really hate chores but I do tend do get moody. If you tell me to do it politely once, I would. I just don't like to be nagged constantly about doing something and then I never do it!
Dream Life: Have enough to pay my own bills and get whatever I like whenever I want. Own a sports car. Work in the research department of genetics and discover something that gives the world a break-through, like remedies for incurable diseases. Live in peace by the sea shore.
Education: About to start with the1st year of Bio-Medical Engineering.
Favourite Colours: Coral Red, Turquoise, Emerald.
Gold or Silver: Silver.
Height: 5'3.
Instruments you play: Guitar.
Job Title: Full time student.
Kids: None.
Live: Karachi, Pakistan.
Mother's Name: Safia.
Nicknames: Jazz, JD, Jaydee.
Overnight hospital stays: None.
Pets: Owned several Canary birds in my childhood. None now.
Quote you live by:
1. "Happiness does not depend on what you have or who you are. It solely relies on what YOU think."
– Buddha
2. "The realisation that limitations are imaginary will make you strong and overpowering."
– Stephen Richards
3. "Opinions are like a**holes, everyone has one!"
– Anon.
Right-handed or left-handed: Right.
Something that people don't know about you: My birthday is the same as Angelina Jolie's 😛
Things that will piss you off: Bad manners, getting late because of someone else, lies, badly cooked food and NOs to my YES!
Ultimate Blog Envy:
milkteef
, Emma has a great blog and she always has the latest stuff!
Vegetables you love: Carrots, cucumber, potatoes, onions and capsicum.
Why you started blogging & Why this blog name:
I started blogging mainly because I love to write, but later I discovered that I can actually give voice to my thoughts here and can share stuff which I can't ramble about at home as I don't have a sister. </3
As for the blog name, well, my potential birth-name could have been Jasmine, there were quite a few names according to my D.O.B that my family had to chose from and they chose Jadirah, though mum had considered Jasmine. I like Jadirah better as it's unique but I like Jasmine too! Anyways, if you get the relationship between a flower and a butterfly, that is what my blog is all about! I love butterflies, me being Jasmine and my readers being Butterflies. It also denotes femininity and hence the blog. 🙂
X-rays you have had: Quite a few. Mostly of elbow or ankle. Tend to get a sprain or I dislocate them often. :/
Yummy food you make: Pasta, Steak, Chicken Karahi, Pizza, Russian Salad, Brownies.
Zoo Animals:
Lion, Tiger, Panda, Elephant and Flamingo.
I tag all my readers to do this A to Z Bloggers Tag! x
Like my
FACEBOOK PAGE
for updates.
Check my sidebar to Follow Me Around & Grab My Button! x
Don't forget to comment, follow, subscribe! 🙂