2012 Favourite Drama? Could it be any other than Ishq-e-Mamnoon?!
I don't think so.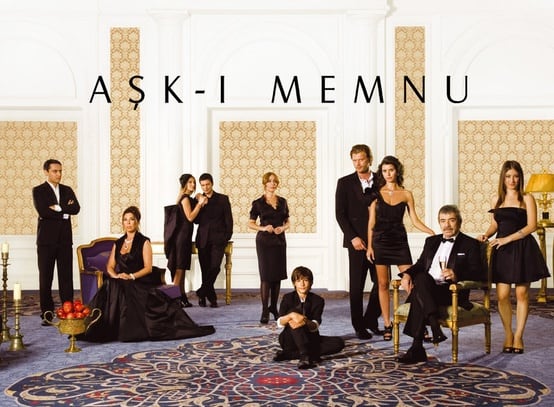 Ishq-e-Mamnoon (Urdu-Roman-English) or Aşk-ı Memnu (as it is written in Turkish) is actually a Turkish drama based on a novel of 1900 AD written by Halit Ziya Uşaklıgil.
When translated to English, the name of this drama is "Forbidden Love".
Aşk-ı Memnu was originally aired in Turkey from 2008 to 2010 in two seasons with a total of 79 episodes, each of 60 minutes. However, this was telecasted in Pakistan in 2012 on the channel Urdu 1 and has become a major hit by initially attracting the audience with the grandeur shown and later of course by the job well done by all the actors.
Now, I am not at all a television junkie BUT this drama was great enough to keep my eyes glued to my telly. As the name suggests, this is an heart-breaking tale of a rich widower, called Adnan, who married a beautiful young girl , named Bihter, and that's where the drama kicks into action. The story mainly revolves around these two in addition to Nihal, who was Adnan's stubborn teenage daughter madly in love with Behlul. Behlul, who was Adnan's distant nephew but was brought up by him after Behlul's parents had passed away when he was just a young lad. He grew up to be a rich playboy, who later on struggled to chose between love to Bihter, or loyalty to his Uncle. Beshir, another important character who was a driver at their household. He deteriorated his own health while keeping a dark secret. And Mrs. Firdevs, Bihter's mom, who plays the vamp.
Aşk-ı Memnu is a classic story and hats off to the whole Aşk-ı Memnu team. They all did such a remarkable job. The story itself is very unpredictable, jammed with twists and turns, and a very sad ending. I couldn't spot any glitches in the plot and not even for once I felt that it was far-fetched, or the actors were actually acting! It was all just so real. The transformation of Bihter's sweet face exuding the purity of her heart at the beginning to her bitter expressions reflecting the selfish evil that had taken over later on is commendable. No matter how many times I go back and forth from early episodes to later ones, I seriously can feel Beren Saat's (actress who played Bihter) face changing from innocent to evil. It's not like that it was just the script that changed our opinions about her character, she herself made a massive acting effort. And not just her, I was just giving an example, rather everybody else as well made it equally huge. The Urdu 1 team also deserves a round of applause for bringing Aşk-ı Memnu to Pakistan and for a flawless translation and dubbing.
Now, there are controversies emerging from our own local media pointing at Aşk-ı Memnu as a threat to our own television industry since it has broken records of Pakistani hit serials like Humsafar and Ladli. They refer to it as foreign content which should be banned. Firstly, we already do watch Bollywood and Hollywood content. FYI, that's foreign too. Secondly, if your concern is that it shouldn't be running on our own channels, than that's crap too. Why does our media fear at all? If they produce good enough scripts, people will surely watch them too! Thirdly, there are moral questions being raised about the story of Aşk-ı Memnu as well but why don't they get it that its content is not promoting anything morally wrong and hence it has a fairly sad ending with a strongly conveyed message.
As long as I get to watch good stuff, I'll always appreciate.
A major hit like Aşk-ı Memnu, which has been already translated into 59 languages, is definitely a must watch. It created a magic that will linger on forever.
I'd love to get my hands on the original novel or a translated version.
The music of Aşk-ı Memnu runs chills down my spine! You can listen to it on Aşk-ı Memnu's
Official Website
.
With this, we come to an end of my 2012 Favourites series that I posted all week. Hope you all enjoyed reading! 🙂 x
Once again, a very Happy New Year to all of you! x
Like my FACEBOOK PAGE for updates.
Check my sidebar to Follow Me Around & Grab My Button! x
Don't forget to comment, follow, subscribe! 🙂