Alas! Enjoying the sudden chill in the air and spooky October with Halloween getup all across the social media, aren't we? I sure am and now the time is right to get to know my Otherworldy (just kidding!) October advertisers closely! They have been hanging around in my sidebar all month long and I am sure you are already familiar with them by now. It has been a pleasure to have them on board as each of them is a darling and their blogs are great enough to inspire us all in many ways!
Say hello, follow them around and tell them I sent you! 😉
A-List Advertiser:
"I am a Marketer, having pursued Marketing, Communications & Customer Relations for about 8 years, as well as a "Signature Makeup Artist". My First Love & Real Passion has always been Make-Up, & I have owned & successfully ran a Signature Bridal Salon. My Second & Third passions are Writing & Behavioral Sciences, respectively, and I have pursued these by writing Articles on Behance.net, & maintaining a Blog on "Stress Management" on WordPress! Therefore Well- Being Counseling is yet another love of mine that I do practice, FOC. The reason for doing so lies in the inexplicably torturous, abusive, (mental & physical) hardships I have endured throughout my life! Single Mom to a 16 year old boy, I stand blatantly for Women Rights, and against the dual standards built for women in our society, Through makeup blogging, my aim, is to help women realize that they need to love, and accept themselves with or without makeup. Also, to me, beauty blogging is not just limited to makeup, but encompasses, physical & mental health, wherein Counseling & Workout, & their related benefits come in! I am a Gym Freak and all what I practice gives me a body age 10 yrs less than my Biological one!"
– Saadiah Khawaja, Beauty Talk With Saadia
Love Spread Advertisers:
"Ayre is a blog written by Arianne – it is actually a nickname that a former boss came up with (Air). When she re-branded her blog, she decided to use the nickname, but changing up the spelling. Ayre posts three times a week (Sunday, Wednesday, and Friday). Ayre's has a YouTube channel and Sunday posts are usually a compliment to a Sunday YouTube video."
– Arianne, Ayre
"Hello everyone, my name is Zehra Qureshi and I love to photoshop, blog and bake. All my life I have been active on social media, writing blogs of different kinds. Recently I started a blog called, "Beautorgeous World". On this blog, I want to share beauty, fashion, food, gadget and even media stuff with all my readers. Youtubers and bloggers like The Lipstickholic, Allure by N, Jasmine Catches Butterflies and Red Alice Rao have inspired me to write this blog. I would love to read your views about the stuff I share as well and will appreciate if you will pay a visit, thank you,much love, xoxo."


– Zehra Qureshi, Beautorgeous World


Aren't they all just lovely?! Don't forget to subscribe!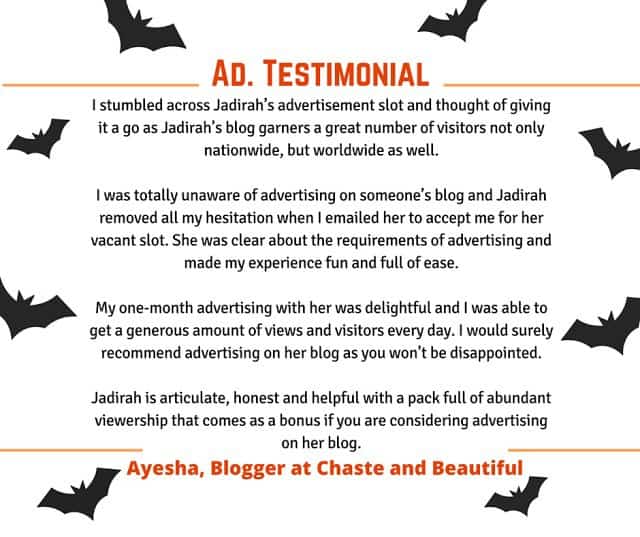 Bookings for November are open till 31st October so grab an advertisement slot in my sidebar! There is something for everybody, see for yourself here!


(adsbygoogle = window.adsbygoogle || []).push({});